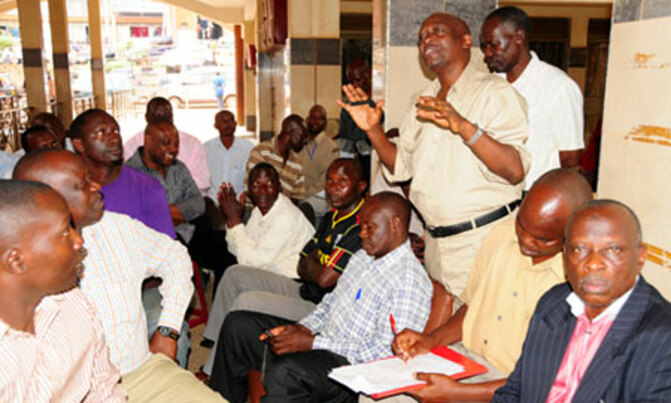 The national chairman of UTODA has called on its members to cooperate into restructuring it
By Wilfred Sanya

Determined to revive the Uganda National Drivers and operators (UTODA), the national chairman John Ndyomugenyi apologized and begged its members to work together to restructure it.

With an apology, Ndyomugenyi beckoned the Association members to start afresh.

"Fellow UTODA members I apologize to you for what went wrong until we lost the tender to manage transport business as an association to Kampala City Authority KCCA.

 "I know that government still has support in our work," he said.

This was in a meeting to seek ways of reuniting the UTODA members and also to create new avenues to manage the transport sector in Uganda.

"Come back and register afresh. We can shift gears and operate to suit the KCCA transport requirements. Register and pay your membership as we organise elections."

He also observed the steady growth of Uganda's economy basing on the transport sector, saying that members need to strategise to have a direction in which the plan should take.

 The members demanded to have all those who diverted the UTODA properties to be brought to book.

The recovered assets, they argued, would be utilized to settle some of the debts of the Association.

 "UTODA had a lot of property which we see people just owning to themselves. We must have openness when we conduct our election.

"In case a member dies, we should not take long to have a replacement. We put up support to see the Association was able to stay in for such a long time," said Patrick Ssendisa.

Members also raised the issue of security in the parks which they say is overlooked.

They also demanded the sh3 billion that had been deducted by Uganda Revenue Authority to be given back to their Association.
UTODA chairman calls on members for its revival