UNRA revolutionalises management of roads

The roads authority inherited 3,000km of paved roads from RAFU, but half of these were in poor condition

BY JOEL OGWANG
WITH a vision to operate a safe, efficient and well-developed national road network, the operationalisation, in July 2008, of the Uganda National Roads Authority (UNRA), was a milestone in the country's quest to improve mobility and communication via roads.

This comes after years of internal political and economic strife, characterised by coups and the infamous economic war of the 1970s to early 1980s imposed by President Idi Amin. The development is also an indication that the NRM government had its work cutout in a bid to rejuvenate Uganda's waning road sector. Click to read more...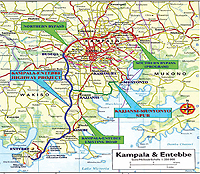 Construction of Kampala-Entebbe Express Highway starts October

BY JOEL OGWANG

FOR a passenger or motorist plying the Kampala-Entebbe Road, the heavy traffic at Kibuye roundabout is a killer.

As early as 8:00am, the queuing of vehicles is not just winding; it is fatal. What would an ambulance carrying a gravely ill patient to Mulago Hospital do amidst a traffic jam that holds motorists for over an hour?

As for motorists, matters are only worsened by skyrocketing fuel prices, currently at over sh3,000 a litre.

A commuter pays sh3,000 from Kampala to Entebbe from the Old Taxi Park. While on a normal day commuting between Kampala and Entebbe takes at least 40 minutes, it stretches to two hours as commuters and motorists rush to work in the morning and return home in the evening.

"The problem is that the vehicle population has increased, yet the road is still single-lane," says Twalib Kakaire, a shop keeper at Abayita Ababiri trading centre on Entebbe Road. Click to read more...
The ultra-modern Kampala bypass lives up to its billing

BY JOEL OGWANG

IF there was a beauty contest for roads, Kampala Northern Bypass would be Uganda's only representative capable of challenging the world's best. Few roads in the country, if any, match the bypass' class.

The bypass, one of the newest, most expensive and sophisticated road that post-independence Uganda has seen, did not come cheap. Its initial cost was sh87b, but rose to sh120b at completion.

Snaking its way through bushes that have, since its completion, given way to sprouting real estate industry, the 21km road stretches from Bweyogerere-Naalya-Kiwatule- Kyebando-Kalerwe to Bwaise-Hoima road-Kawaala and Busega. Click to read more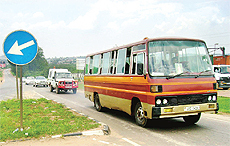 Theft of road signposts irks UNRA

The thieves unscrew the signposts during the day

By Joel Ogwang

A recurrence of signpost thefts on national roads has hit UNRA, with 90% of them stolen on the ultra-modern Kampala northern bypass barely two-years since its launch.

A similar trend has been reported on the Kampala-Hoima and Jinja-Bugiri roads, where 70% of the road signposts are missing, says Dan Alinange, the UNRA publicist.

"We found out that one of the reasons accidents are rising on new roads was because of theft of road signposts," he says. The thieves allegedly unscrew the signposts during the day and carry their loot at night, destined for sale to scrap dealers.

To arrest the vice, UNRA has partnered with the traffic Police to carry out surveillance on major highways, as well as community policing to create awareness of the dangers of vandalising and stealing the road signs. Click here to read more..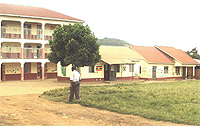 UNRA to compensate 2,000 families on Kampala-Entebbe Road

By Joel Ogwang

Donning a yellow shortsleeve T-shirt, grey trouser and black tangira sandals, John Mukwaya leans against his four-bedroom residential house as he clutches his eight-month-old baby girl.

Evidently overjoyed with first-time parenthood, he tosses her up, drawing a smile from the toddler. Joy, his wife, has gone shopping at the nearby grocery shop.

"I did not know what it means to be a parent," he says as he offers me a chair to discuss the prospect of his eviction to pave way for the construction of the new Kampala-Entebbe express highway. Click here to read more...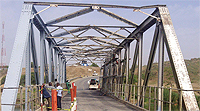 UNRA prioritises repair, building of bridges

By Joel Ogwang

Uganda is endowed with beautiful flora and fauna, forests, water bodies and sunshine that keep the environment cool all-year round.

However, within Uganda's endowment, lies natural inhibitions to mobility. This is particularly so with lakes and rivers that require expensive bridges to manoeuver.

Bridges in Uganda With a total road network comprising 20,000km of national, district (13,000km), urban (2,800km) and community access roads (30,000km), the country's motorway network has expanded from just about 400km at independence in 1962. Click to read more...
Uganda National Roads Authority.