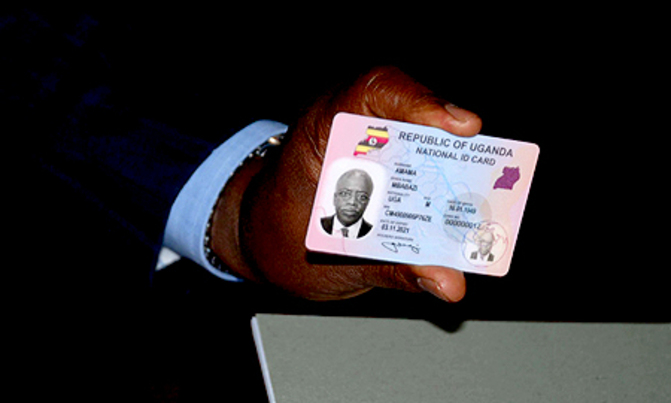 The issuance of National Identity cards is to to be delayed again due to lack of funds.
By John Odyek

The ministry of internal affairs has protested the inadequate provision of funds for the issuance of National Identity cards saying it is going to delay the project further.

Internal affairs minister Hillary Onek told MPs Wednsday  that they had requested the ministry of finance to provide sh87b to begin issuing the IDs this year but they had been given a mere sh25b for the next financial year.

"We are all concerned about the IDs. We have written to the ministry of finance pleading. We have put pressure for additional funds but maybe the resource envelope is small. We shall try to work within what was given and try a phased approach," Onek resignedly said.

In 2010 government signed a 64m Euros (sh205b) agreement with Muehlbauer High Tech International for the supply of equipment and provision of training services. The goal was to set up a biometric register upon which the issuance of ID cards and numbers will be based under the National Security Information System (NSIS) Project. The government has paid Muehlbauer 51m (163b) Euros and owes them 13m Euros (sh42b).

The Electoral Commission has also expressed concerns about the effect of delay of implementation of the Project on the commission's continuous by-elections and general elections of 2016.

A source from the commission said the delay of the project was harmful to the commission's constitutional mandate of continuous update of the voters register. The equipment used by NSIS is supposed to be used jointly with the Electoral Commission.

The source said the commission was spending a lot of money on contracting Muehlbauer to update its voters' register because the government has not provided funds to train Ugandans to manage the equipment supplied by Muehlbauer.

Dr Steven Kagoda permanent secretary ministry of internal affairs said the government is required to register and provide citizens with national IDs. Kagoda said the ministry would meet with various stakeholders to discuss the implications of the low funding and seek a solution.

Last year a small cards' production facility was set up and 409 cards were printed for pilot testing. NSIS is seeking to set up the security ID cards' printer at the Uganda Printing and Publishing Corporation at Entebbe at a cost of 14.6 Euros.

 
Govt to delay National ID project again