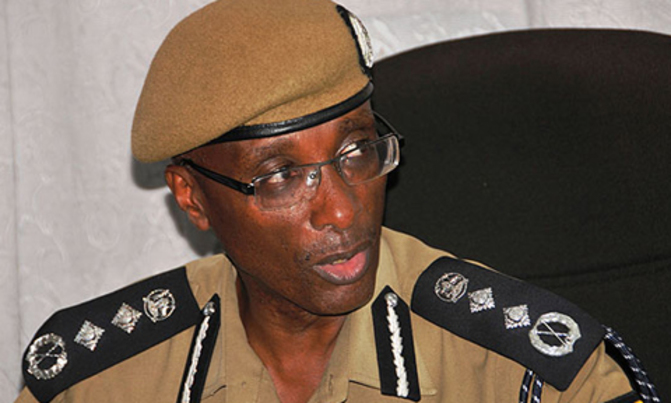 The Inspector General of Police, Kale Kayihura, has given a six months ultimatum to police officers with potbellies to trim them.
By Chris Mugasha  and Carol Natukunda
The Inspector General of Police, Kale Kayihura, has given a six months ultimatum to police officers with potbellies to trim them, lest they miss out on likely promotions.
Kayihura, who described bulging tummies as excessive luggage, warned that the next promotions and evaluation would be awarded basing on one's fitness.
He noted that one of the issues affecting the Police's efficiency and quality was because most officers lacked physical fitness.
"In six months I want to see you without that additional luggage," Kayihura directed. 
He was addressing a parade of 380 police officers and constables at Mid-South Western region headquarters in Bushenyi Municipality, Bushenyi district.
The team was deployed in the municipality to keep order ahead of the Bushenyi/Ishaka municipality by-elections an exercise that Kayihura declared as perfect. Kayihura revealed that this year, the biggest percentage police budget would concentrate on training the officers both internally and externally.
"This will ensure building a quality force and we shall begin with physical fitness," he said.
Among the tips he gave the affected officers is to embark on early morning running and changing eating habits if they are to cut the size and remain physically fit.
Kayihura cautioned them against resorting to abusing alcohol, especially waragi, while trying to cut the size.
He observed that the problem among the police officers was failure to appreciate fieldwork, stressing that the majority of them wanted to keep in office.
"That's why I banned the office shoes and introduced boots to enable you go to the field," he stressed.
Kayihura cited lack of coordination and alertness in the force as a weakness. "In this era of terrorists, where we are dealing with military styles of different societies, you must be alert and ready to respond for any circumstance," he noted.
Worry about your pot belly
A potbelly, once a symptom of good life and prestige, has now been proven a sign of impending danger, especially in men.
"Too much fat causes increased risk of heart disease, diabetes and stroke. For males, weight gain tends to concentrate primarily in the abdomen area, and that is why it is associated more with heart disease. The female weight gain tends to concentrate in the thighs and buttocks," says Dr. Annet Baryayanga,
a private physician at Kampala health care and diagnostic centre on Lumumba Avenue.
"Fat, unlike muscle, is not active tissue, so this puts extra strain on the heart, which supplies nutrients to that dead load," Dr. Baryayanga explains.
According to health experts, belly fat, more commonly known as "beer belly", can also increase if one drinks alcohol excessively. This does not single out beer alone; but all drinks with a high content of alcohol can result in belly fat. The less alcohol you consume, the less calories you'll have thus reducing the probability of a "beer belly". By exercising and replacing your diet with healthier food options, such as fruits and vegetables instead of burgers and fries, losing weight will become faster and easier
Obese Police officers won''t be promoted - Kayihura