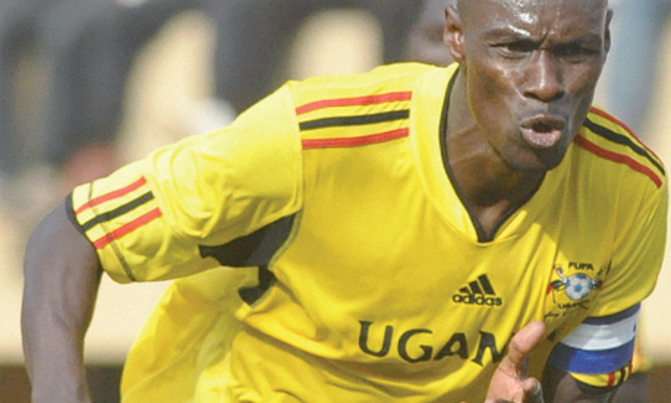 FOUR goals, a wonder and historic net-busting goal, brilliant play and a place into the final round of the Africa Cup of Nations qualifiers, who says you, do not get full value for your money?...
By Fred Kaweesi
WHAT a thriller! If there were any doubts as to whether Cranes are good enough to match the very best in Africa, all were shattered with the 4-0 deserved win over Congo Brazzaville yesterday.
Four goals, a wonder and historic net-busting goal, brilliant play and a place into the final round of the Africa Cup of Nations qualifiers, who says you, do not get full value for your money?
In the build-up to this game, the odds were firmly placed against the Cranes. 
The task of overturning a 3-1 first leg defeat quite massive considering the fact that Cranes needed a 2-0 win and yet they had only managed two goals in two of their previous games against Angola and Senegal.
That and the fact that Cranes needed just a goal against Kenya in the previous campaign but couldn't and you would understand why the return fixture was not as straightforward.
But then again, why doubt a side that had twice fought back in the two World Cup qualifiers against Angola and Senegal to earn remarkable results.
At Namboole Stadium, the stage was set for yet another fight back and in the end it was one that must have pleased even the faint-hearted.
Cranes deserved their win, as their attacking and expansive approach throughout the game was at times irresistible. They dispatched a tricky Congo side, with goals from team captain Andrew Mwesigwa, Godfrey Walusimbi, Geoffrey Massa and Emmanuel Okwi.
Mwesigwa, who had been doubtful for the game following a slight groin injury suffered in the game against Senegal, started and like a true warrior led from the front with a priceless opener that broke Congo's spirited resistance after 34 minutes.
The rocksolid defender headed home Moses Oloya's flicked header at the near post to help Cranes to the lead in a first half where strikers Massa, Okwi and Umony had threatened but failed to find a way past a Congo side that had fielded five defenders.
Umony had two scoring opportunities; Mike Sserumaga four from free-kick situations but Congo had still stood their ground in the face of a Cranes side that had played with heart, desire and skill. 
African heavyweights Nigeria, Ghana have all fallen at Mandela Stadium before. And so did Angola, just a few months ago. 
What was so different that Congo expected against a Cranes side whose expansive play was a product of Williamson's offensive strategy that allowed the team's two creative players Sserumaga and Oloya switch freely behind the three strikers.
In fact, it was one among Oloya's several mercurial runs and crosses early into the second half that did not only prize open Congo's back-four but also allowed Umony into space for the team's second.
Umony in control of Oloya's aerial cross was dragged down by Bruce Abdoulaye for the resultant penalty.
Walusimbi, calm personified as always, took the initiative and placed it home to stretch Cranes lead in the 51st minute.
At this stage, Cranes were in command and Oloya simply irresistible. The Vietnam-based midfielder later released Umony, who waited far too long to shoot. Umony then heldoff Lepicier Mael but his shot was tamed minutes after Mwesigwa had failed to connect Sserumaga's corner.
With the two chances wasted, the Cranes almost paid the price later after Simeon Masaba and Mwesigwa had been beaten by a low ball down the left.
However, Dzon Delvige still miscued his shot.
Record Massa
This was before the moment that will forever stick in the memories of the over 35,000 crowd at Namboole.
They said Massa can't score. That he didn't even have to start.
With the game on the knife-edge, the Cyprusbased striker silenced his critics once and for all with a breath-taking goal.
Against the run of play, Massa weaved through three static Congo defenders before thumping home a thunderbolt strike that tore through the net on 64 minutes.
It was a deserved and timely goal that literally ended the game as a contest from a player who had done enough to trouble the Congo defence.
Just like Hassan Wasswa, Massa made many marvel at his performance.
Throughout the game, there had been vision, energy to amaze and a cunning instinct to deceive on the run.
Williamson then brought on Patrick Ochan for Sserumaga and Mudde Musa for Massa – substitutions that conspired to earn Cranes a fourth goal.
Mudde released Okwi, who found his way past two static Congo defenders Lepicier Mael and Nganga Francis before rebounding home over Congo goalkeeper Mouku Barel for a majestic victory.
The draw for the final play-off will be held next week in Cairo.
Ratings: D.Onyango 9, S.Masaba 8, G.Walusimbi 8, A.Mwesigwa 8, H.Kalungi 8, H.Wasswa 9, M.Oloya 8, M.Sserumaga 8, G.Massa 10, B.Umony 8, E.Okwi 8
Cranes run riot at Namboole