Today, JOSEPH SSEMUTOOKE looks at ELLY WAMALA, one of Uganda's rst recording artistes to enjoy commercial success o one of his songs. He also was a regular at the Kabaka's court and had a role to play in shaping the morals of the musicians of his time
The father of Uganda's music recording industry

To mark 50 years of Uganda's independence, New Vision will, until October 9, 2012, be publishing highlights of events and pro ling personalities who have shaped the history of this country. Today, JOSEPH SSEMUTOOKE looks at ELLY WAMALA, one of Uganda's rst recording artistes to enjoy commercial success o one of his songs. He also was a regular at the Kabaka's court and had a role to play in shaping the morals of the musicians of his time

In his time, Elly Wamala advised upcoming artistes to stay off drugs

The birth of Uganda's recording music industry is a process that cannot be tagged to a given point in time, but it is undisputed that the industry took shape starting from the late 1950s through the 1960s.

In that, there are a number of musicians who made outstanding contributions to the development of that industry during those decades. Among them are the likes of Christopher Ssebadduka, Fred Masagazi, Dan Mugula, Fred Mbalire and Fred Kanyike. It can, however, be justifi ably stated that none of the pioneers has had an impact to the extent of Elly Wamala.

Fondly known to his fans as Evergreen, Wamala's longevity, inspiration of subsequent musicians, the number of hit songs and his role in developing the local music industry in the 1950s and 1960s is unmatched by his peers. It is for that reason that it is not misguided to refer to Wamala, who passed away in 2004, as 'the father of Uganda's modern recording music industry'.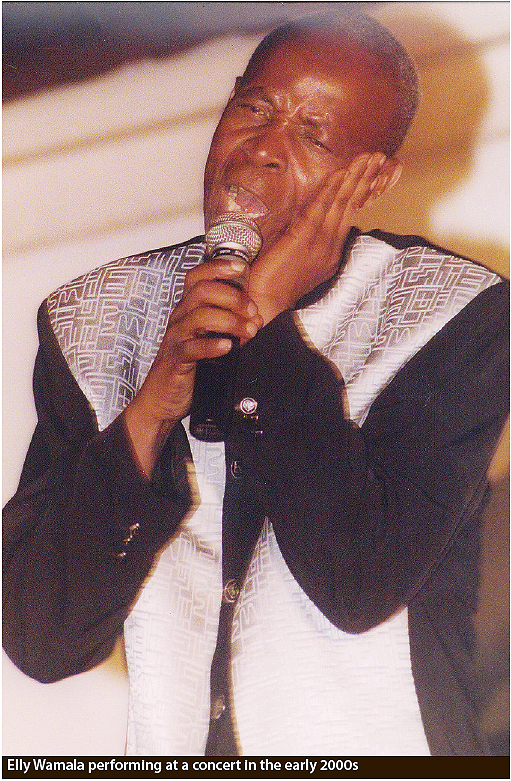 Pioneer music maestro
Wamala was one of Uganda's first musicians to release a recorded song and have it become a commercial hit in the 1950s when he released Nabutono. The song was so successful that it caught the attention of a nation and Kabaka Edward Mutesa who regularly summoned Wamala to his court to perform the song. After Nabutono, Wamala's next release was Josephine and it also became a hit.

But the story behind the recording of Nabutono, Josephine and other earlier songs is even more telling of the man's role as a pioneer. Wamala created his songs by adding his voice over beats he played on a single guitar in what would become known as Kadongo Kamu.

Although starting in the 1960s, Wamala abandoned the singleguitar-based genre and moved to a style that relied on a symphony of several instruments. He had created something that would stand the taste of time, especially in his contemporary Christopher Ssebadduka.

In moving to band music, Wamala continued to invent, introduce and cement things for Uganda's then, infant recording industry.

One of Wamala's lifelong producers, Edmund Batte, says Wamala was so creative that he wrote his own his music including the harmonies and guitar chords, which made working with him easy, especially if the script was followed. Following on the success of his fi rst tracks, Wamala got a position as resident guitarist at New Life Bar in Mengo in the late 1950s.

Then he moved to Kenya where he joined and became leader of the Sportsman Chachacha Band. The band was sponsored by the makers of Sportsman Cigarettes as part of their marketing policy and performed in several towns in East Africa.

He returned to Ugandan in 1961 and later joined UTV as a presenter and studio director, while also doubling as a professional musician. In the mid-1970s Wamala formed the Mascots Band with Philly Lutaaya, Kabuye Ssemboga and Alex Mukulu. The band, however, collapsed due to the instability of the 1980s and Wamala returned to a solo career which he maintained until his death.

Social guide and commentator
While inventing and pioneering various aspects for Uganda's music industry is undisputed, Elly Wamala also proved himself a relevant social guide, commentator and profi ler for his community.

Kakooza Mutale called him a social teacher whose songs were informative and educative, leaving his fans not just entertained but with new knowledge. And listening to Wamala's music you fi nd invaluable messages regarding marriage, friendship and honesty, among other aspects of life.

Young musicians idol
Throughout his life, Wamala played the role of mentor to upcoming artistes. Among his students were Philly Lutaaya, Moses Matovu and gospel singer Fiona Mukasa, among others. In the prime of his life, Wamala advised a string of others who included Chameleone, Ronald Mayinja, Ragga Dee and Pastor George Okudi.

Moses Matovu of Afrigo Band has said Wamala was the mentor of all subsequent Ugandan musicians because they grew up listening to his music. "He always required people to rehearse a lot before playing, like he did with the infant Cranes Band when they wanted to be hosted on his UTV music programme called Saturday Night with Elly Wamala," added Matovu. Wamala once said he hated recording songs too frequently because he cared more about the art of music than its commercial success.

In 2000, he underwent surgery and 52 weeks of chemotherapy, and immediately after treatment bounced back with the Ani Yali Amanyi album. For those who knew him, Wamala was passionate about morality and lived his life as an example to his society. There have been reports that when the contemporary top musicians emerged from about the mid-1990s, Wamala always offered them advice when they erred.

Legacy
Now, almost a decade after his passing, Wamala remains a major part of Uganda's music industry and there are no signs that he will cease soon. His timeless records remain a main staple of Uganda's airwaves and household players, songs such as Viola, Ebinyumu, Sacramento, Boda Boda and Akaana aka kawalya are still favourites. The old man's songs also continue to be redone by contemporary musicians, while the National Theatre organises an annual Elly Wamala lecture.

Personal life
Wamala was born in Bulucheke, Mbale on December 13, 1935. His grandfather was a soldier who had settled in Mbale as part of the forces of the colonial administration under Semei Kakungulu, while his mother, Gladys Nabutiti, was a Mugisu. But as a child, Wamala was moved to Bulenga where he grew up. He studied at Bbira Primary School and later Mackay Primary School where his headmaster noticed his music talent and started teaching him how to sing and read music.

After primary school, Wamala joined Mengo SS, before going to Makerere College where he studied linguistics, poetry and prose. From Makerere, he played the guitar at New Life Bar in Mengo before going to Kenya to study advanced guitar playing at the Nairobi Conservatoire. In Kenya, he led the Sportsman Chachacha Band before going to England. Wamala returned from Britain with a Banjo Mandolin Guitar diploma.

He also studied TV production in Wales and on return to Uganda in 1961 worked with the national broadcaster, until 1981 when he retired. Wamala was diagnosed with cancer of the colon in 2000, but later succumbed to cancer of the throat. He is survived by a wife and 13 children.
The father of Uganda's music recording industry