Retired Rev. Canon John Basingwire, 68, and his wife Adrine Jenninah Basingwire, 54, had no idea that cancer was lurking about, waiting to devour their family. In 2007, Adrine was diagnosed with cancer.

Retired Rev. Canon John Basingwire, 68, and his wife Adrine Jenninah Basingwire, 54, had no idea that cancer was lurking about, waiting to devour their family. In 2007, Adrine was diagnosed with cancer.

Worse still, she could not take it when the disease struck her son, Johnson Joel Agababyona. But, they have not wallowed in self-pity. Their pain has become a portrait of encouragement to others, writes Samuel Lutwama

Adrine says proudly: "I shall live and proclaim the goodness of the Lord, no matter how I feel." And part of proclaiming the goodness of the Lord is to tell others her testimony with boldness. "Through her testimony, many have found hope beyond
their despair," Basingwire says.

Humble beginning
The couple met in 1976 while Basingwire was tutoring at Kabale Teacher's College, where Adrine was a student at the time. "Ours was not love at first sight, but I developed interest after a close friend suggested to me that she could make a good wife," Basingwire remembers. In her final year at college, Basingwire tabled his love intentions, but was turned down.

"Adrine was shocked when I told her my intentions, but she managed to contain her emotions," he says. Strangely, however, with time they became acquaintances, then husband and wife in 1978.

"The first thing that drew me to Basingwire was the fact that he feared the Lord and at the time I wanted a partner who would offer me spiritual stability and shower me with love," Adrine says reflectively.

This spiritual maturity and love was tried and tested when cancer struck. Looking at them seated side by side at their home in Ganda, Nansana, I sense the unmistakable bond between them.

It is so deep that it is almost tangible as they go back and forth, reminding each other of events that have shaped their lives for the last 34 years.

Their marriage has two distinctive phases; the happy beginning and the harrowing experience of battling with cancer. Yet in their helplessness, the couple learnt the real meaning of complete dependence.

"In the initial years of our marriage, we had little at our disposal, but plenty of love. Shortly after our wedding, God blessed us with our first daughter, Jennifer, and four other children.

All our children were perfect in every way. In fact, they turned out to be self-reliant children who stood by me throughout
my battle," Adrine says.

You can sense the pride in her voice as she talks about her children. Because of the nature of Basingwire's clerical work and later as head teacher of Kinkizi High School in Kanungu, the couple spent their initial years apart.

For that reason, Adrine stayed put with the children, while Basingwire kept moving to different placements.

He says what endears his wife to him is that although she had a high profile job at the time with Bank of Uganda, Kabale branch, she used to till the land to supplement the limited family resources, without complaining. Their love grew stronger as the years went by.

Cancer strikes
The couple finds it difficult to explain the mixture of emotions the family went through after Adrine was diagnosed with myeloma cancer, a type of cancer that affects the bone marrow and causes terrible pain.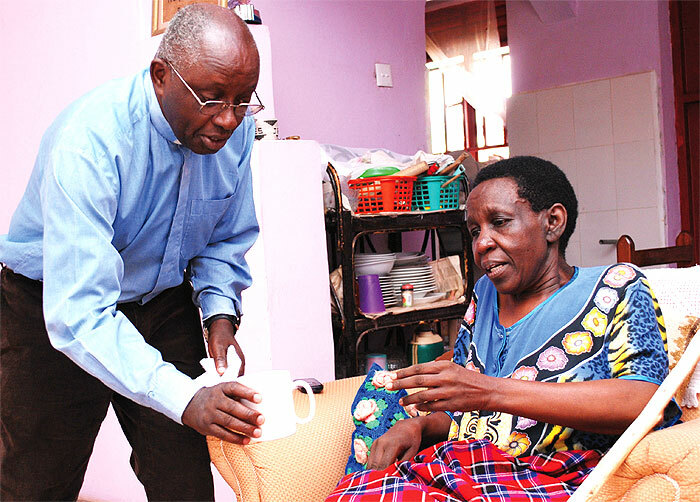 Together all through: Basingwire serves his wife a cup of tea

It was in 2004 when Adrine started feeling pain in her bones. Before long, the pain spread to her entire body. "The doctors did all they could in vain. In 2007, as she was travelling back to Kabale, she collapsed in the bus," Basingwire says.

But that was just the beginning of a series of crises. From that time, Adrine was in and out of hospital. The doctors initially thought it was pneumonia and prescribed strong antibiotics, but the pain persisted. It was then that Basingwire became apprehensive and lost his cool with the doctors.

"Doctor, please tell me about this kind of pneumonia which does not respond to medication. Do you want things to get out of hand and then tell me you are sorry and then what?!"

It was then that she was transferred to Kampala and admitted at Kadic Hospital for a week, but she was kept on the pneumonia medication.

Fortunately, she responded and after a week, she was discharged. In the subsequent days, everything seemed to be normal in the Basingwire family. But that was far from it. While Basingwire was attending a conference in Kisumu,
Kenya, Adrine collapsed at home.

He gave his children instructions over the phone, all the while trying to keep his composure. She was admitted at AAR Health Insurance Clinic for three days, then Kololo Hospital for a week before being transferred to the Cancer Institute, Mulago.

An X-ray revealed the myeloma cancer. "I could sense that something was amiss from the doctors' faces, but I did not, in my wildest imaginations, i think it could be cancer," Basingwire recalls. Shock engulfed the family. Finally when the news sunk in, the family talked about the treatment and the necessary care that was needed at the time.

Before the attack
Strangely, before the diagnosis, Adrine and her husband each had a strange dream — almost like a feeling of what would happen. In the dream, God was assuring Adrine that what was yet to befall her life was a spiritual warfare, but not a battle against cancer. In the dream, she was cautioned to be spiritually armed.

Basingwire recalls: "I dreamt that I was fighting with the devil and he was armed with a sword with which he was about to stab my wife, who lay asleep beside me. However, in the ensuing scuffle, I punched my wife with my elbow.

She woke up from her sleep yelling 'you have killed me!' Suddenly, my dream ended in remorse as I kept wondering how I had almost killed my wife, yet I am meant to protect her," Basingwire recalls.

While in hospital, the spirit of the Lord brought to remembrance these dreams and how it was directly related to her situation. Basingwire then summoned a family meeting and cautioned his children to be strong. "I told my children that we are fighting against the devil and we are fighting to win." With God's grace, they shouldered on.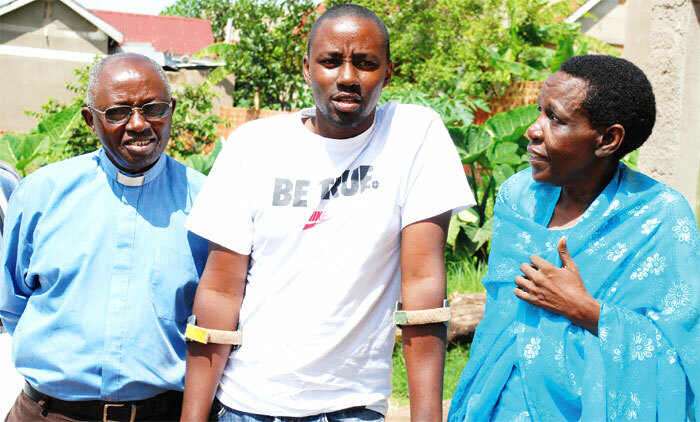 Basingwire (left) with Agababyona and Adrine. Despite thier condition, they have kept hope alive

Their son becomes victim
Before Adrine got back on her feet, cancer struck — again. One of their children, Joel Johnson Agababyona, was diagnosed with synovial sarcoma cancer, which came as a result of the tumour that developed at his left feet after he was involved in a boda boda accident in Kabale.

He is yet to undergo surgery in India and the family is optimistic that God will perform a miracle and the tumour is removed without his leg being amputated. The operation requires a lot of money, which they do not have.

Offering hope and support
Interestingly, Basingwire confesses that cancer has brought about the revelation of God's healing power and bonded the family like never before. He adds that after the cancer struck, he did everything for his wife and he did it happily and faithfully.

While Adrine is still undergoing chemotherapy treatment, she is grateful for the many people that have stood with her. She has retained her position as board supervisor at Bank of Uganda, Kampala, which she has performed beyond the expectation of her bosses.

"Despite my health condition, I am considered one of the best performing employees at my place of work," she says proudly. Indeed God's providence has been evident in their lives. A close friend of the family in Kampala gave the Basingwires his plot of land in Ganda, Nansana where they have put up a beautiful home.

If you want to help Adrine and Agababyona, write to csr@newvision.co.ug or call 0414 337 000
Struck with cancer but not crashed