We are in Kalerwe, Dobi Zone, Makerere III to visit Namiri, a 10-year-old girl who takes care of her 31-year-old HIV positive blind mother, Rachel Nansubuga.
We squeezed our way into a thin, long alley of shacks inside the rugged slums of Kalerwe on the outskirts of Kampala. We turned corners along crumbling brick houses, jumped over ponds that reeked of rotten fish, passed wailing naked babies and negotiated garbage-filled pathways to reach our destination. It was a frustrating journey through trenches of dirty water, but one that was soon lit up by the sweet innocent smile of a little girl.
We are in Kalerwe, Dobi Zone, Makerere III to visit Namiri, a 10-year-old girl who takes care of her 31-year-old HIV positive blind mother, Rachel Nansubuga. When we arrived, she had gone to collect tea for her ailing mother from a nearby restaurant. She was somehow excited when she arrived. Her lips cracked into a foppish smile to welcome us. She was eager to tell her story. 
"I live here with my mum," Namirimu said "I take care of her, wash her clothes, give her food and remind her to take her medicine," she added. Her square face bowed slightly, her fingers playfully running around the embroidery on her light green dress. Abi speaks fast. Each word that comes from her sort of defies her age.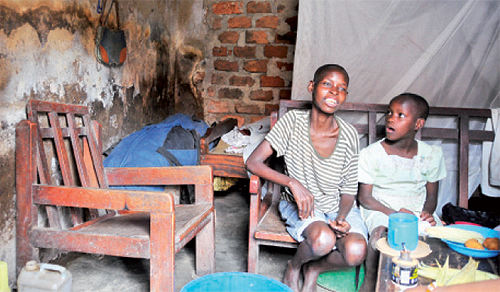 Namirimu and  her ailing mother seated in their dilapidated one-room house
Abandoned 
Namirimu is the only child born to Nansubuga. Her father Muhammad Zziwa died of HIV last year. By the time of his death, he had separated with Nansubuga. She has been looking after her mother since 2007 when her extended family deserted them. 
The two share a bed in a one-room house. It is a miserable place made of a crumbling concrete floor and sandy walls that have been blackened by soot and brown cobweb threads. A tattered handbag hangs on the wall, just above the tiny 3*6 bed that Namirimu shares with her mother. In front of the bed is a broken wooden chair, without cushions. Tiny saucepans, dirty jerrycans and a rugged bag litter the tiny floor space in this house. 
We sat on the fringes of the door for the interview as we could not fit into the house. Earlier, we had jumped over a filthy green pond of stagnant water to get into the house and endured a fishy whiff of rotting garbage heaped beside the house. You have to step over this heap to get to the bathroom — an open make shift cubicle that also leads to the toilet.
Home is best
Despite its filth, this is home for Abi and her mum, so much that when Rose Nasejje, our guide, jokingly threatened to find them another place, the little girl retorted: "Hmmmmm," rolling her eyes and flapping her tiny little shoulders. She has her reasons. "I have grown up here. I like it here." 
It is here that she met Arnold, a playmate and now trusted friend. "When we are broke, Arnold's family sometimes gives us some charcoal to cook," she said. 
Maama Angel Kisaakye, a neighbour, complains that sometimes Namirimu plays too much and forgets about her mother. Both mother and child smile about this allegation. This place seems to give Namirimu a chance to bring out the child in her, despite the circumstances that have barred her from enjoying her childhood. Even then, the adult in her is never far away, for between the loud bouts of Tapo (hide and seek), she will return to cook for mummy, wash her clothes and remind her to take her ARVs. But, it is not an easy job. 
Hard worker
Namirimu's day begins at 7:00am when she wakes up to clean the house, fetch water from a nearby communal tap and prepare breakfast — usually dry tea — for mummy. Breakfast will be cooked only if there is money to buy charcoal and food. Sometimes there is no breakfast. And this means Namirimu's mum cannot take her ARVs. "This medicine is taken on a full stomach. Without food, I cannot take it," said Nansubuga.
In such circumstances, Namirimu will have to think fast. "Usually, I quickly dash to the main road and pick abandoned banana fingers near Kalerwe Market. Sometimes, she requests neighbours for some money. 
"Kind restaurant owners sometimes give us food and tea," she noted. Sometimes, TASO offers them money, which Namirimu collects from Mulago Hospital. On some days, she holds her mother by the hand and walks her to Mulago Hospital for medical check-up. During school days, she divides her time between classwork and home chores. 
She walks every day to Makerere University Primary School, where she attends P3. When her mother's condition worsens, she misses school. 
Namirimu is nevertheless grateful to Empower a Child, the NGO that pays her school fees and some generous pastors from Ntinda who provide scholastic materials. Nansubuga's wish is to mobilise funds and construct a small decent house for her child. Namirimu's wish is to continue with her education and "grow into a responsible person."
Helpless children
Abi is one of the 1.8 million orphaned children in Uganda. A total of 890,000(45.6%) of these are, according to the 2010 HIV/AIDS and Orphan and Vulnerable Children (OVC) situation report, due to HIV. She is among three million children categorised by the gender, labour and social development ministry as vulnerable. Despite the existence of the National Orphans Policy by the gender ministry and its partners, children like Abi still face enormous challenges. 
According to the population council, HIV has introduced new challenges to families and communities, putting traditional social safety nets under stress and threatening the survival and development of children. Without proactive interventions, the council observes, children like Abi risk dropping out of school, impaired food security and diminished psychosocial well-being among other problems.
Expert Opinion
Nasejje, a trained counsellor with TASO, says their present circumstances inhibit their ambitions. For Nansubuga, it is a risk of infection from the filth; for the child, it is the long-term physical and psychological impact. 
"Apart from the risks of poor feeding on her physical development, Abi has been robbed of a proper childhood," says Annette Kirabira, a counselling psychologist.
For such a person, emotional instability, dropping out of school, losing interest in family life and seeking emotional support from wrong people are a real threat. Kirabira adds that Abi will have to seek social support and encouragement from loving people to escape these risks. For now, life continues to toss the two around; for how much longer, they do not know either.
To support the family. Please see below:
Please be careful so your funds reach the intended person.  If in doubt, please write your query to
csr@newvision.co.ug
and copy to
digital@newvision.co.ug
or call
0414337000/0312337000
and ask for Vision Group legal department
Use
The New Vision Bank accounts below;
Esther Namirimu c/o New Vision (as a catch word)
BANK
STANDARD CHARTERED BANK-UGANDA
ACCT NAME
NEW VISION PRINTING & PUBLISHING COMPANY
ACCT NUMBER
8705610690400, BRANCH SPEKE ROAD
ADDRESS
PLOT 19/21 FIRST STREET, IND AREA,  P.O BOX 9815, KAMPALA.
***********************************************************************
BANK
STANDARD CHARTERED BANK-UGANDA
ACCT NAME
NEW VISION PRINTING & PUBLISHING COMPANY
ACCT NUMBER
0105610690400
***********************************************************************
BANK
STANDARD CHARTERED BANK-UGANDA
ACCT NAME
NEW VISION PRINTING & PUBLISHING COMPANY
ACCT NUMBER
9305610690400
NEW VISION MOBILE MONEY NUMBER:
0788162001
Treading an adult''s path