TOP Golden Jubilee Uganda STORY
Bitahwa left a green legacy in Bushenyi
Today, CHRIS MUGASHA looks at Samson Bitahwa, a man who lived much of his adult life outside Uganda, only to come back and start up one of the largest environmental conservation drives in Bushenyi
To mark 50 years of Uganda's independence, New Vision will, until October 9, be publishing highlights of events and pro ling personalities who have shaped the history of this country. Today, CHRIS MUGASHA looks at Samson Bitahwa, a man who lived much of his adult life outside Uganda, only to come back and start up one of the largest environmental conservation drives in Bushenyi

When one talks of legacy, people only think in terms of family. In Africa, we often limit our work around our families, but for Samson Bitahwa, the legacy he left will take a long time to fade, because he made it his life's calling to conserve the environment.

He wanted people to lead better lives in surroundings that were free of contamination. While this dream was not achieved nationally, at least the people from Bushenyi, his home district, are reaping from his sweat.

Unlike other regions that have since bore the brunt of harsh weather patterns, Bushenyi has not experienced landslides, drought and erratic weather patterns because people like Bitahwa created environmental consciousness and spearheaded tree planting campaigns through Rukararwe, a non-governmental organisation set up in 1986. "The favourable climate Bushenyi is experiencing when other parts of the country are facing problems is largely because of Bitahwa's effort," says Mary Karooro Okurut, the district Woman MP.

Karooro adds that some people initially resisted Bitahwa's idea of planting trees, but the fruits of that campaign are now the basis for their praise whenever they talk about the weather.

Bitahwa started spreading the gospel of tree planting in schools, churches, urban centres and even went down to reach the households. He mobilised communities to make Bushenyi green through different interventions that involved agro-forestry.

He handled issues of the environment in a multi-sectoral approach. To highlight the importance of his campaign, Bitahwa integrated primary health care initiatives by promoting an African traditional healing mechanism, a move that made him one of the first elite to openly use herbs for medicinal purposes.

After establishing a traditional medicine clinic, people started flocking Rukararwe in search for herbs. As a result of Bitahwa's research, the question of dosage had been answered thus making it a suitable alternative for chemically-based medication. Since the medicine was organic, it had no adverse side effects; it was thus suitable for the treatment of high blood pressure, asthma, malaria, ulcers and gynaecological problems.

At Rukararwe, Bitahwa established tree nursery beds where he grew seedlings, which he sold: He also set up a demonstration farm and grew an artifi cial forest that was a sanctuary for snakes, tortoises and birds. He believed it was possible for everybody to benefit from eco-tourism.

Through his research, Bitahwa sought the help of international partners and they introduced an earthen brick-making technology that used unburnt bricks in house construction. With this method, he rendered the need to cut down trees used in the baking of bricks useless, thus conserving the environment.

Prior to the research, burning of bricks was common practice. The new technology involved mixing soil with sand and cement, which was then compressed using a locally assembled stabilising machine. The stabilised bricks were then dried in the sun and were ready to use after a few days. By the time Bitahwa died, he had convinced residents to adopt the technology after demonstrating it in different schools where he constructed classroom blocks and teachers' houses for free.

To Bitahwa, environmental conservation was a sure way to poverty eradication, a reason he used to engage people, especially women and youth to form associations through which he supported them to rely less on the environment for survival. Through such groups, Bitahwa introduced the heifer project per household in the villages of Karaaro, Kijumo, Nyamitooma, Nyabubaare, Kabwohe and Kakanju. This initiative enabled some households to sell milk and obtain manure to regenerate their soils.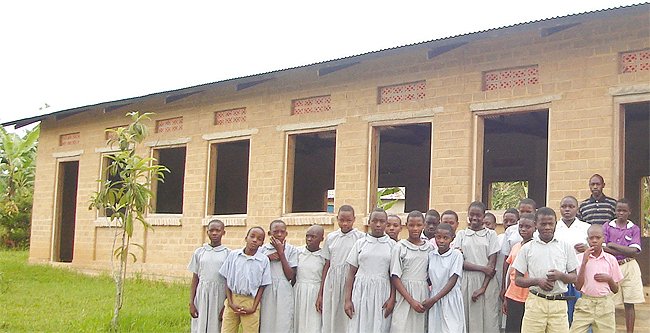 Above, one of the buildings constructed using unburnt bricks. Bitahwa (left) plants a tree in Bushenyi in an earlier photo
Amos Kahara, a lecturer at Kampala International University, however, argues that the environment in Bushenyi may eventually suffer since nobody took up Bitahwa's mantle. "None of our leaders is using Bitahwa's approach of protecting the environment," says Kahara.

Bitahwa tried to take environmental advocacy to the national level when he became area MP for Igara West in 1996, although not much success was registered. To some people like Yowasi Makaru, an elder in Bushenyi, Bitahwa engaged in a good fi ght, fulfi lled his social, economic and political pledges and set the best example for other politicians.

Paul Kahigi, a resident recalls that Bitahwa was a leader whose development projects still exist. "We have a favourable environment because of Bitahwa's efforts," Kahigi says. Godfrey Munyambare recalls Bitahwa as a leader who helped people out of poverty. "Even after his death, people are still benefi ting from his projects."

Bitahwa's life
Born in 1945 in Kibaare, Bumbaire sub-county Bushenyi district, Bitahwa started primary school at Ruyonza Junior School before proceeding to Ntare School, Mbarara for his secondary school education.

After Ntare, he worked for the Ankole Kingdom as the secretary of the land board between 1963 and 1965 when he got a scholarship to study economics in Yugoslavia. In 1978, he received another degree in economics at Kiet University in Germany and was able to communicate in many languages including German and Serbo-Croatian languages.

He married a German national, Astrid, and lived in Germany for many years before returning to Uganda to contest for a parliamentary seat in the Sixth Parliament. In 2007, President Yoweri Museveni appointed him as the ambassador to Germany where he lived for a year before passing on.