Patrick Bwire and his wife Juliet were the happiest parents on June 28, 2004 when their twin girls were born at Nsambya Hospital.

Patrick Bwire and his wife Juliet were the happiest parents on June 28, 2004 when their twin girls were born at Nsambya Hospital.

Juliet says it was a surprise to her as she heard the midwife exclaim that there was another baby coming. But with the children bedridden, life has not been the same, writes

Gladys Kalibbala
Juliet Bwire did not receive any complications common with women expecting twins and it could be the reason she never suspected that there was anything wrong with them.

The girls were named Pauline Rofina Adongo (Nakato) and Regina Petronila Apio (Babirye). "The twins were not detected till the day I delivered," Juliet recalls. The Bwire family is blessed with six children — the twins are the last two. Patrick is a Catechist at St. John Mary Muzeyi-Nsawo sub-parish in Namugongo Parish and a teacher at St. Jude Ggaaza Primary School, Nakisunga, 12km from Mukono town.

Juliet is a teacher at Police Children Ntinda Primary School.

Patrick says the twins were growing normally up to the age of two, when they were struck with a disease. They are both bedridden and cannot talk or walk, and the parents no longer have money to care for them.

Sickness strikes
Patrick recalls that when Adongo had just turned two-and-a-half years, she suffered malaria, which came with convulsions. She was rushed to Nsambya Hospital. During treatment, the doctors found that she had sickle cell anaemia.

The family was not aware of it since none of the other children was a sufferer. She did not have enough blood and her condition deteriorated.

"By then, she was weak and would limp while her twin sister who was normal helped her along until she got a severe attack in the third month and became completely immobile," Patrick says.

He adds that Apio continued to grow well and when they suggested she starts nursery when she turned four, she insisted that she would not go to school before her twin sister was well.

"She used to pray for her and she never allowed us to narrate her sister's condition to guests as she did it better and asked them to pray with her for her quick recovery," he recalls.

When Apio also got the attack, Patrick and Juliet were both at work. She was comatose and doctors thought they had brought a dead person to the hospital. She has not recovered since.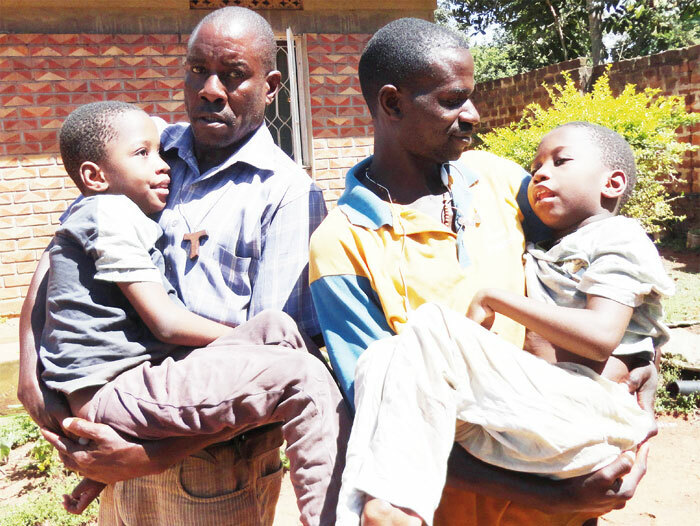 Bwire (left) and his son Henry holding the twins. Henry stopped studies to look after the twins

Financial constraints
Patrick says when both twins fell sick, the family started running into debt to pay bills at Nsambya Hospital, until they had to transfer them to Mulago Hospital.

"We sold the pick-up, generator, over 50 goats we were rearing, a home theatre and many other things, but still remained with debts," Patrick says.

For him, it was no longer a problem to board off a taxi in Bweyogerere, 6km away from home, and walk all the way home in Namugongo in order to save some money for milk or sugar.

The twins cannot chew food, so he has to spend a lot on a special diet for them. They reduced the journeys to Mulago Hospital to twice a month for physiotherapy as advised by doctorsdue to financial constraints.

Brother misses university
Henry Bwire, the twins' brother, whom I found at home feeding them, explained that he had to make the decision to care for his sisters as their father was overcome with grief. Henry and a sister who comes after him were due to join university in 2008, but their dad had sold everything at home and his salary could not feed the entire family.

Henry says the twins need round-the-clock care; changing their diapers and feeding them. The maid alone cannot do it. "Dad could not afford a second maid and I realised he would soon die of stress. I took over their care hoping to go back for studies after my sister, who is in her third year at Makerere University, has completed," Henry says.

WHAT MEDICS SAY
Gerald Okello, the head of the physiotherapy department at CoRSU, says the twins were diagnosed with spastic quadriplegia. He explains that clinically, they are unable to sit, so they are always in a lying position.

They have spasticity in both the upper and lower limbs with reduced range of motion in the joints of the upper limbs and lower limbs as well. He adds that they also have contractures, leading to equines deformity in both lower limbs. He recommended daily physiotherapy requires admission to a rehabilitation centre, so as to improve their condition.

He said the two also require appliances like CP chairs and standing frames to help in training and standing that require a lot of money, which the parents do not have. Doctors explain that both girls have damaged brains and expertise training can help them become self-reliant, so that they can sit and eat by themselves in wheelchairs.

Medical forms show that Adongo was diagnosed with sickle cells while Apio suffered from meningitis. They received rehabilitation at Mulago Hospital in 2007 and 2008, but Patrick and Juliet could not sustain it due to financial constraints.

In 2011, when the parents approached Katalemwa Cheshire Home for Rehabilitation Services, they recommended a rehabilitation service for both of them for one year at sh16.8m, which the parents could not afford.

According to Dr Deogratias Munube of the Department of Paediatrics and Child Health, Mulago Hospital (sickle cell department), the condition is a complication of sickle cell called stroke, which occurs commonly in children. It commonly affects the limbs and treatment is mainly conservative (give blood transfusion or physiotherapy) as it not reversible.

He explains while some children get the stroke type, others will be lacking blood, while another group will suffer from pneumonia. He adds that about 2.3% of the children in Mulago who suffer from sickle cell get the stroke type.

He, however, says there is need to promote testing of this disease to all new-borns since it is indicated that 20% of Ugandans population has traces of this disease. "It's unfortunate that parents realize this disease when it is a bit late after their children have fallen sick," he says.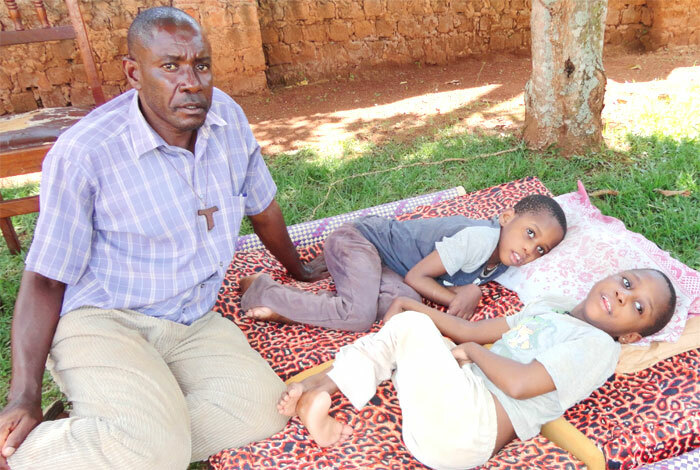 Bwire in his compound with the twins. Inset is Juliet with the twins before they fell sick
Double tragedy: my twins can neither talk nor walk