13-year-old Juliet Kyomuhangi has reason to smile after living out of six years of immobility from a shrapnel hit in Kibale district. Now she can walk
By Gladys Kalibbala
Before I could even reach her hospital bed, 13-year-old Juliet Kyomuhangi was all smiles and called me from far to tell me where her bed was. This was at CoRSU Kisubi hospital where she received an operation recently.
A few months ago her sad story appeared in the New Vision paper seeking for assistance to enable her get an Arteriogram scan of the lower limb at sh600,000 and about sh400,000 for maintenance at the hospital after the operation.
 CoRSU offered to perform the operation free of charge as she is under 18 years.
Hand of hope
After getting to know about her plight from the New Vision paper and website, Hwan Sung Furniture Ltd (Ntinda) lifted the hope for a healthier life of the young girl with a sh600,000-donation for her surgery.
The cheque in the names of Kampala Imaging Centre intended for the scan was given to Kyomuhangi's aunt, Lovinsa Karamagi.
Employees of Inchcape Shipping Services located in Ntinda donated sh450,000 to the girl for her upkeep.
The operations manager of Inchcape, Sam Sekasi Kigozi and his assistant Fredrick Alituwa explained the employees were touched by her sad story.
Deadly shrapnel hit
According to Dr George Galiwango of CoRSU, Kyomuhangi was hit by shrapnel which entered her leg behind the knee and pierced the major artery (behind the knee).
 He explains the hit resulted into abnormal communication between the artery and the vein and it weakened the wall of the artery which caused the swelling.
"The swelling of the artery had a weak wall which would have burst causing severe bleeding in the leg. Such a condition can even cause death if not operated in time," he says.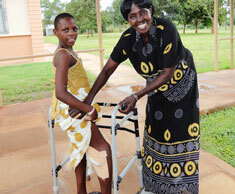 Galiwango advises that following a bomb blast, a careful exploration of the injured parts and identification of the injuries is important and their management can be planned and executed.

He however cautions that this kind of surgery on large blood vessels should be handled by vascular surgeons.
Kyomuhangi has been living in pain with fragments of a bomb blast with sleepless nights for the last six yearrs and missed joining Primary Seven this year as she could not walk.

Her cousin-sister, Dorothy died on spot leaving Kyomuhangi and two others with serious injuries.

Flashback: horror
On March 7, 2006, Kyomuhangi with a group of friends discovered a metal-like object shaped like a pawpaw on the way to school in the morning. She was by then in Primary Two and they were all pupils of St Veronica Kisojo Primary School in Kibale district. "

"We hid it and planned to pick it on our way home, "she recalls.

When they found it taken by other children who were kicking it as a ball they confronted them and demanded for it.

Kyomuhangi carried it on her head but as they trekked home it fell off her head, rolled down and produced smoke as it hit a stone.

"I only remember my late cousin Dorothy going near it and touching it saying she wanted to find out the cause of smoke," she explains.

Kyomuhangi's aunt, a retired teacher explains Dorothy's body was torn into pieces and her blood splashed over the friends who ran in disarray after the blast had caused fire.

Asiya Namande and Mukisa were also injured and rushed to different hospital. A boda man who rescued Kyomuhangi and saw her injured with some flesh coming out behind one of the legs, rushed her to Kyebando dispensary in Kibaale where her wounds were stitched.

"The wound recovered well and she joined school normally until the injured area started swelling in 2009," Karamagi explained.

Police later told the family how they suspected the bomb to have been left behind by ADF rebels who fought in the area during that time.
I can now walk, thanks to New Vision readers