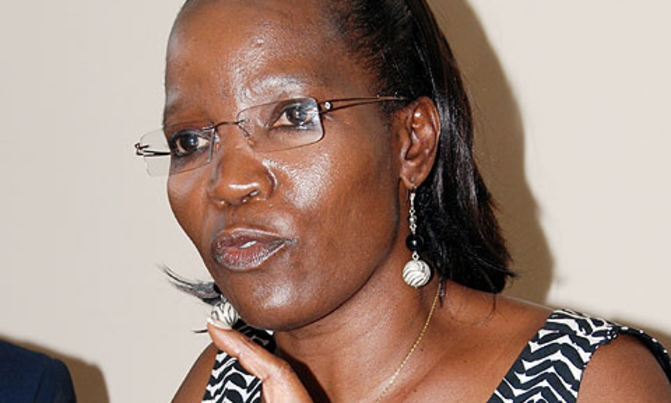 The Executive Director Kampala City Council Authority must be one of the most written about person in Uganda.
By Kalungi Kabuye
The Executive Director of the Kampala City Council Authority must be one of the most written about person in Uganda. She is in the papers everyday, and radios and TVs reporting on what she is up lately.
But I had never met her, so when she agreed for an interview last week I was curious what kind of person I would be facing. Not many people have gone eyeball to eyeball with an army general in charge of intelligence, and made him blink first. Or took on former Mayor Sebaggala and his army of 'seyas', and had him evicted from a house he tried to grab.
She has taken on street vendors in their hundreds, and broken the back of the almost untouchable UTODA. With that track record one would expect someone almost frightening. So the last thing I wanted to do was get there late, but an early morning call had brought the interview forward by one hour so I had to juggle my schedule to get there in time.
We made it with barely minutes to spare, but had not reckoned with the tight security at City Hall and the checks we had to go through before we reached her office. A colleague remarked that it was like going into State House, which was quite on the mark. Apparently her fight to make Kampala a better place had fetched quite a few enemies, and death threats against her had 'spiked', as she put it.
Finally we were in her office, formerly used by the Town Clerk. Not a big deal, we've seen company secretaries with bigger, more ornate offices. Finally the Executive Director rose from her desk and came to meet us. So, what was she like?
Someone had told me earlier that she was a small woman, but no she was not. She is actually tall for a woman, although not model tall. And she is not fat and her arms seemed toned, does she work out? Probably.
We went there expecting to find a person eager to sell us their dream or try and convince us that what they are doing is the right thing. It was unusual that a person with such huge responsibilities, and who is facing opposition in almost every step she takes, did not try to butter us up and make us see things her way.
Maybe we have been talking to too many politicians, oily-smooth apparitions, who as soon as they see you act as if they been your friends from childhood, hoping you will go back and write nothing but good things about them.
Seasoned journalists can spot a charmer a mile away, and Jennifer Musisi is not a charmer, not in the sense of politicians. She welcomed us, ordered for coffee, and started off with the interview.
Musisi speaks in a level, controlled voice that she never seemed to raise, although varying intonations served to mark out the serious and important points she was addressing.
With an iPad on the table in front of her, she readily and fluidly answered all the questions, methodically and thoroughly.
In a way it was strange to interview somebody who was not trying to impress you in one way or another. She answered our questions and gave us the figures we asked of her, seemingly confident that her answers will do all the impressing she needed done. In that she was right, as those who have read the interview have been impressed.
One thing known about Musisi is that she has been a born-again Christian since her schooldays, especially in Kings College Budo where she became the first girl to become deputy Head Prefect, and reportedly came out top of her class in A-Level.
Today's Christians tend to be loud and will put their religion in your face the first chance they get. But Musisi is no zealot, and the only time she mentioned religion was near the end of the interview, when we asked why, with all the opposition and death threats she was getting, she still did what she did. That's when she said how she believed in God, and it was her calling to do what she could for Kampala.
Jennifer Musisi has been described as that rare Ugandan, one with values and who sticks to them. A schoolmate narrated travelling with her on a flight to Europe, where she sat with the rest of them in Economy class. It seemed like a private trip, he said, because she had her children with her; but has that ever stopped any Ugandan official from putting them all in Business class?
Another former school mate described her as being "… a very smart and focussed girl who took her studies seriously… Overall, she was reserved and did not cause any controversies. I think she has a good head on her shoulders. Even after school, I think one of her enduring attributes is that she is very enterprising and hardworking."
There has always been an accusation by naysayers that people from Kings College Budo make good civil servants and bureaucrats, but not leaders. And that the British did that deliberately when they set up the school.
Old Budonians regularly dismiss those accusations with the contempt they deserve, but it is on the shoulders of such people, schooled in similar educational institutions, that the British Empire, the world's largest empire ever, was built.
And President Museveni was probably thinking the same thing when he said, at this year's Women's Day celebrations, that if he had 1,000 Jennifer Musisis, Uganda would be a very fine country indeed.
Face to Face with Jennifer Musisi