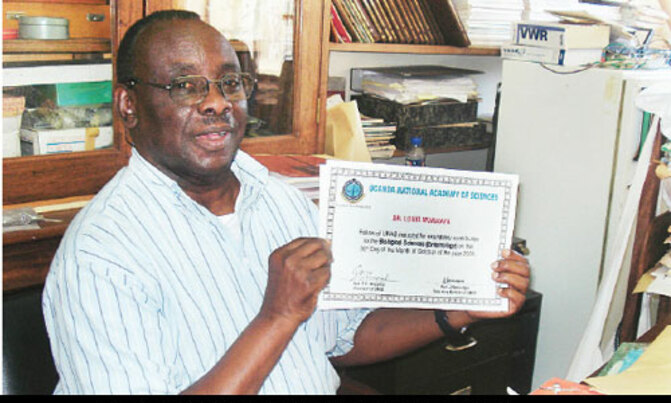 Today, GLADYS KALIBBALA brings you the story of Dr. Louis Mukwaya, the Ugandan face spearheading the anti-mosquito war
To mark 50 years of Uganda's independence, New Vision will until October 9, 2012 be publishing highlights of events and profling personalities that have shaped the history of this country. Today, GLADYS KALIBBALA brings you the story of Dr. Louis Mukwaya, the Ugandan face spearheading the anti-mosquito war
Dr. Louis Mukwaya, 73, the assistant director at Uganda Virus Research Institute, Entebbe, and head of the entomology department devotedly goes about his work. The researcher, who prefers to keep a low profile, is checking on the eggs of mosquitoes. He later tells me he has been doing this for a decade and that he was the fi rst black Ugandan researcher at this centre.
Mukwaya is happy his hard work has finally been recognised with international researchers naming a new subgenus stegomyia (mosquito) after him. "It's diffi cult to explain my excitement when I received the e-mail from a friend!" he exclaimed.
The report released on November 30, 2009, by international researchers; John F. Reinert, Ralph E. Harbach and Ian J Kitching from Centre for Medical, Agricultural and Veterinary Entomology, United States Department of Agriculture, Agricultural Research Science, indicated that a new subgenus stegomyia, Mukwaya, includes different species of mosquitoes found all over Africa south of the Sahara.
It further stated that Mukwaya (the mosquitoe) is named in honour of Dr. Louis Mukwaya, in recognition of his many contributions to medical entomology. Subgenus Mukwaya was noted to transmit yellow fever, but it does not bite human beings. A month before on October 30, 2009, Mukwaya had been elected as a fellow of the Uganda Academy of Sciences.
Venturing into entomology
Mukwaya traces his research instinct from his early days, when, at his parent's home in Kangave-Kirema village, Makulubita, Luweero district, he suffered from a strange eye disease. He says the eye infection could not heal with 'the tube'(ointment) his parents got from the hospital. "For two weeks the eyes remained swollen and very painful until an aunt picked some herbs from the bush and rubbed them on," he recalls.
Mukwaya adds that in two days the eyes were better and he was able to continue with school. This experience, he believes, ignited in him the passion to discover what it was in plants that made people's lives better. He decided to study pharmacy. "Although I was in P.5, I resolved not to remain behind the counters and dispense medicine, but go deep into research," he recalls.
In 1965, while still at Makerere University, he succeeded in the multiplication of over 100 grasshoppers at his laboratory. His lecturer, Prof. Rowell Hugh, who he calls his mentor, had given him this project.
"Like all other people I did not know how grasshoppers produced because we only saw them come around in May and in November," Mukwaya says. He picked a few from the lights outside and put them into cages in the laboratory at the Zoology Department. He fed them and monitored them, and kept changing types of grass since he did not know what type they exactly needed.
The doctor later celebrated his success when he got over 100 of them without waiting for the month of May or November to come. After his PhD in 1972, Mukwaya who had joined Uganda Virus Research Institute as a trainee, where he met and interacted with only two other black men from Zambia and Kenya, was given a hard task.
Dr. Williams Miles, the then director of the institute, wanted Mukwaya to find out why the mosquitoes transmitting yellow fever, which seemed to be all over the country, were only infecting people in the western region (Bundibugyo).
According to Mukwaya, this heavy task could also have been a turning point for him as it took him deeper into his research. Since he required a good laboratory where he could work from, he started sending applications abroad to for a place to work on his research.
His luck came when the director, Vincent G. Dethier, gave him a vacancy at Princeton University in the US in 1973. WHO in Geneva funded his stay there for one year. He was the fi rst black man to do research at this laboratory.
Mukwaya says he walked a distance of 3km to this laboratory every day for a year since he could not afford transport. "Even during winter I walked and would be in the laboratory by 9:30am, leaving at 1:00am, " he recalls. Mukwaya says he benefited a lot as he worked alongside Dethier, who also researched on the feeding of insects. Although on completion of his research the director wanted him to stay in the US, he had plans to come back and accomplish his dreams.
"When I came back in 1974, there was a lot of insecurity in the country during Idi Amin's regime, which did not allow me to start my work immediately," Mukwaya says. In 1975, he was elected a fellow of the Royal Entomological Society of London and in 1976, he was elected a member of an Expert Advisory Body for Vector Biology and Control, working with the World Health Organisation (WHO) in Geneva.
In 1979, WHO invited him to Florida for a three-year study about the diseases of insects with a view of starting a programme in Uganda. "The study was about controlling insects without using chemicals. Due to fi nancial constraints the programme has never taken off," he says.
Educational background
Mukwaya was born on August 2, 1939 to late Yowana David Basajjassubi Makumbi and Marian Nansubuga. His mother died in labour in 1941 when he was about two years old.
He says after their mother's death, their father worked hard to raise him and two of his siblings. He died in 1967, when Mukwaya had just completed his course at Makerere University. He studied at Kangavve Preparatory School, then Kijjaguzo Primary School in Luweero, where he completed P.6 in 1952 and was ranked the second-best pupil in Buganda.
Mukwaya went to Rubaga Junior School in 1953, while living with relatives at Lungujja. Due to his being naughty all the time, students at Rubaga connived and elected him head prefect, which annoyed him. At the end of their P.3 he was among the three boys that performed well and were offered places at St Mary's College, Kisubi. He was good in physics, chemistry and biology, which later enabled him to join Makerere University in 1960 and completed in 1965. He hails the late Senkubuge whom he met at UVRI when he had just joined, but later worked with him even after the hard times of the breakup of the East African Community.
"He was a P.4 drop-out but taught me a lot about mosquitoes," he says. Mukwaya explains that with time, with the use of grants, he has been able to train students in his fi eld where four of them have attained PhDs and there are over 10 technicians.
He is married to Annet Mukwaya, a housewife and together they had eight children (two have since passed on). The other six are Dr. Josephine Birungi who works with UVRI; Anthony Makumbi of Plan International; Christine Mukwaya, a senior water offi cer at the water ministry; Annet Namukwaya who works with the Malaria Project and Solomy Mukwaya of the Walter Reed Project, Kayunga.
Dr. Mukwaya, Uganda's most renowned malaria researcher