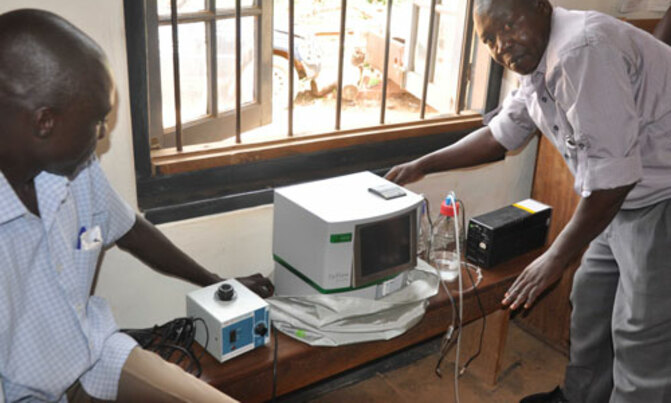 Police in Soroti have recovered a CD4 machine that disappeared last week from the district's main hospital
By James Odong and Felix Osujo 
A CD4 count machine which had been stolen from Uganda Cares, Soroti Anti-Retroviral Therapy Clinic at Soroti Regional Referral Hospital has been recovered by Police.
 The OC CID Soroti, Stephen Kaija says the machine was recovered on Saturday by Police following a tip off in Orwadai, a suburb in Soroti Municipality.
"We recovered the machine in a house belonging to Simon Elungat, who is now in our custody. The machine was covered with a bedsheet and kept under his bed, Kaija told New Vision online.
He said further the suspect is under interrogation to find out how the plan was hatched and where the machine was to be sold.
Simon Elungat works as a security guard at The Aids Support Organization (TASO) Soroti, the Police official revealed.
But despite the recovery of the machine, seven suspects remain in custody as investigations into the matter continue.
According to the mid-eastern Police spokesman, Juma Hassan Nyene those who are in Police custody are Simon Elungat, the prime suspect; Stella Achakara, a nurse; Bernard Akol, a data clerk at Uganda Cares; John Dongo, another security guard and Ali Mugoya, a tipper lorry turn-boy [assistant driver].
 The CD4 machine went missing in Soroti Hospital last week on Good Friday.
 A CD4 count machine is important for HIV/AIDS care and treatment for it allows doctors to know when to start patients on life-saving therapy.
 For a patient with HIV infection, CD4 counts help determine the stage of infection, guide drug choices and indicate the patient's response to treatment and disease progression.
The medical officer in-charge at Uganda Cares, Dr. Gilbert Sangadi said the recovery of the CD4 machine is a big relief and asked clients who were supposed to have been tested and missed out after the machine was stolen to go for their routine CD4 count check.
"Over the last nine days, more than 400 HIV patients who were due for CD4 count test missed out. I want to ask all those who missed the CD4 count to come and we run their CD4 count", Dr. Sangadi said on Sunday at Soroti Central Police Station.
He said Uganda Cares Soroti centre serves over 7,500 clients.
According to a July 2011 report by local authorities, the HIV prevalence has gone up in Soroti, now standing at 6.2%. This has risen by more than 2% since 2005, when prevalence stood at 4.3%.
Among other factors, the rise was attributed to excessive alcohol consumption and reluctance to use condoms.
 The national census of 2002 estimated the district population to be approximately 193,300, of which 51.2 % are female and 48.8% are male.
The district population growth rate was estimated at 2.8% annually. It is estimated that in 2010, the population of Soroti district was approximately 241,200, an indicator that it is still expanding.
Missing CD4 machine found, seven arrested