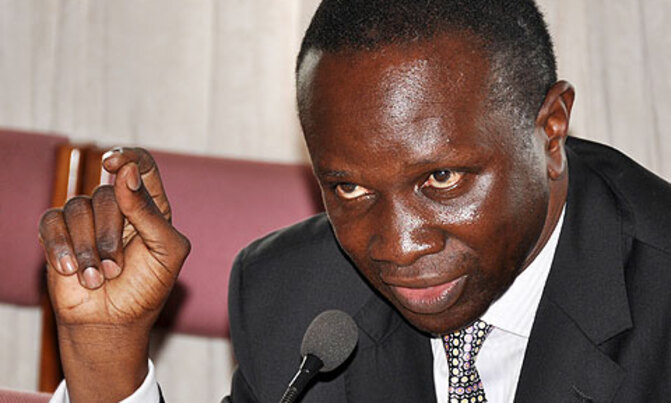 The ruling NRM and opposition parties are due to meet under the Inter-Party Organization for Dialogue (IPOD).
By Moses Mulondo
The ruling National Resistance Movement (NRM) parties and the opposition parties are due to meet under the Inter-Party Organization for Dialogue (IPOD).
IPOD brings together five parties NRM, FDC, DP, UPC, JEEMA and CP.
New Vision online has established that three people from each party are due to travel to Ghana to set the agenda for the national dialogue at the end of May.
Details from the IPOD secretariat indicate that NRM will be represented by acting NRM chief whip Daudi Migereko, NRM's policy analyst Hippo Twebaze and Saleh Kamba. The FDC will be represented by deputy secretary general Augustine Ruzindana, Patrick Baguma and Mukalazi Kibuuka, while DP will be represented by its secretary general, Mathias Nsubuga and its policy analyst Deo Njoki.
Before the Ghana meeting, there will be a study trip to various countries, which are partners of the Netherlands Institute for Multiparty Democracy, the key funder for IPOD.
The meeting will take place from April 16 to 19. In the meeting, NRM will be represented by Hippo Twebaze, while the opposition will be represented by Augustine Ruzindana.
After the Ghana meeting, it is expected that the IPOD summit, which is composed of the presidents of each of these parties will meet to discuss the future of Uganda.
In the recent past, the IPOD secretariat has held meetings with delegations from each of the five parties, asking each to submit their proposed agenda.
The current IPOD chairperson, Norbert Mao, said the opposition leaders are ready for the talks with the NRM government.
"The major obstacle to these talks is the NRM. Whereas we are ready for the meeting of party presidents, the NRM have been telling us their leader, President Yoweri Museveni, is still too busy," Mao said in an interview on Thursday.
However, FDC party thinks the meeting it is not necessary, until the agenda for the dialogue, with terms and conditions have been developed.
In their submission to the IPOD secretariat which Saturday Vision has seen, FDC believes before the presidents meet, the council of secretary generals should have already come up with an agreed agenda for implementation.
The IPOD secretariat also asked the Elders' Forum to submit their proposal for the national dialogue and the chairperson of forum, retired Justice James Ogoola, proposed that the NRM rhetoric against opposition parties should change if the talks are to be fruitful.