I failed to sleep on my first night when I thought of the offspring I was forced to leave behind. Deserting my toddlers was like a mother who dies during labour, leaving her baby in the labour suite at the mercy of the doctors.
"Taata, Twerabideyo release form, Tebatukwate?" (We have forgotten our release form, won't we be arrested?) Peter Kato and his wife, Harriet Nanyonjo, asked Michael Kaswa, their host, worried that they would be re-arrested. The release form is issued by the prison authorities upon a prisoner's release. But, one can understand their fears, considering they had been in prison for 14 years. They told their story to Petride Mudoola
In prison, they were used to moving under the watchful eyes of prison warders, but the moment they stepped out of the house they have been given, they were scared. Kaswa, their beneficiary, reassures them that they do not need to worry – they were officially released from prison and no longer prisoners. 
Kaswa is a Good Samaritan who gave the former prisoner-couple a house to stay in for the moment. Kaswa, a former army officer who is now in private business, was touched by the couple's plight while watching a TV programme, The Untold Story. 
Incarcerated
On November 21, 1998, Kato, then 25 years old, and Nanyonjo 22, watched crestfallen as the then High Court Judge of Mubende, Justice Faith Mwondha meted out a guilty verdict unto them. The sentence was death. 
Earlier, in 1998, Kato and Nanyonjo were said to have murdered their two-year-old baby boy. The deceased was Kato's child from a woman he had an extra marital affair with, but the child's mother abandoned it at nine months. Kato apologised to his wife and requested that he brings the child home and she accepted.
Since the child was still breastfeeding, Nanyonjo continued to breastfeed him alongside her own son. 
Soon after, Kato's brother Swaibu Nsereko came to live with them at their home in Kayunga Kyiterede, Mubende district after he had lost his job with Kampala City Council. 
The two families lived peacefully together for some time. However, a conflict over land between Kato's family and Nsereko ensued. With time, the conflict intensified and on several occasions, the two brothers sought redress from the area local councilors. According to Kato, Nsereko had sinister motives against his family. On the fateful day, while working at a nearby garage, Nanyonjo came running to Kato, saying the little boy was not okay and that a black substance was oozing from his nose and mouth. 
"I hurried home to attend to my sick child. I was shocked to see the discharge that was coming out of my son and I made an alarm, prompting the neighbours to come to my rescue. Among those who came were the LC1 chairperson, Ananiya Mugunda," Kato narrates. 
Kato then organised to take the child to the nearest hospital. Unfortunately, the child passed on before accessing medication.
"The deceased breathed his last in the presence of all the people who had come to my rescue. However, I was perturbed when I learnt that my brother Nsereko had filed a case against my wife and me with the LC2, claiming that we connived to murder our own child," says Kato. 
Mugunda was summoned by the LC2 council to find out what had happened. While testifying, Mugunda refuted claims that Kato and his wife had murdered their son. He informed the council that the child might have died because of an epileptic attack. He had a history of epilepsy. 
Despite the testimony by the chairperson, Nsereko reported the case to the Police. Shortly after that, the Police arrested the couple and detained them at Mityana Police Station, where they appeared before courts of law to answer charges of murder.
The chief magistrates court committed the case to the High Court in Mubende and on November 21, Justice Faith Mwondha found them guilty because there was not enough evidence to exonerate them. She sentenced the couple to life imprisonment.
On hearing the sentence, Kato recalls: "I was psychologically tortured, began sweating and fainted in the dock. I do not even remember what followed thereafter. However, on re-gaining consciousness after two days, I realised that I was in Luzira Maximum Security Prison, but could not recall when and how I got there."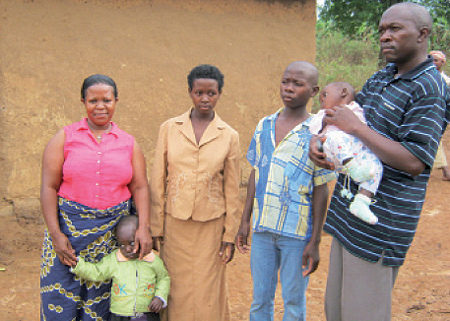 Nanyonjo's story
I passed out when the judge sentenced me to death. I failed to sleep on my first night, when I thought of the offspring I was forced to leave behind.
Deserting my toddlers was like a mother who dies during labour, leaving her baby in the labour suite at the mercy of the doctors. I only gained courage after getting information that my mother was taking care of our baby. 
Life in prison as a woman has been the most challenging part in my life. As a condemned inmate, the warders closely watch you.
The couple reunited with their two children and grand children
As a result, there is no privacy at any moment, including going to the toilets. As an inmate on death row I was always more closely guarded, compared to the ordinary convicts.
Being illiterate, I always prayed to get the opportunity to study while in jail. Unfortunately, I did not because education programmes in the Women's Prison were introduced recently. However, I managed to acquire skills in weaving shopping baskets, bags, mats and hats.
Unfair judgment
The couple still insists that the evidence that was produced in court was not substantial and convincing beyond reasonable doubt. Nsereko's claim that the wound that was on the deceased's head was due to severe beating was not true. Kato maintains that the deceased may have sustained the wound because of falling on a hard object, following an epileptic attack. 
In addition, court did not summon the LC 1 chairperson and my neighbours to give evidence, yet they witnessed the death. Instead, court relied on evidence from Nsereko's son yet he was in Kampala at the time of the child's death. 
According to a post-mortem done at Mubende Hospital, the child sustained an injury on the head and clots because of being hit or having fallen. In addition, that the skin had no bruises and the child was not malnourished. 
Recalling the black substance that was oozing from the deceased's mouth and nose, and the wrangles that had ensued between the two families over land, the couple suspects that Nsereko could have poisoned the child. 
"He would have then taken our land after our arrest," Kato says. "Despite not having obtained letters of administration to manage the deceased's estate, Nsereko sold off our late father's land while we were in jail."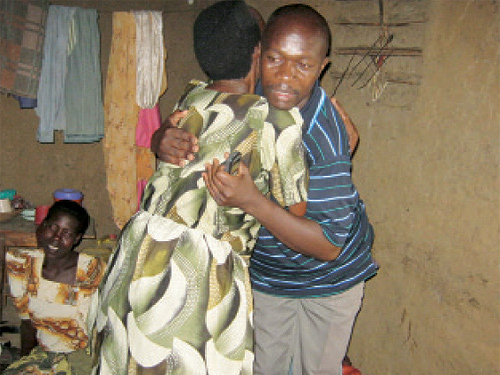 Kato hugged by Nanyonjo's mother when they visited her
From murder to manslaughter
While in prison, their lawyers appealed against the death sentence, but in 2001, the Court of Appeal rejected their plea and upheld the sentence. 
Then the lawyers appealed to the Supreme Court and in 2005, the Supreme Court overturned the sentence from murder to manslaughter and reduced the sentence from life imprisonment to seven years. This was a moment of joy and relief, the couple recalls. On Thursday March 15, 2012, the couple was released from prison after serving the seven years.
Out of prison
A wave of joy swept through Luzira Prison after the couple was released. They were picked from prison by Kaswa. 
Clad in a navy blue suit and a red tie, Kato bid farewell to the prison warders and former inmates, and got into a Noah vehicle parked at Murchison Bay Prison gate. The vehicle then headed to the Women's Prison to pick Nanyonjo.
As Kato headed to the gate, there was rousing applause from the other inmates. Nanyonjo was dressed in traditional wear (gomesi). It took about an hour for her former inmates to bid her farewell. She had been referred to as Katikiro by them. The officer in charge had to intervene and ask the prisoners to let her go because she had kept her visitors waiting. 
The couple were taken to Kaswa's home in Makindye for lunch and later to the house he had donated to them temporarily so that they could start a new life. Close to their discharge, Kato developed a proposal to start a piggery and poultry farm. Kaswa has promised to assist them to start the project and pledged to offer the couple three acres of his land in Kyankwanzi.
Nanyonjo's inceration haunted me
I could not believe that I was in Luzira Upper Prison and worse still, the condemn section. I could not recall where my wife was and how we separated. 
The separation from my wife and my daughter aged four and my son aged two stressed me even more. I could not eat or sleep. Nanyonjo's incarceration deeply haunted me that I held myself responsible for her suffering. Had it not been for the child whom I got out of an extramarital affair, this may not have happened to her.
With time and great longing for my wife, I asked one of the prison warders, whether there was a possibility of visiting my companion while in jail. The warder informed me that it was possible as long as I requested for permission through the Commissioner General, Johnson Byabashaija.Immediately, I wrote a letter to Byabashaija requesting him to grant me permission to visit my wife in the women's prison.
Luckily, Byabashaija granted permission on condition that the prison warders accompany us. I was very grateful for the permission granted to see my wife. This was the greatest opportunity while in jail. The first time I was allowed to visit Nanyonjo, we hugged and prayed together.
This was a moment I will never forget because I thought I would never see her again.  The next time, she was allowed to visit me. Unfortunately, in the condemn section visitors can only speak to the inmates through a glass and wire mesh, where there is no intimate contact. Thus, I always longed to visit her in the women's prison than her coming to see me.While in jail, prisoners are equipped with survival skills. I was able to acquire a certificate in HIV counselling and guidance. 
I can provide counselling services to persons living with HIV as well as administer medication. With the certificate I obtained, I can work in health facilities. So, this was a blessing in disguise.
Vengeace is not our plan 
Just before leaving prison, the couple learnt that their daughter, now 17, had two children. 
"It hurts me because if I were around, my young daughter would not have delivered at such a tender age," says Nanyonjo. 
Despite the hurdles we have encountered through suffering for a crime we did not commit, we shall not pay back our tormentor, says the couple. 
They have no wish to go back to Kato's father's land in Mubende, afraid that Nsereko might attempt to kill them. 
On March 24, the couple travelled to Nanyonjo's mother's home. Needless to say, there was a lot of jubilation. Her grandfather offered the couple a goat to celebrate their release. 
The children, especially the boy who was only two years old at the time his parents were sentenced, could not remember his father and mother. He just kept staring at them like strangers. 
The boy, who had dropped out of school after P.6 because the grandparents could not afford fees, now has hope of a brighter future. 
"Now that my parents are back, l am optimistic that I will be able to go back to school and become a doctor," he says. 
Meanwhile the girl says she would love to go back to school, but still has to look after her children. 
"I have been lonely and missing parental guidance, life has been incomplete without them even if l am now married," she says.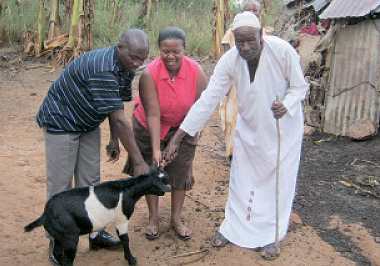 Nanyonjo's grandfather handing over a goat to them for celebration
Prison break: Back home after 14 years