Today, we talk to mothers of some prominent men on whether the things they (their sons) did when they were young actually reflected what they would turn out to be in.
By Vicky Wandawa and Juliet Lukwago
The little boy looked up to his anxious parents and confidently said: "Why were you searching for me? Didn't you know I had to be in my father's house?" Since the question came from a 12-year-old, Mary and Joseph brushed it off.
But the Bible says they did not understand what he was saying to them.
In Luke, 2:41, Joseph, Mary and their son, Jesus, went to Jerusalem to attend a feast. When the feast was over and it was time to head home, Mary and Joseph travelled for a whole day, only to realise that their son was not with them.
They anxiously began looking for him among their relatives and friends in vain and decided to return to Jerusalem to find him. After three days of searching, they found him in the temple courts, comfortably seated among the teachers, listening to them and asking questions.
Mary did not say anything after her son's strange behaviour, but the Bible puts it: "But his mother treasured all these things in her heart."
At the back of her mind, she knew Jesus was no ordinary child and he did live up to it. He became the saviour of the world.
When children are young, their behaviour may sort of let their parents in on what profession they would take up in the future. For instance, many people believe that a child who dismantles their toys and tries to put them back together will most likely be an engineer. 
 Mothers of some prominent men speak out on whether the things they did when they were young actually reflected what they would turn out to be in.
Teopista Nabulo mother of former Vice-President, Gilbert Balibaseka Bukenya
As a child, my son was very intelligent, God-fearing and had an independent mind. He was also straightforward in everything he did and because of that, I knew he would turn out to be influential.
He was very obedient and always asked questions on anything he was not convinced about.
He was so caring and whenever I gave him anything, he would share it with others. Since he was intelligent, he got an opportunity to join St. Mary's College Kisubi.
Who is Bukenya?
Prof. Gilbert Balibaseka Bukenya was born on May 8, 1949 in Lwantama village, Kakiri sub-county in Wakiso district. He had his early education at St. Savio Primary School Kisubi, before joining St. Mary's College Kisubi, St. Edward Secondary School Bukuumi and St. Henry's College Kitovu. He joined Makerere University School of Medicine in the 1970s, where he graduated with a bachelor of medicine and bachelor of surgery (MBChB).
After graduation, he worked as a medical officer at Mbale Hospital, until 1982, when he left Uganda for Papua New Guinea.
While abroad, he obtained a Master of Science (MSc) degree from the London School of Hygiene and Tropical Medicine, UK and a Doctor of Philosophy (PhD) specialising in public health.
When he returned to Uganda, Bukenya served as dean of Makerere University School of Medicine from 1994 to 1996. He later entered politics and was elected MP for Busiro North constituency. Soon, he became Minister of State for Trade and Industry, before being elevated to Minister of the Presidency.
In 2003, he was elected Vice-President, replacing Dr. Specioza Kazibwe and served in that position until 2010.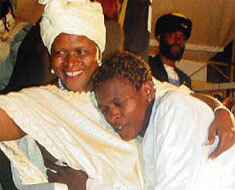 Prossy Mayanja, mother of Joseph Mayanja a.k.a Chameleon and Douglas Mayanja a.k.a Weasel
I gave birth to Joseph in 1978. During his childhood, all we saw was a stubborn child, not a musician in the making. During his P7 vacation, he joined the church choir and I realised he loved to sing. When he joined Kawempe Muslim Secondary School, he got really crazy with music and was expelled over escaping from school to go for karaoke.
For about a year, he stayed home. We really wanted to get the love for music out of him, but we failed. Soon, he started escaping from home at night without our knowledge. There was burglar proofing in his bedroom, but he cut the metal and used sellotape to bind it. He would dismantle it at night and escape.
One night, his father almost shot him, thinking he was a thief. Luckily, Joseph shouted that it was him. It was so frightening.
Another time, his father was told Joseph would perform at a nearby bar. He went there and found Joseph entertaining an excited crowd. It is then that he realised that the boy did have talent. However, we still wanted him to finish school.
We got him a place at Progressive SDA, where he studied up to Senior Six. He would sometimes escape from school, but they were more tolerant.
In Senior Six, he did not get good grades. His father asked him to repeat the class, but he refused and asked for money to go to Nairobi.
After a few months, he returned home and told us that he had sold his debut CD at sh8m, which was a lot of money then. He gave his father and I sh500,000 each and it is then that we realised he was successful. We have now accepted the fact that our son is a musician, and we love it.
Who is Chameleon?
Joseph Mayanja a.k.a Chameleon is a celebrated local artiste. Some of his hits include Mama Mia, Shida za Dunia, Nekolela maali, Katupakase and many more.
Douglas Mayanja a.k.a Weasel
Weasel was born in 1985. He attended Happy Hours Nursery and Primary School and was very brilliant. He topped the class all through.
He was very quiet, to the extent that when he was around, I only heard his voice when he wanted food.
All through primary school, he did not show any love for music. He joined St. Balikuddembe SS Mitala Maria and studied up to Senior Four, but refused to study further after seeing Chameleone's success.
We felt terrible and advised him to pursue music alongside his studies. His father even gave him money to pursue adult education, but he only studied for three weeks and told us he was going to attend a musicians' convention in America.
We let him go, but when he returned, he said he could no longer be enslaved. That made him work even harder to succeed in his career. He was mentored by his brother, Chameleon.
Who is Weasel?
Douglas Mayanja a.k.a Weasel is part of the Goodlyfe crew, with Moze Radio. The duo hit the music scene in 2008 and have since had hits like Zuena, Nakudata, Lwaki Onumya and Nyambura.
They released over 10 songs in a space of one year with entertaining videos that have received substantial airplay on local radio and TV stations.
Matilda Nakkonde, mother of Kampala Archbishop Dr. Cyprian Kizito Lwanga
When I was a young girl, I prayed to the Virgin Mary to make me a nun. I also prayed that in case that was not my calling, I should get married and get a son, who would become a priest.
When I got married, my first-born was a boy, followed by another boy, Kizito, who became a priest. He was born on January 19, 1954.
As a child, Kizito was very humble and a peace-maker. Whenever his peers fought, he would help them settle their differences. He always took good care of his siblings. He loved taking part in church activities and asked us to take him to the seminary at the age of six. Since he was too young to join the seminary, we decided to make him an altar boy, a position he cherished.
                                                                                                                                        I think he partly got the interest in church activities because his father, Joseph Wamala, was a catechist.
At 14 years, he joined Nyenga Seminary and excelled in his studies.
About Cyprian Kizito
In 2006, the Rt. Rev. Cyprian Kizito Lwanga was made Archbishop of Kampala Archdiocese, replacing Emmanuel Cardinal Wamala.
Tereza Mbire, mother of Charles Mbire, chairman MTN Uganda
Charles was born in 1959. After getting two baby girls, my late husband was anxiously waiting for a boy. When Charles was born, he was so excited and named him Magezi, and, indeed, he has lived up to his name.
As a child, he was very articulate in all he did and I thought that was a sign that he would be influential in future. He was also very inquisitive and always asked questions whenever he was not convinced about something. He had a very independent mind and made his own decisions. For example, he always chose his schools and would be admitted right away.
For primary, he went to Kabale and then Kitante Primary School in Kampala, before joining St. Mary's College Kisubi and Namasagali College. He loved economics and we sent him to Coventry University after his A'level. However, he did not think it was the best place for him to pursue economics and joined Essex School of Economics.
After university, Charles returned home when his father had just passed on, but we have no regrets because he has taken good care of us. I used to own a bakery and as soon as he returned, he took over it and used the proceeds well and that is why he is where he is today.
Since childhood, Charles has always been a go-getter. He always made the right decisions from the time he was a child, and never gave up on pursuing his dreams. It is no surprise that he is a successful businessman.
About Mbiire
He is an economist, entrepreneur and industrialist, with several business interests ranging from communications, power projects, finance, real estate and pharmaceuticals. He is also the chairman of MTN Uganda.