THE survey showed that 58% of Ugandans will go out of town for Easter compared to the 17% and 5% of Kenyans and Tanzanians, respectively
By John Semakula 
UGANDAN roads will be the busiest this season compared to Kenya and Tanzania's according to a survey conducted by Ipsos Synovate between March 28 and April 3. 
The survey showed that 58% of Ugandans will go out of town for Easter compared to the 17% and 5% of Kenyans and Tanzanians, respectively. 
Kenyans and Tanzanians are content to celebrate Easter within their localities. 
The survey results allude to the fact that Ugandans may be a more close knit society than Kenyans and Tanzanians. 
The high cost of living may also have affected the ability of people in Kenya and Tanzania to travel during the Easter season. 
But despite the disparities in the travel patterns in the three countries, the findings show that almost the same percentage, (about 80%) of those who celebrate Easter in the three countries will go to Church.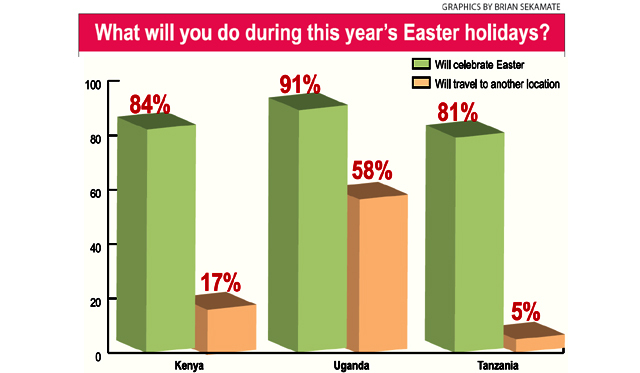 That may be because of the tradition in East Africa of commemorating the resurrection of Christ after the cruel death on the cross. 
Easter and Christmas are sometimes light-heartedly referred to as "Christian Open House", since those are the two days of the year when people who do not normally attend Church fill the pews. 
However, in terms of spending on Easter, Tanzanians will save much more compared to their counterparts in Kenya and Uganda, who will fork out more because of the skyrocketing inflation in the last few months. 
Easter also being a time to spend with family members, the study showed that people in the three countries will be with their families. However, Ugandans were likely to spend more time with friends compared to their counterparts in other countries. 
The researchers interviewed 2,024 Kenyans, 1,024 Ugandans and 678 Tanzanians aged 18 years and above, living in both urban and rural areas.
Ugandans more close knit than Kenyans, Tanzanians - survey