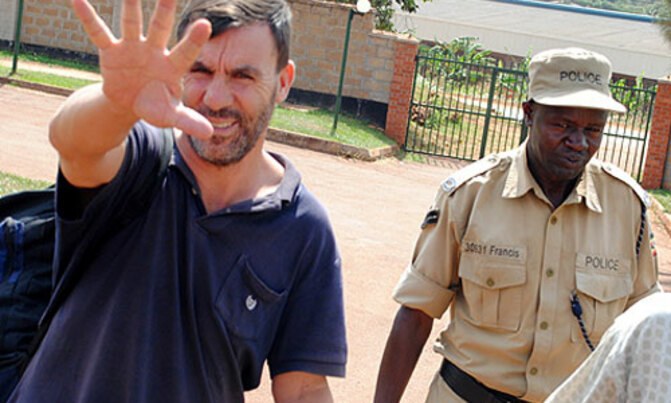 Turkish paedophile who lured Ugandan underage girls to perform oral sex on him has been re-arrested.
By Vision Reporter

Turkish paedophile Emmin Baro  who lured Ugandan underage girls to perform oral sex on him has been re-arrested, the Inspector General of Police Kale Kayihura has said.

Kayihura Thursday told a news conference at Uganda Media Centre in Kampala that the 54-year- old man is in police custody.

The Police chief however, did not elaborate when Baro was re-arrested and where he is being detained.

The arrest come after the Director of Public Prosecution Richard Buteera protested the sentence of sh6m fine slapped on a Turkish national of Macedonian origin.

Jane Kajuga Okuo, the Directorate spokesperson said Buteera called for the file of the unusual case because his office was dissatisfied with the sentence that was delivered by Nakawa Court Grade One Magistrate Rosemary Ngabirano.

Baro was on March 27, charged   with Computer Misuse Act under  section 23(4) which stipulates that a person who produces child pornography for purpose of  distribution through computer , commits an offence  and is liable  on conviction  to 15 years imprisonment or  a fine not exceeding three hundred  and sixty currency points ( equivalent of sh7.2m).

Prosecution said Baro was found in possession of a compact disc with videos showing two children sucking his genitals. Baro pleaded guilty upon being charged.

But the presiding magistrate sentenced him to a fine of sh6m or in default he was supposed to serve two years imprisonment. New Vision learnt yesterday that Baro has since paid the fine. The apparent lenient sentence provoked a lot of angry reactions from New Vision readers.

Okuo told the New Vision that the Buteera asked for the police file and the court records with the view to either file an appeal or review the entire court proceedings.

Okuo said the sentence was too lenient for an offence that carries not less than fifteen years, adding that the matter is going to be subjected to another independent investigation to determine the whereabout of the victims.    

Kajuga said the numbers of victims involved have not been established. The police are yet to investigate how many victims were involved.

Baro was apprehended on March12, at Bugumba village in Iganga district. At the time of his arrest, he had in his possession compact discs with pornographic videos of children in sexual acts which is contrary to the computer Act 2011.The disc, according to the prosecution shows children sucking his genitals.

It emerged yesterday that Baro's weird activities were discovered after he forgot the disc at an Internet cafe in Iganga town. The owner of the cafe, after viewing the revolting video recording, tipped off the Police.

While delivering her sentence Magistrate Ngabirano stated that since Baro had pleaded guilty without wasting court's time, she decided to be lenient to him
Sources who preferred anonymity told New Vision that Baro is likely to be charged afresh with aggravated defilement if the Director of Public Prosecution sanctions the file.

Sources said further investigations by the police had revealed more sexual related offences against Baro who by yesterday was still in Luzira prison.

Reports indicate that Baro in 2009 was charged before Malindi court in Kenya after he was allegedly found having sex with a 15-year old Kenyan girl.
He was charged before Senior Resident Magistrate Dominica Nyanibu and he denied the charged according to Kenyan media.

 
Turkish paedophile re-arrested