Today, JOSEPH SSEMUTOOKE brings you the life and times of Prof. Dani Nabudere, an academic, debate lover, critic of all Ugandan regimes and a member of the Gang of Four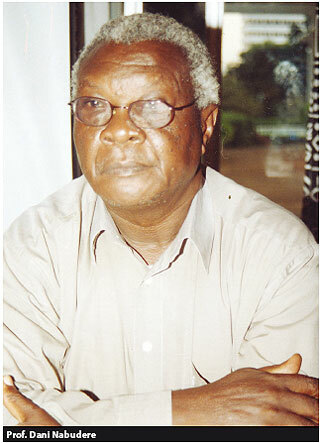 To mark 50 years of Uganda's independence, New Vision will, until October 9, 2012, be publishing highlights of events and pro ling personalities who have shaped the history of this country. Today, JOSEPH SSEMUTOOKE brings you the life and times of Prof. Dani Nabudere, an academic, debate lover, critic of all Ugandan regimes and a member of the Gang of Four 
In the 50 years that Uganda has existed as an independent nation, the late Professor Dani Nabudere is most likely the only top politician, who has opposed all the governments that have been around. 
From Obote I, to Amin, to Yusuf Lule, Paulo Muwanga, Obote II, the military juntas and the NRM, no post-independence Head of State/government has completely escaped Professor Nabudere's sharp and far-echoing criticism. It is only the intensity with which he has criticised the various governments that differed. President Yoweri Museveni's principal private secretary, Kintu Nyago, summarises it all. "Nabudere thrived on challenging any status quo."
Nabudere even criticised and finally wrote off a president whom he himself had brought to power. That president being Yusuf Lule, who had been primarily enthroned by the Gang of Four of which Nabudere was the apparent leader, the others being professors Edward Rugumayo, Yash Tandon and Omwony Ojwok.
It was the same Nabudere-led group that had elevated Lule to State House, which after just a couple of months later masterminded his sacking and replacement with Godfrey Binaisa. One is left in the dark whether to regard him as simply a pessimist, or a true champion of justice, who found successive governments wide off the mark.
Early years
History indicates that Nabudere stepped onto the national political scene in 1963, when he returned from the UK where he had attained his degree in law and had been president of the Uganda Students Union in the UK.
But he quickly began to fall out of favour with the Uganda People's Congress set-up, primarily because of opposing party leaders. He was also a socialist when the UPC government at the time was opposed to communism. In 1965 he was expelled from the party together with Kirunda Kivejinja, Bidandi Ssali and Kintu Musoke. However, even after expulsion from the UPC, Nabudere remainded a thorn on the fl esh of the Obote regime with radical articulations and pro-people stances.
When Obote abolished political parties and declared a one-party state in 1969, Nabudere fell victim of his continued party activism. Nabudere had earlier in 1963 formed a Mbale-based activists' group called the Uganda Vietnam Solidarity Committee to campaign against American imperialism and aggression in Vietnam.
Service under Amin
Nabudere was released by Idi Amin in 1971, who appointed him East Africa Railways and Harbours chairman based in Nairobi, but in 1974 protesting Amin's brutality he resigned and moved to Tanzania where he became one of the plotters of Idi Amin's down-fall.
The Gang of Four
In his recount of the period of the Uganda National Liberation Front (UNLF). The political organisation around which Ugandan exiles united to topple Amin, Prof. Edward Rugumayo, who became chairman of UNLF's ruling council, says Nabudere played a central part in the formation of the liberation group.
Rugumayo says Nabudere would organise 'hot' debates about Uganda, where the Ugandan exiles would meet and argue over how to map out their country's issues, which was very critical in forming a proper and wellthought-out roadmap for reclaiming the country from Amin.
When the UNLF was established and a ruling body for it formed known as the National Consultative Council (NCC), Nabudere was elected chairman of its political and diplomatic committee. He naturally became one of the 'prime movers of things' in the NCC, alongside Edward Rugumayo, Yash Tandon and Omony Ojok.
How should the movers and shakers of Uganda be honoured? To sms your views; type 'movers', leave space, your comment and name and send to 8338 Prof. Dani Nabudere Tomorrow, we look at Prof. Omwony Ojwok, another member of the Gang of Four
To just give an idea of how powerful the gang was, it masterminded the installation of Prof. Yusuf Lule as Ugandan President in April 1979, then five months later overthrew him for Godfrey Binaisa. 
While the UNLF temporary government was in power in Kampala, Nabudere served first as justice minister under Yusuf Lule, then when Binaisa took over, Nabudere moved to the Ministry of Culture, Community Development and Rehabilitation.
The reign of the UNLF, however, drew to an end in 1980 when the Military Commission of the UNLF toppled Binaisa and his largely civilian government.
The 1980s and post-NRM era
The Muwanga-led coup that overthrew Binaisa in 1980 found Nabudere out of the country, like it did the other three members of the gang. Nabudere was thus forced into exile for a second time, whereupon he lived until 1993 when President Museveni invited him back to the country to be part of the Constituent Assembly (CA).
Kintu Nyago says it needs to be noted that even as he was a persistent critic of the NRM, Museveni's enlightened leadership, which promotes democratic pluralism fully accommodated Nabudere. Upon Nabudere's return he became a very outspoken critic of Museveni. Over the course of the CA, Nabudere many times led members of the Assembly on walkouts when they disagreed with the other CA members. He also teamed up with Aggrey Awori to form the National Caucus for Democracy (NCD), a CAbased pressure group.
Accomplished scholar
Away from his political activism, Nabudere's legacy is also one of a fi rst class scholar and accomplished diplomat. In fact many of the eulogies sent his way when he died last year lauding his solid academic achievements and grassroots campaigns to make human experience better.
Having attained his fi rst degree in 1963, Nabudere went on to attain several high grounds in the academia. Among them being Associate Professor at the University of Dar-es-Salam and a visiting professor at the University of Zimbabwe, becoming president of the African Association of political sciences (1983 -1985), as well as serving as vice-president of the International Science Association from 1985 - 1988. Nandala Mafabi described him as a man who did what he preached, and preferred communal life to the luxuries of the city.
In the last 10 years of his life, Nabudere founded the Marcus Garvey Pan-African Institute, with the objective of making the institute a depository of knowledge on African science, philosophy, medicine and any other things that could have been ignored by Western academia. He gave up his house in Mbale so that it could serve as the premises of the Institute, and upon his death he had entered collaboration with the University of South Africa in a joint research project under the umbrella "Reclaiming the Future".
Dani Nabudere, the constantly critical don