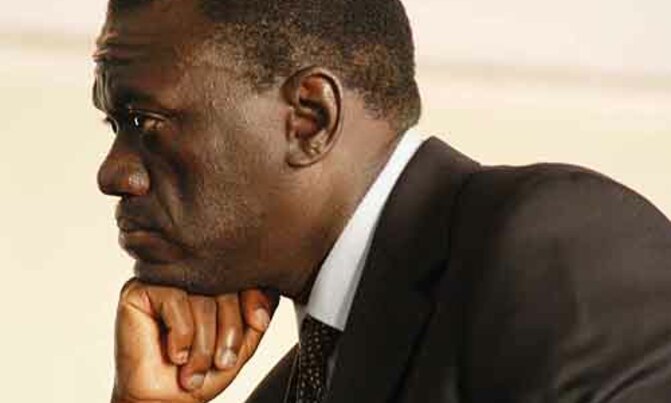 Opposition leader Kizza Besigye appears before Court to answer charges linked to the murder of a Policeman.
By Darious Magara

SECURITY is tight at Buganda Road Court as opposition leader Kizza Besigye appears to answer charges linked to the recent city violence that resulted in the murder of Assistant Inspector of Police (AIP) John Bosco Ariong.

The criminal summons for Besigye and 14 others were issued on Monday by Chief Magistrate Eleanor Khainza. They are expected to to take plea on four counts of managing unlawful society, contrary to Section 56 and 57 of Uganda's Penal Code Act.

The Director of Public Prosecutions Richard Butera preferred charges against them. Ariong was hit with a blunt object, purportedly a rock thrown from a building on Ben Kiwanuka Street, as Police dispersed a crowd of Activists mainly from the opposition political parties, who were in a procession.

Other suspects are Kampala Lord  Mayor Erias  Lukwago, FDC  Women  League  boss  Ingrid Turinawe, Kawempe Division Mayor Mubaraka Munyagwa, Kampala  Woman MP  Nabilah Ssempala, and FDC woman activist Catherine Dembe. 
Besigye described the charges as politically motivated arguing that Government does not have evidence to sustain the case.

The heavy deployment at Court follows a Police warning that the suspects were mobilizing hooligans to engage in criminal acts, and unlawful processions, in the guise of escorting them to and fro the Court.

Police spokesperson Asuman Mugenyi said that in the recent past, such unlawful processions have degenerated into chaos; leading to riots, loss of life and damage to property.

"Persons are charged for criminal offences in their individual capacities, and their appearance in Courts of Law should not be politicized," he said in a statement.

"The Police shall not allow any unlawful processions and assemblies to be held, on the pretext of 'escorting' individuals to court.  We would like to advise the members of the public that, while Courts of Law are open to the public, the Court rooms can only accommodate a finite number of people.

Mugenyi said for security and convenience of the Courts and the public, not all persons who turn up will be allowed into the Court premises.


 
Besigye appears before Court over Police chief death