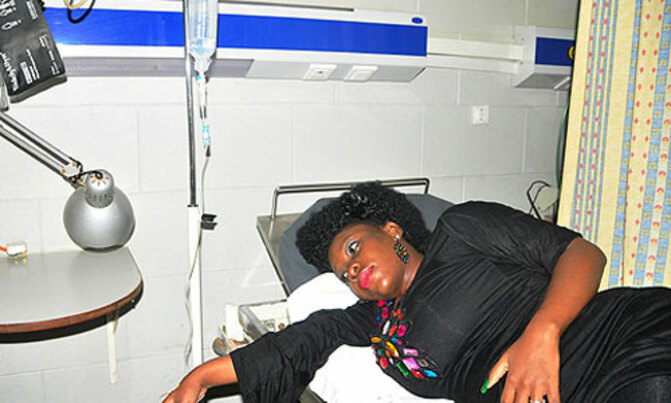 Shainta Namuyimbwa a.k.a. Bad Black is still hospitalized at International Hospital Kampala.
By Edward Anyoli   
Shainta Namuyimbwa a.k.a. Bad Black, the woman accused of defrauding Daveshan Development Limited of sh20b is still hospitalized at International Hospital Kampala.
According to her lawyer Samuel Muyizi, Bad Black has been diagnosed with urinary track infection, clinical malaria and anemia in pregnancy.  Doctors say urinary track infection, which is caused by bacteria is common with pregnant woman.
Muyizi who also tendered in court the medical report from the hospital told Justice Catherine Bamugemereire that doctors advised that his client be admitted and have bed rest.
Bad Black, now over six months pregnant with her estranged lover David Greenhalgh's child, collapsed on Monday at the  Anti-Corruption Court in the course a hearing of the case in which she is accused together with socialite  Meddie  Ssentongo of conspiracy to defraud Daveshan.
She is also accused of embezzling sh11b from the same company. She denied the charges.
The case was adjourned to April 2 for further hearing   and also to enable Bad Black recover.
Prosecution led by state attorney Paul Lakidi from the Directorate of Public Prosecution alleges that in September 2010 Greenhalgh jointly formed a company with Bad Black. The company was registered as Daveshan Limited and sought to deal in land purchase and property management.
Greenhalgh , who is a manager in Air Services in the UK, had 75% shares while Bad Black took 25%. The duo opened an account in Barclays Bank in Garden City to operate the business.
According to prosecution Bad Black did not contribute any money towards the opening of the business.
Bad Black is represented by Caleb Alaka, Julius Galisonga, Samuel Muyizi and Ssentongo is represented by Isaac Walukaga.
Bad Black remains hospitalized at IHK