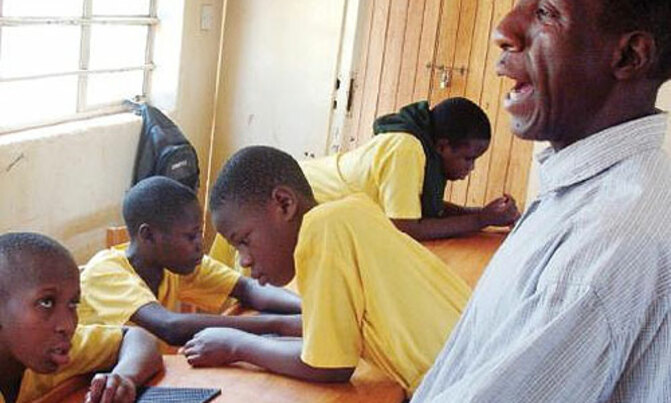 It is 12.30pm on a Tuesday afternoon and Joseph Nabuguzi is teaching English language to a group of blind Primary Four pupils of Spire Road Primary School.
By Charles Kakamwa
It is 12.30pm on a Tuesday afternoon and Joseph Nabuguzi is teaching English language to Primary Four pupils of Spire Road Primary School.
However, unlike the usual classes, pupils here neither use exercise books nor pens or pencils. They use Braille papers inserted into slates, while stylus are their pens. It is a section of the blind children at the school and to Nabuguzi, the session is just a routine he has been doing for the last 12 years.
Like some of pupils, Nabuguzi is partially blind, but manages to effectively communicate with his learners, majority of whom are totally blind.
In class, he stands in front of the pupils and reads out the questions loudly without referring to any book, but rather through touching a Braille paper placed on his desk as the pupils listen attentively.
Watching Nabuguzi execute his duties, one can only conclude that he is clearly in touch with his learners as exemplified by the manner in which he communicates with them. He seems to enjoy a mutual relationship with his pupils and calls each of them by name.
"He treats us like his own children, but disciplines us where necessary," Sarah Nanyanzi, a blind pupil says.
Who is Nabuguzi?
He was born in 1960 to Ezimafesi Kibuto and Edinansi Kisa in Nawansekese village, Magada sub-county in present day Namutumba district.
The last-born and only blind child in a family of six children, Nabuguzi never enjoyed his mother's love as she died while he was still a toddler.
Nabuguzi says in addition to the above challenges, his father being a peasant without a clear income made life more difficult for him.
He does not remember the actual year he started his education, but estimates that it was around 1965, when he was taken to Madera School of the Blind in Soroti district. He stayed there until 1976 when he completed Primary Seven.
Unable to join secondary school due to financial constraints, Nabuguzi enrolled at Salaama Agricultural Centre for the Blind in Mukono district in 1977 and was awarded a certificate in agricultural practices in 1979.
Owing to his brilliance and conduct, upon graduation, the management of the centre retained him to help with some administrative work, as well as giving guidance to other students. He stayed there for 10 years until 1989, when he joined Victoria Nile Association and Workshop of the Blind in Jinja.
During his two years at the workshop, he acquired a certificate in the use of Braille and also studied music, dance and drama.
In 1991, he was appointed to head Luubu Centre for the Blind in Mayuge district, which was a subsidiary of Victoria Nile Association, where he stayed until 1992 when he was returned to the headquarters in Jinja.
Entering the classroom
It was while here that the then headmaster of Spire Road Primary School, Kennedy Mulondo, spotted Nabuguzi and asked him to help teach blind children at the school how to use Braille.
He did not find difficulties in this having been a member of Victoria Nile Association of the blind, which established the section top help teach blind children in 1989.
So in 1999, Nabuguzi joined Spire Road Primary School as a teacher of English and Braille, a position he has maintained to date.
Nabuguzi does his job with a lot of enthusiasm and even extends his services to fellow teachers and students outside the school.
"Teachers going for special needs education normally come to me for assistance," he says.
Gerald Seguya a blind child who went through the hands of Nabuguzi during his entire primary education at the school, says he managed to pass his O'level exams because of the good foundation laid by Nabuguzi.
"He has vast experience in teaching of Braille, but above all, he is honest, approachable and always willing to help others. I still go to him whenever I need assistance," Seguya who hopes to join S.5 soon says about his former English teacher.
Catherine Anyango, a colleague, notes that Nabuguzi relates well with his learners and fellow teachers and is always willing to help.
Nabuguzi speaks with confidence about the people who have gone through his hands and are now successful in their careers. He mentions Solomon Walusimbi, a medical doctor, Moses Mayanda and Peter Musenze, who are both secondary school teachers, as some of his former students. All are blind except Walusimbi who he says had his sight restored after an operation.
Nabuguzi also prides himself in the fact that he has contributed to the development of section from a time when it had about four children in the late 1990s to date when it accommodates over 30 pupils a year.
He, however, notes that blind children have unique needs that require special care, commitment and devotion when dealing with them.
One of Nabuguzi's major challenge is the lack of proper communication with the school administration. He says some teachers despise him since they regard him as a school dropout, despite his immense contribution in the school.
"Some teachers think I have no value because I did not go to a teacher training college," he says. However, Nabuguzi is still hopeful that opportunity will one day come his way and he will enroll for a teacher training course.
The state of education
Nabuguzi has no kind words for the thematic school curriculum that was introduced in primary schools by the education ministry.
"If I had powers I would abolish it. Because of such programmes, we have P.7 pupils, who cannot write their names or express themselves in English and these end up failing exams," he says.
He also wants the education ministry to build schools with facilities for children with disabilities to make the learning environment friendly for them.
Nabuguzi, the eye for Jinja''s blind