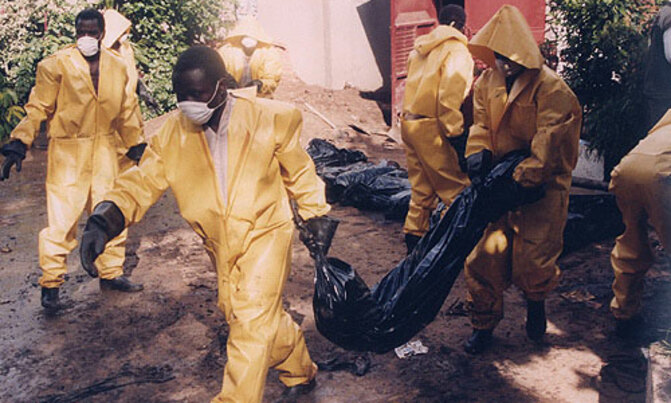 Saturday marked twelve years since the Kanungu massacre. We looked back at the sad incident.
By Vision reporter
Saturday marked exactly twelve years since the horrid Kanungu massacre occurred in early 2000.
On that fateful day, about 1000 members of the Movement for the Restoration of the Ten Commandments of God were burnt to death in Kinkizi county in the south-western Ugandan district of Kanungu, about 50km from Rukungiri town.
The victims were doused with petrol and paraffin, before being set ablaze, leading to their horrific deaths.
Days after the inferno, six more bodies were discovered in a pit at the residence of the church leaders.
Yet another 494 bodies would be found days later, under the cult's buildings in Buhinga, Rutoma and Rukungiri. Other buildings and mass graves were found at Rugazi, Bunyaruguru, Rushojwa and Buziga in Kampala.
Pathological reports showed that many of the victims were clubbed, strangled or hacked to death.
It was also believed that some of them could have been poisoned.
Kibwetere, the mastermind
The cult was headed by self-styled prophet, Joseph Kibwetere and ex-Roman Catholic priest, Rev. Fr. Dominic Kataribaho, Credonia Mwerinde and John Kamagara.
Area residents said Kibwetere had collected money from believers for a trip to Europe, in quest of a replica of the Biblical Noah's Ark.
Two days to the massacre, the residents said, the cult members had thrown a big party for themselves. They also gathered their personal belongings and those of the church and set them ablaze in the middle of the camp.
The following day, they toured the villages bidding farewell to their friends and neighbours.
The sect was registered under the NGO Statute in 1997 to carry countrywide activities to observe the Ten Commandments, preach the word of Jesus Christ and Virgin Mary and provide education and health care.
'Forget scandal'
Well, it is a little over a decade since, but nothing has yielded from condemnations and warrants of arrest issued for the leaders.
Their whereabouts is to-date not known, or at least is not in the public domain.
Days after the massacre, President Yoweri Museveni vowed that the Government would intensify the hunt for the cult leaders after he inspected the scene.
"Forget this scandal and concentrate on building your families and improving your incomes. We shall arrest those people if they are still alive," Museveni said then.
The then second deputy Premier and internal affairs minister, Moses Ali, in December 2000 appointed Justice Augustus Kania to head a committee to probe the massacre.
But to-date, the report has never been released.
The massacre scene has been eaten up by a bush and unlike in the past when the place was guarded, today, it is abandoned.
So, will justice also be engulfed by the bushes as years go by? Only time will tell. 
Kanungu massacre: 12 years on, memories still fresh