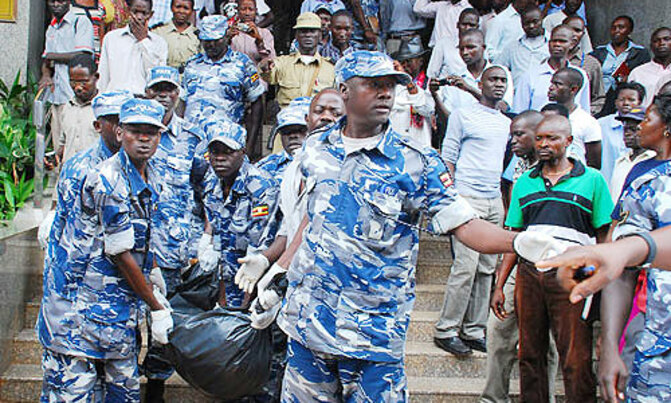 An unidentified woman Friday morning jumped from the 14th floor of Workers House and died instantly.
By Eddie Sejjoba

KAMAPALA - Police in Kampala Friday launched investigations into the circumstances under which a 26-year old woman committed suicide by jumping from the 14th Floor of the Workers House in Kampala.

The police checked a black bag that was lying near the body and identified the woman as Justine Nalugya of Kamuli zone in Kireka, Wakiso district.

Central Police Station commander, James Ruhweza said information about the deceased was still scanty but the police found some documents in her bag and said investigations are on to establish more information.

He said the police sealed off the place for some time to allow scenes of crime officers take pictures and sketch of the place. The body was later taken to the city mortuary for a post mortem.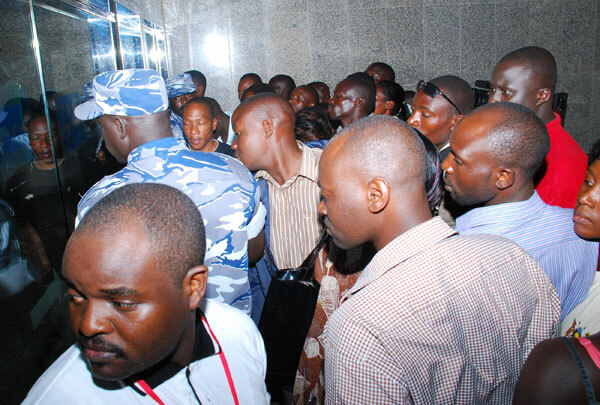 People look through the closed door of the NSSF building where a woman dived and died. Photo by Eddie Ssejjoba

Security personnel at the Workers' House said Nalugya arrived at the 14th Floor of the building thataccommodates the NSSF offices and registered in the visitors' book at about 11.00am in the names of Olivia Nalugya.

The deceased stated that she wanted to meet one Peter and was given a visitors' card that she kept in her bag.

Eye witnesses saw Nalugya stand near a balcony at the 14th Floor, looking down. Emmanuel Wamoka, a worker with Kampala City Council Authority said he was in a glass lift descending from the 12th Floor when he looked up and saw a woman throwing down her bag, shoes and immediately after pulled her skirt up and jumped to her death.

"There was a big bang and she did not say a word or move. The whole place was littered with brains and blood," he explained.
Ann Nabwire, a cleaner at the building said she also saw the woman prepare to jump but did not take it serious, but a few moments later she saw her in midair then on the ground floor, lifeless.

It was not yet clear what the woman had come to do at the NSSF offices but only indicated that she had come to visit one Peter.
This is the second person to commit suicide by diving from the same floor.

The police struggled to keep at bay the ever-increasing crowd. The main entrance was closed since the entire floor near the reception was messed up. Visitors were diverted to the upper entrance.
Woman jumps to death from Kampala tall building