Chameleone stops the music to launch Chameleone Mobile – a Chinese-manufactured phone named after him. The phone is to be launched with an auction, the highest bidder getting to possess the very first one.
By Joseph Ssemutooke 
Time check: 12:30am. 
Date check: Last Saturday March 3, 2012. 
Location: Kyadondo Rugby Grounds. 
Business in Progress: Jose Chameleone's Valu Valu Album Launch.  
Chameleone stops the music to launch Chameleone Mobile – a Chinese-manufactured phone named after him.  The phone is to be launched with an auction, the highest bidder getting to possess the very first one.  
Socialite Judith Heard steps up to announce that she will be buying the phone at £ 2,000, though only on condition that no one else is to be allowed to bid. But somehow, the microphone finds its way to Judith Heard's rival, socialite Zari Hassan; who asks whether Judith Heard has the money in cash or she is just promising to pay by cheque. 
Heard fires back, so does Zari, and a full scale verbal exchange plays out. 'Bitch! Bitch! Bitch!' is where things  reach and the auction ends  prematurely.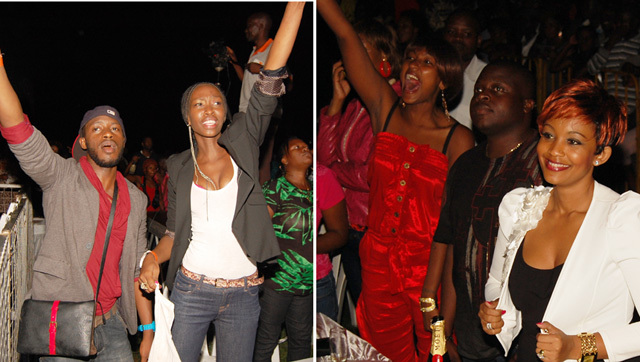 Judith Heard (Left) and Zari Hassan(Right) having fun
It was extra entertainment for the revelers who paid only for the music show and not for any melodrama from fellow revelers. But beyond the melodrama, it is a case of a long-running feud between two of Kampala's top socialites becoming more acrimonious.
The feud that has been going on between the two socialites could be rightly described as a battle for the Queenship of Kampala's Socialite scene. In fact, the feud should officially come to be known by that title.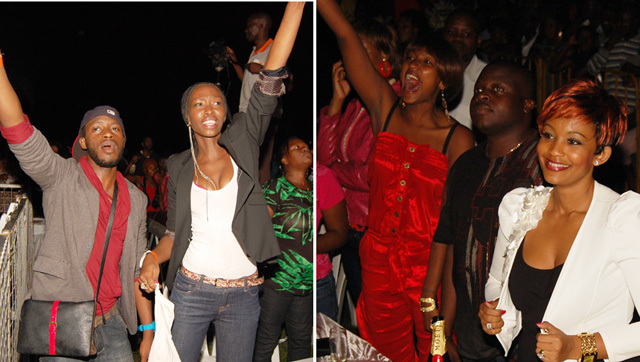 Never mind that Shanita Namuyimbwa aka Shanita Nalukenge aka Bad Black, might just have something to say in this contest. 'Poor' Bad Black isn't our interest today –even as she once said, both Zarie and Heard combined can't make half of her standards (showbiz standards, we are sure).
We were saying it is basically a battle for who should call the shots in the world of making news for stunts like strutting one's sexy structure in expensive garments, splashing lots of money in Kampala's most happening joints, throwing expensive parties all over –then getting tabloid and entertainment pages to write about it all. Here's how it all got to where it is now. 
You remember that two to three years ago, Judith Heard was the Queen of Uganda's socialite scene, Sylvia Owori having decided to throw in the towel after reigning for eons. Well, then a certain South-African-based 'yellow' belle called Zari turned up in town and began splashing lots of money on the city's nocturnal scene, having private tables reserved for her at every joint, driving expensive cars (one of them the very version Judith Heard had), and getting all tabloids and entertainment pages writing about her day-in day-out.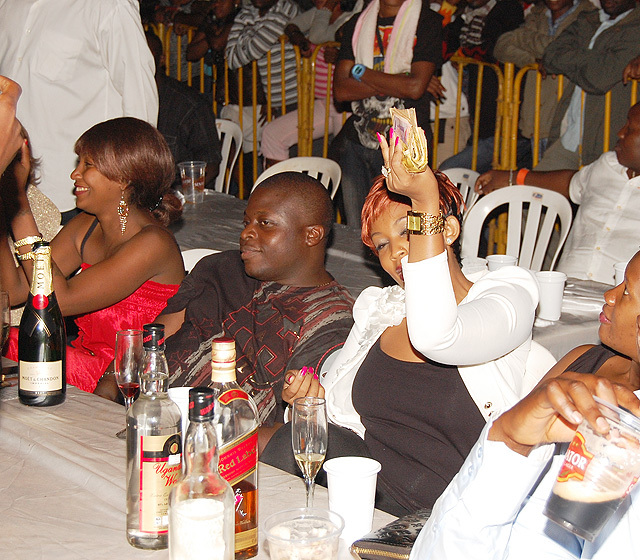 Zari(left) showing off her cash, right is her husband Ivan Ssemwanga 
Allegedly, the new girl on the block also refused to recognize Judith Heard, the ruler of the scene she had invaded, not even getting to talk to her despite the fact that they were crossing each other's paths on the night scene. There are also reports the newcomer began talking lowly about the old ruler of the stage among her private circles. Soon Judith Heard was also firing back among her circles, and thereafter the two camps' words were in the media. 
Then in a few months, Zari also began organizing highly-publicized private parties at leading city joints, an area that had become the prerogative of Judith heard since her taking over from Susan Owori.
 Again the war of words was in the media.  Judith Heard: "I don't need to talk to Zari because she is not my friend, plus she is not even close to my class. The people at her parties are not my type." 
Zari: "Bitch, stop telling people mbu you didn't attend the white party because it was for low lives. It's plain clear you were not in my league that's why u never got an invite. Don't start beefing with me because I'm gonna put you in your right place sucker!" Among many other verbal words that they were to fight even on social interaction website Facebook.
Then there was their meeting each other at the annual Buzz Teeniez Awards, where they had to be sat in different tents but still nearly came to a physical confrontation.
In time it had even grown to competing on terms of their 'socialite groups', what our musicians like to call 'crews'. Judith Heard already had her Fabclan (Fabulous Clan) consisting of people like Sue Ochola, and when Zari came onto the scene she also started Zari Boss Lady. The aim of the groups was to spend highly over the weekends, with competition on the bigger spender not far in the background.
We can't forget their 'dissing' each other over issues like who has a better/richer husband, who has more'swagg', who is hotter on looks.
But as we have said, there is really no point in their beef –just a battle for being Queen of Kampala's Socialite scene.
A reminder, Zari is a South-African-based Ugandan who allegedly is a businesswoman there, married to Ivan Ssemwanga who is also allegedly a businessman down south. They have three children together, often fly into the country and allegedly have several properties around town. Zari is also an occasional musician whom critics haven't rated very favourably.
On the other hand, Judith Heard is married to a white expatriate, a one Dr. Alex Heard whose history is not exactly on every wall in town. She is reportedly a former bar attendant in Kigali, who found her luck upon crossing to modeling. She and Dr. Heard have a pair of twins together, and not so long ago she crossed into fashion and seemed to be doing well at it. 
Anyways, do you people see any point in their beef? And who is cooler, in any case? 
Petty Quarrels: Why Zari Hassan and Judith Heard are at loggerheads