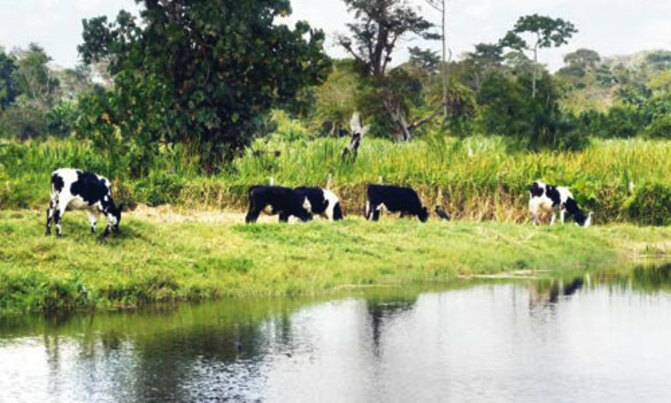 A stroll down Pastor Kasule's farm reveals the source of fortune - pigsties, an expansive banana plantation, 11 fish ponds, 2.5 acres of pineapples in their early stages, and dairy cattle, among other projects.
By Joshua Kato and Umar Nsubuga
Pastor Sam Kasule's farm:
A new Toyota Noah is parked in the compound - not far away from the main house. Animal shelters can be seen behind the house.
And a stroll down the farm reveals the source of fortune - pigsties, an expansive banana plantation, 11 fish ponds, 2.5 acres of pineapples in their early stages, and dairy cattle, among other projects.
Workers are busy feeding the pigs in their shelter. Pastor Sam Kasule is one of the leading farmers in Kasana in Semuto Town Council, Nakaseke district.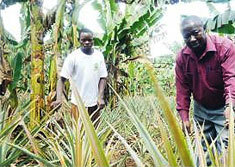 He rears dairy cows, keeps fish in 11 big ponds, hundreds of pigs, goats and also grows bananas and pineapples.
His project is called Biva Gyoli Integrated Limited. The farm covers about 75 acres.
Though Kasule carries out most of his pastoral duties in Fort Portal, he is aware that the best manure for a farm is the foot of the farmer, so he visits the farm regularly.
How it started
Kasule says he was largely encouraged by his family to set up the investment. This partly explains why he set up the farm in his own village of birth. It is a combined effort with his family.
Kasule took up farming at a more commercial level and in a fairly intensive way.
'I started this farm in 2005 with only two cows which I got from Fort Portal where I work,' he says.
'At that time I used to come once in a while with my children, who did not want to come to the village.'
He kept the cows under a zero-grazing system at first. He then got two more cows from their church project in Fort Portal.
He started to get profits from the sales of milk. His cows produced about 50litres per day because of good feeding and as the herd grew so did the milk production.
He now has 30 dairy cows.
Marketing the milk
Thirty cows can give about 500litres of milk per day. Kasule realised this and sought a bulk buyer.
He visited Jesa Dairy Farm, the producers of Jesa milk and asked if they would buy his milk. They accepted.
Jesa farm is located just a few kilometres from Semuto.
For easier marketing of his farm products, he registered his project, Biva Gyoli Integrated Limited.
All other projects were established from the income obtained from this cow project and his salary.
Bananas can't go wrong
Starting the banana plantation was not easy. After checking the soil, Kasule realised the bananas would not do well unless he applied fertilisers.
Kasule's former manager, Emma Lubega, attended a number of seminars where he picked vital knowledge and skills that helped him take the farm to another level.
"We got workers from Kapeka. We planted 100 suckers of matooke of Mpologoma type. So far the farm has six acres of Mpologoma.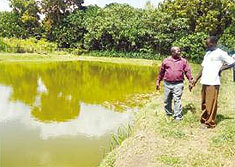 "We have grown Mpologoma on a large scale because it grows quickly, yields big bunches and it is tasty," says Kasule.
Kasule also has several other banana species like Kibuzi and Kisansa.
He sells a bunch of matooke for between sh8,000 and sh11,000. With each acre taking at least 400 plants, Kasule owns at least 2,000 banana plants!
This coming from an area that is not among the known banana producing areas is quite amazing.
Kasule attributes this success to good maintenance.
"Mulching for bananas is a must because; it maintains soil moisture," he says.
Kasule also uses animal droppings from his various animals as fertilizer for the crops.
The fish ponds
Kasule wanted to eat good fish and not the bare bones that have been stripped of the fillet (mugongowazi) that used to be brought to Semuto. This was in 2007.
"I decided to utilise part of my land to start fishing farming, not just to earn from it, but to help my people,' he says.
Unfortunately, he knew very little about fish farming. He got experts from Kajjansi Fisheries Research Institute who tested the land and water.
He then dug three ponds at sh1.5m each. To widen his knowledge, he visited other farms, including one owned by Minister Ruhakana Rugunda.
"When I visited Rugunda"s farm I realised that I could do it," has says.
He then stocked catfish, tilapia and mudfish. The harvest was good. At the moment he sells fish for between sh5,000 and sh10,000.
How he has made it
Kasule does several things that so many farmers do not do. For example, he keeps proper records of whatever goes on at the farm. This includes carrying out audits with his wife every year.
"Keeping records helps you track everything that goes on at the farm," he says.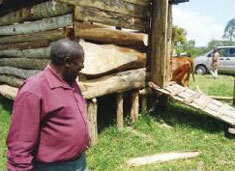 Kasule has also created a range of clientele around the area and beyond.
Many people book whatever they need straight from the farm and the purchases are recorded.
Pastor Kasule's animals graze on the banks of his fish pond
Achievements
The major achievement, he says, is he has made friends and networks countrywide.
His hard work has paid off further because he no longer buys food and milk for domestic consumption.
Kasule says he uses the profits from his farm to run his other projects elsewhere.
Future plans
His target is to construct 30 fish ponds and a modern hatchery like the one at Rugunda's farm.
He also wants to increase the number of cows. He plans to buy a big truck to transport food for his animals because it is difficult to transport the husks.
Kasule says he derives the courage and strength to expand from his family which is very supportive and involved.
He also praises the Lord for guiding him through.
"Transparency is the key. We sit together and discuss the affairs of the project until we reach a consensus,' he concludes.
Challenges
Pastor Kasule says the biggest challenge is management.
"It is difficult to find honest and committed workers these days. We sometimes make losses because of lazy and uncommitted workers."
Kasule has tried to handle this getting involved more in the the farm.
The other challenges are largely operational. Snakes and other predators invade the ponds yet he does not have nets to fence all his ponds.
Frequent power outages have also affected several things at the farm, including the fish hatchery. He hopes this will be solved when he buys a generator.
My strength lies in record keeping, family support