For an industry that supposedly depends heavily on sound, it can be a little startling how much one's career in music is dependent on what you look like.
By Dennis Asiimwe 
It's startling how much one's musical career depends on how they look...
For an industry that supposedly depends heavily on sound, it can be a little startling how much one's career in music is dependent on what you look like. 
It is doubtful whether this has always been the case; in fact, it hasn't and is a direct result of the visual medium becoming a major means by which one's music is promoted. 
With the advent of television, people quickly discovered what a powerful medium it was for music. However, the whole cosmetic effect did not really sink in until the birth of MTV in the '80s (which was about the time that Michael Jackson's Thriller was released; Lionel Richie's Hello was released at the same time but his large-boned features had no chance when compared to what Michael had going for him then).
This, of course, is not an attempt to take away anything from Michael's album (and finding a bigger fan than yours truly might be a bit of a stretch) but you can't help but notice how powerful an effect having that video playing over and over on a TV station solely dedicated to music and delighted burgeoning audience had on the record's sales.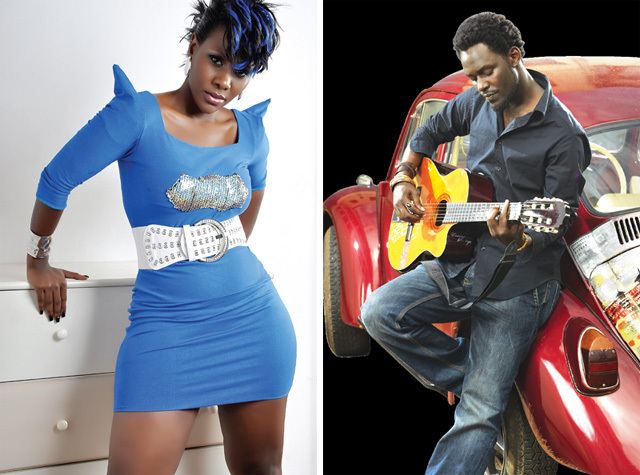 Desire Luzinda has the looks and a voice to match and  Maurice Kirya does not ride on his good looks alone
The music video had arrived. 
At this point, the music video was still about aesthetics, about the tale you were telling, and how you were telling it. Even the image-conscious rapid growth of hip-hop did not change this much.
However, at the turn of the century, we got dragged into a new and disastrous era, the era of the manufactured music group/artist, and an important ingredient was of course, what the artist looked like. It started with the boy-groups like Boyzone, Back Street Boys, deteriorated rapidly into the Spice Girls, and then everything quite simply went to the dogs. 
Naturally, the rest of the world followed and Uganda did not disappoint. It wasn't that we had a dearth of talent here or anything; it was quite simply the stark realisation that the business was simply now, more than ever, about entertainment, and a major factor in the entertainment stakes is what you look like. 
So before you could scream out "Good Lord what is that awful sound!" the industry was flooded with more girl groups than you could shake a mirror at. They looked good (if you like 'em dolled up), wore more make-up than a Barbie doll and couldn't sing, with the exception of Blu3. 
Of course we have genuinely attractive artists who give you goose pimples because of their voices (most of the time). Into this category go industry mainstays, Juliana Kanyomozi and Iryn Namubiru; Desire Luzinda is also better known for her curves, but she has a great voice, one of those crystal clear ranges that is delightful to listen to. It helps of course that they are attractive, but their voices rule, without a shred of doubt. 
The majority of the other male artists really don't give a rat's a** about their appearance: Bobi Wine looks like a pirate who has had a bit too much rum, most of the time; Radio and Weasel have crappy names along with their non-Calvin Klein looks and Jose Chameleon always looks like he slept in a hedge, a particularly rough one. However, they are solid performing artists, not musical geniuses by any stretch of the imagination. 
Of the apparent male heartthrobs of the industry (and I asked a female colleague for these names so don't you go claiming I have a man-crush of any sort!), two with genuine talent stand out: Maurice Kirya and Jamal, the latter of whom the press, for lack of a better definition, go around calling a ladies' man.
Vocally, these two are alarmingly gifted and Maurice is of course, a consummate songwriter; but more importantly, they don't wear their looks as a badge of any sort (I insist the ladies' man tag on Jamal was from some crazed female journalist who had her own issues to deal with). 
The same trait seems to hover over Navio, who seems to have his cheerful way with the ladies as well as word-play king Enygma, whose underground hip-hop style has a surprisingly large female fan base. Their strength, their street cred, however, is solely based on their abilities with the spoken word. 
At the other side of the spectrum for the males, of course, is Tonicks, who is one genuine bad idea of a singer. He seemed to have figured out what he was doing with that first duet he rolled out with that obscure female singer who was yanked from the limelight (apparently because she was too young, according to her parents).
But then he decided to go full-front nasal, sounding like a forlorn fog warning. The fact that you can feel his genuine preoccupation with himself swarming towards you from a TV screen is quietly disturbing as well; it's like he is a poor man's version of Nelly. 
For reasons known only to sociologists, the artist known as Sweet Kid seemed to confidently defy either trend, despite his inability to sing and impress a mirror. I found this quite baffling, but what's life without it's little mysteries, right? 
So, back to the decade-old question: looks over talent? If you are looking to be around over the next 50 years, in people's memories and on whatever software we are using to listen to music by then, well, you might wanna go with talent, friend.