2011 upcoming singer of the year Chris Evans set a record at Club Obligatto as the only artiste who has ever held a show at the venue and had people chased away.
By Joseph Ssemutooke and Isaac Baligema

You would have thought Chris Evans' Mulungi album launch, which took place Friday evening at Club Obliggato, was headed for a flop, as the odds were stacked against the 2011 PAM Awards' Upcoming Artiste of the Year.

Biggest of all the odds was the fact that veteran Afrobeat star Jose Chameleone was launching his Valu Valu album on the same day at Kyadondo Rugby Grounds.

But interestingly, the trend of events showed that each artiste held their own and rightly so, as write our reporters.
Enter Jose Chameleone. It was the first music concert to be held by a Ugandan artiste at Kyadondo Rugby Grounds since the July 11, 2010 bomb blasts.

Thus, no one was sure anyone would turn up to party at the scene of a tragedy whose memory is still fresh in most Ugandans' minds. The other odd was a heavy downpour just three hours to the show's kick-off. 

Yet, Jose Chameleone's crowd made arguably the biggest ever at this venue for an album launch, with more than 3000 revellers who formed a sea of humanity covering every inch of space at the soggy grounds. Well, a good number of them entered at sh5000 and not the official 10,000, following a security breach in which the bouncers manning the smaller service gate at Kyadondo Road were compromised. But who cared?

All had fun, including the more than 1000 VIP who attended free-of-charge on special invite. With all odds beaten, Chameleone, in a justified braggadocio, at some point paused midway his performance to announce that everyone was obliged to take note of his achievement.

"When other musicians bring their shows back here after today, remember it was Chameleone who first staged a successful show here in the aftermath of the July 11 bombs.

It is Chameleone who didn't fear to lose but took on the challenge of bringing back Ugandans to a place that is their own…," the pencil-thin singer rapped, amidst ululation. For the huge crowd of fans, it was palpably a party whose every second they enjoyed.

Leave alone the fireworks display, the stirring emceeing of comedian Idringi and MC Kats, the remarkable music-mix spun by the DJs at the various intervals of the show.

Evidently, the real elation came from the energetic one-and-a-half hour performance that Chameleone served. From the time he stepped onto stage with Owakabi, he took the crowd on a rollercoaster ride from his old songs to his newest, Valu Valu.

He stepped down from the podium, and we thought it had all ended. But then another round of drama came.

The singer launched his Chameleone Mobile, a cellphone named after him following a deal he entered with a Chinese phone company recently! Just after, socialite Judith Heard pledged to buy the phone at £2,000, which she had on her debit card. 

Then her rival, socialite Zarie Hassan, picked up the microphone, not to announce her own auction price but to challenge Heard to produce cash.      The auction ended in a verbal brawl between the two socialites.                                                                                                                                            

Evans couldnt believe it

"I decided to come to Evans' concert because I needed to support him to become the Chameleone of tomorrow.

We have supported Chameleone for a long time and it's time we supported this young man," said city tycoon Godfrey Kirumira at the end of Chris Evans' launch.

His reason for shunning Chameleone's Valu Valu concert was shared by hundreds a reveller at Evans' launch, which basically broke the venue's attendance records.

By 6pm, a long queue of revellers had long formed, snaking into the venue for the much-publicised show that attracted a number of politicians and renowned businessmen.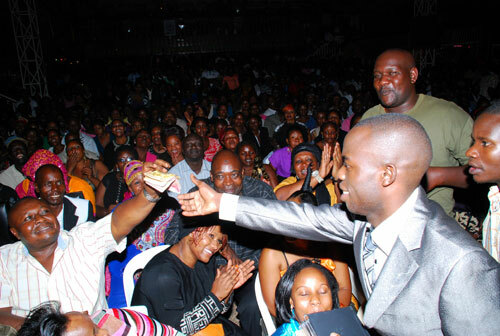 Photo by Eddie Sejjoba
Lyantonde Woman MP Grace Namara was one of them. "I came here because I love Evans' music and want to support him to grow bigger," Namara said.
The other was Mpigi Woman MP Mariam Nalubega, who said she went to support Evans because "he is a disciplined and humble young man with a melodious voice."
Evans, who had feared a flop due to Chameleone's concert happening on the same day, was overwhelmed when the 3000-seater venue filled to capacity by 9pm - more fans had to be locked out, we overheard them saying they had no choice but to head to Chameleone's show.

Evans' show kicked off at 8pm with, with curtain-raising acts from among others, Mariam Ndagire, Aziz Azion and Bebe Cool. The night's MCs Meddie Nsereko, Sarah Kabenge and Bills Butoddene impressed with hilarious comic relief.

At 10:55pm, Evans, got onto stage, emerging from the audience to a UB5 Band rendition of his 2011 biggest hit, Ndikusasulaki.

He took off with his less-known Kankole Byenkola new single, then Rihanna before introducing Eagles Production's Ronald Mayinja in their collabo Amaka Ganyuma. Mayinja thanked all for turning up, reassuring that Evans was the next big thing, just about the time Evans' CD auction took centre stage.

After the auction that had many buying and others pledging, Evans and his manager Geoffrey Kayemba knelt down and thanked the media, producers and fans for making Evans. Chief Guest Mulwanyamuli Semwogerere, a former Buganda Katikkiro, advised Evans to use his talent positively by teaching the youth how to rid themselves of poverty.

The event then got to its climax, with the singer launching into Ndikusasulaki and ultimately, the much-anticipated Mulungi amidst loud cheers, sing-alongs and dancing from the crowd.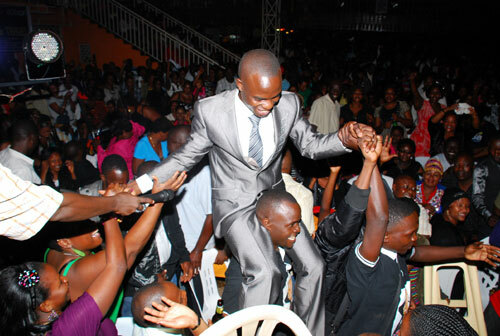 Photo by Eddie Sejjoba
Chameleone Vs Chris Evans: Who rocked?