Infertility. The first thought that always runs through many people's minds is: "She is obviously the reason they cannot have children,"
By Vicky Wandawa
Infertility. The first thought that always runs through many people's minds is: "She is obviously the reason they cannot have children," or, "He should get another woman. She is no good." They will say that and more behind her back or even to her face! 
Commonly, this is what ensues when a couple fails to have children, all blame is heaped on the woman. 
However, problems with fertility are equally due to male and female conditions, and Jamal Abduo, a specialist obstetrician at Paragon Hospital confirms: "Worldwide, out of 100%, 35% to 40% of infertility problems can be either from the man or woman. About 20% are a combination of the two and another smaller percentage are due to unknown causes."
Abduo defines infertility as the failure of a couple to conceive, despite adequate unprotected sexual intercourse for a year, say at least three times a week.
Prevalence 
Abduo notes that due to stigma surrounding the subject, it is hard to assess the numbers of Ugandan men battling infertility.
"Usually, men with infertility issues find it hard to confide in medical personnel for advice because they feel worthless and embarrassed," he adds.
Furthermore, Daniel Zaake, an obstetrician with Lifesure Fertility and Gynaecology Centre Kampala, notes that because not so many men seek treatment from gynaecologists and almost all other doctors too are handling fertility issues, statistics cannot be easily compiled.
He also adds that a number of men seek help quietly, while others visit traditional healers and herbalists.
How is fertility tested?
For one to find out whether they are fertile or not, they do not have to try for a baby first. A man can simply walk into a gynaecological clinic and have his sperms analysed.
Semen analysis
The first step in diagnosing male fertility, according to Abduo, is semen analysis. 
"This test checks for sperm motility (movement), sperm morphology (shape and structure) and sperm count."
To make a woman pregnant, a man must produce healthy sperm, which initially involves growth and formation of the male reproductive organs during puberty and at least one of the testicles must be functioning correctly. 
The body must also be in position to produce testosterone and other hormones to trigger and maintain sperm production. The sperm should be carried into the semen through the tubes.
In addition, there has got to be enough sperm in the semen. Low sperm count reduces the chances of fertilisation of the woman's egg. The sperm should also be shaped correctly and able to move to the area of fertilisation.
Sperm quantity and quality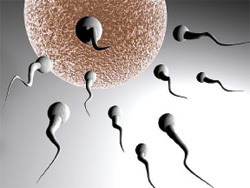 Abduo says a normal man has 20 million sperm per millilitre of semen, below which issues of infertility arise. 
Zaake explains that low sperm count, below the 20 million can be treated by injectable drugs or tablets, to increase the sperm count. 
Lower sperm count (five million and more per millilitre of semen) requires artificial insemination. Here, the sperms are collected through more than one ejaculation and are manually placed in the uterus.
Extremely lower sperm count, below five million per millilitres of semen, may require in-vitro fertilisation (IVF), a laboratory procedure in which sperms are placed with an unfertilised egg in a petri dish to achieve fertilisation.
Alternatively, Intra-Cytoplasmic Sperm Injection can be carried out for cases of sperm count below five million per millilitre. This procedure is similar to IVF, but instead of fertilisation taking place in a petri dish, sperm are selected and each is singularly injected directly into each egg. The sperm injection may also be used to treat poor sperm morphology and motility.
However, there are also cases where a man has completely no sperm in their semen, a condition Zaake refers to as azoosperm. 
"This means there is either obstruction or blockage in the reproductive tract or sperm is not being made at levels sufficient to get into the ejaculate."
In case the condition is a result of blockage, the patient is sent to a urologist to clear the tract. However, if the case is congenital, then a Testicular Sperm Extraction (TESE) is carried out.
"This is the process of removing a small portion of  sperm cells for the purpose of intra-cytoplasmic sperm injection." 
Factors that affect a man's fertility
Infections
Infections such as mumps as well as sexually transmitted diseases, for example gonorrhea can interfere with sperm production by causing obstruction of the vas deferens (the duct which carries sperm from the testes through to the penis). Therefore, sperm is prevented from reaching the ejaculatory duct. 
Treatment: Correction may require surgery.
Trauma
Injury to the testis, for example from an accident, or a kick can cause low sperm count. 
Treatment: Surgery, Intra-Cytoplasmic Sperm Injection or in-vitro fertilisation may be required.
Drugs
According to Abduo, certain drugs suppress sperm quantity and quality. Anti-cancer drugs, for example, can lead to low levels of sperm count. Treatment: Tablets or injectable drugs may be used to increase sperm count.
Swellings
For example the hydrocele and varicocel, can lead to low sperm count. Varicocele is a swelling of the veins that drain the testicle and hence may prevent normal cooling of the testicle, leading to reduced sperm count. 
Treatment: Correcting it requires surgery.
Erectile dysfunction
Zaake elaborates that erectile dysfunction can lead to infertility. Erectile dysfunction is the inability to maintain or develop an erection during sexual intercourse. It can be brought about by abuse of alcohol and drugs, diabetes, high blood pressure, obesity and high tobacco use, among others. Treatment: Erectile dysfunction can be corrected by oral medication, injections or even surgery.
Cryptorchidism
This is the failure of one or both testis to descend into the scrotum. This is a congenital disorder whereby the testes remain in the abdomen (where they developed). Although it may be bilateral, it mostly affects the right testes. 
Treatment: Abduo notes that the primary treatment of cryptorchidism is surgery.
Hypopituitarism
The pituitary gland in the brain produces follicle-stimulating hormones and luteinising hormones. Both the hormones are necessary for sperm production. 
Treatment: One may require hormonal replacement or surgery if the blockage of the hormones is due to a tumour.
Environmental causes
Heat
Abduo warns that the testes are so sensitive to temperature that extreme heat can lead to low levels of sperm production. Therefore, men whose private parts are overly exposed to heat, such as those who work in factories, long distance truck drivers and bike riders, risk low sperm production. 
Prevention: Abduo advises men to wear cotton boxers because these help limit the heat around the testes.
Pesticides
Pesticides lower sperm counts, especially men who practice agriculture, or live in agricultural areas.
Radiation 
Exposure to high doses of radiation, for example to x-rays, can lead to low sperm count.
Lifestyle causes
Smoking 
According to Abduo, nicotine has been found to directly affect the testis, whose function is to produce sperm cells. Men who usually smoke have a lower sperm count than those who do not. 
Drug/alcohol abuse 
Drugs such as cocaine or marijuana can reduce sperm quantity and quality. Alcohol abuse can decrease sperm production as well as increase chances of erectile dysfunction.
Obesity/underweight
These may lead to hormonal imbalances which affect the production of sperms.
Diet
A diet low in minerals, especially zinc can lead to low sperm count. High protein food such as meat contain high zinc levels.
Abduo notes that a good number of infertility cases can be treated, but a number of men fear to access medical help as they feel infertility is a shame and has rendered them worthless. 
However, there are cases when treatment may not work. A couple may be advised to use donor sperms or consider adoption.
Compiled by Vicky Wandawa
You don't have to father a child to prove your fertility