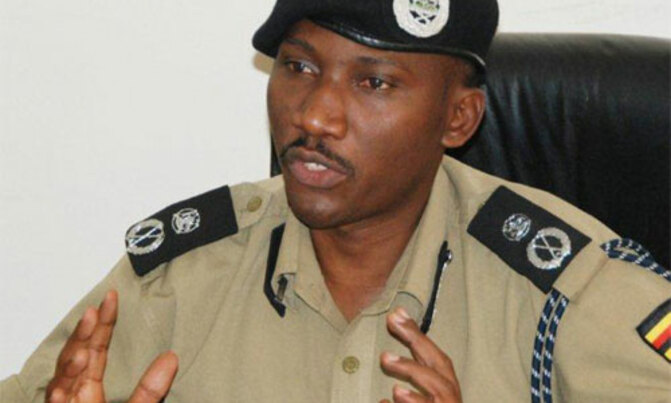 Kampala police has banned with immediate effect rallies held in markets and along highways.
By Darious Magara and Jeff Andrew Lule 
The Kampala Metropolitan Police Commander Andrew Kaweesi has banned with immediate effect rallies held in markets and along highways.
"It is regrettable that some demonstrators have thrown stones at policemen and police stations like in Kasangati and Katwe," he disclosed during a weekly police briefing at the Central Police Station in Kampala on Monday.
Kaweesi said the last four Activist for Change (A4C) rallies which were conducted in Kampala city and its surroundings had turned violent.
"We have had cases where some public property and innocent people have been injured by demonstrators during rallies but we shall not allow this to happen again," he stated.
Kaweesi regretted delayed legislation of the Public Order Management bill. He said if the law was in place, organizers of such rallies would be held responsible if rallies turned violent.
The police boss however said the force was investigating some cases and some people who had caused violence would be arrested and charged.
Although he did not mention names, Kaweesi blamed some political leaders who have organized rallies but failed to control their crowds from becoming a public nuisance.
He denied accusations that policemen had pelted stones at some vehicles during rallies. "Our policemen are professional; they sincerely cannot throw stones at the public."
Meanwhile the Forum for Democratic Change (FDC) and the A4C opposition pressure group have instead blamed police for the violence that erupts at their rallies.
They also distanced themselves from the violent mobs that throw stones at the security forces and members of the public during their rallies.
'No excuse'
Addressing journalists at their weekly press briefing at their offices in Najjanankumbi on Monday, the party's deputy publicity secretary, Toterebuka Bamwenda said police is to blame for all the violence that has been witnessed in the rallies.
He said police had "failed to act professionally" as a civilian force to enforce law and order.
"They should not use violence as an excuse to ban our rallies because we are not police officers to enforce law and order," he added.
Bamwenda said police is always notified and that is why they deploy at their rally venues before rallies are conducted.
"We are very surprised to hear police blaming opposition for the violence. This shows that police has been behind all the violence and now wants to justify why they want to ban them," he said.
In a separate interview, the A4C national coordinator, Mathias Mpuuga challenged police to produce anyone they have arrested throwing stones at the rallies.
He alleged that the fact that police has never made any arrests is proof that they know the culprits.
"They have been arresting innocent civilians for walking recently but how come they have failed to even get one hooligan who throws stones during rallies?" he demanded.
Mpuuga also the Masaka Municipality MP, vowed that they would continue to conduct their rallies countrywide.
"We have always asked our supporters at rallies to be calm and we are sure the hooligans who throw stones are planted by some people to tarnish our name," he said.
Kaweesi said they had started a system where they will fingerprint criminals/suspects and record their other details then follow up the suspects to ensure that they are kept behind bars.
On chaos that has erupted in some markets in Kampala recently, he said police would not take sides and ordered market managers to collect their dues peaceful.
The FDC party leader Col Kizza Besigye has urged his supporters not to throw stones at the police while at various rallies.
Besigye, while addressing an A4C rally at Gayaza at the weekend, outlawed the act of throwing stones at the police, saying it breeds violence.
Police ban rallies in markets, highways