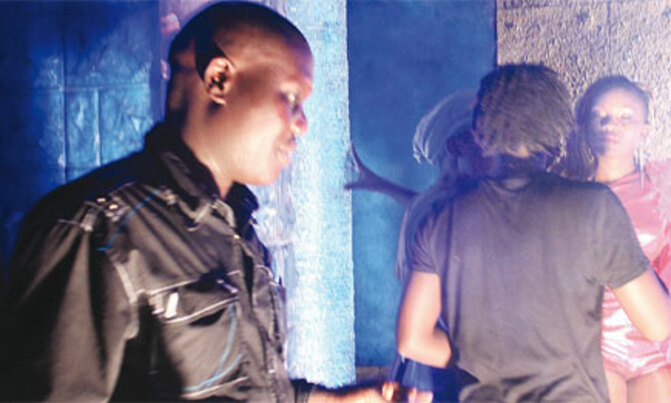 The whirlwind romance between city lawyer, Caleb Alaka and musician, Jackie Chandiru is perhaps one of Kampala's worst kept secret. As the on-off celebrity couple counts down the months to the highly billed traditional formalisation ceremony slated for December, we can reveal that they have left a
The Kampala Sun, in an exclusive interview tracked down Linda Namuli, Caleb Alaka's official wife before Jackie Chandiru, 'snatched' him. In a heart rending story, the now scorned woman pours her heart out and reveals the turmoil they have subjected her to.
She is totally devastated by her former lover's actions and after years of deep intimacy; she still cannot believe how Alaka could suddenly abandon her so cruelly and take her three children from her to put them under Jackie Chandiru's care.
What is worse, she is about to become homeless as he is bent on evicting her from the very home he said they would stay in forever. Adamant, Alaka has reportedly assured Namuli that if she doesn't leave quietly, bailiffs will be sent to help her pack.
To seek revenge is to corrode the soul, so Namuli thinks that rather than to seek vengeance with the music diva, she has chosen to forgive a woman she calls a witch and husband snatcher, predicting that it will not be long before Alaka dumps Chandiru for the next best pair of hot female legs.
Namuli cries out "God, what can I say? I clearly remember the first moment we met. I was in S.3 by the time. I was very young and he had a career and money to bait gullible girls like us at the time.
Even before he scribbled his number on a sh20,000 note, hastily passing it on to me, my mind was already made up about him. I liked him. The rest is history because in my S.4 vacation, I gave birth to our first born son.
In the ensuing four years, I gave birth to our second and third child.
I was contented being a stay-home mother considering that he provided everything for me and the kids and whenever we were together, he painted a life of one big happy and loving family.
Alaka was the sweetest thing to me and our children. You can only imagine how my heart danced when he proposed. I took up a quick course to become independent and self-reliant.
I knew Alaka was a God-send when he broke the news to me that he had secured me a slot at a management institute in Denmark. The thought of going abroad was too enticing; hindsight never made me think of the children I was leaving behind.
However, I was reassured by the fact that I was leaving a responsible husband behind. Alaka was at his romantic best as he bade farewell at the airport. He even shed tears at the departure lounge, saying he would miss me and be on the phone all the time."
As she settled in Denmark, she never received the expected phone calls, but excuses on why he never called. Not long after, she was flooded with talk of how Chandiru had taken over her man, her house, her kids and her car.
"To refute the allegations, Alaka regularly flew to visit me in Denmark and reassured me everything was fine. He swore never to have a step mom for his kids as he grew up in a similar arrangement and knew its perils. I quashed my suspicions.
Even when I read about an impending introduction ceremony, I rubbished it as media speculation."
She never waited long after the course and rushed back home to claim what was rightfully hers. Her first suspicions came to fruition when she learnt that Chandiru was driving their family car (Land Cruiser). She then chanced on the very Chandiru inspecting the painting of a house, which Namuli supervised during construction. She fought for what rightly belonged to her and in the ensuing weeks, they became fodder for the press.
"First, my husband got my kids and took them to Chandiru's house. He assigned her the duty of picking them from school, which made me feel worthless as a mother and a wife.
Where was the sweet man I married? Why has Chandiru bewitched my man?" she queries.
Rather than bicker, she has quietly prayed to God for a miracle in this battle so that her husband realises the woman he is abandoning and one he is running after. Family meetings to solve the impasse have failed with Alaka overruling most decisions.
In a tone of resignation, Namuli said: "I pray that God grants Chandiru the man of her dreams. One day she will realise the follies of breaking what some people have worked hard to put together. Only time will tell."

Alaka's side of the story
According to the statement recorded under Family Unit section Kiira Police station, registered under SD number 50/16/12/11; The city lawyer agrees to have shifted his three lovely kids from their home to Chandiru's house for a good cause.
Part of his statement reads;
"I married Linda Namuli in 2006. By that time she was simply a faithful house wife who was not working anywhere. In 2007 I shifted her into my newly built house in kiira trading centre. In 2009 we started having marital problems like any other family out there. I became so bitter with her. A couple of weeks thereafter she flew out of the country. Later I learnt that she was in Denmark.
She left me with our three children. In her absence I became their mother and father. In July 2011, I fell for Jackie. After learning about her, she flew back. My kids were not getting enough help so I decided to take them to a place where I thought they would be ok.
That was at Jackie's place. On 16th/Dec/2011, Police from CPS came home, where she had filed the case of forceful removal of the kids from their mother.
The officers left the letter at my home explaining the above mentioned case. Again that evening, Police from Kiira came to the house with the complainant saying she wanted to enter her house, I was told to report to Kiira Police station which I did.
I love my kids and have never neglected them at anytime. I'm willing to do anything to keep them safe and happy…"
Jackie's side of the story
When contacted about the story, Jackie made it very clear and insisted she had no comment. "Dan, Alaka is my friend and that is it. You know, I have so many projects that are really taking my time and I know it's your job to get my side of the story but that is all I can say.

How close are they?
Namuli is resigned to the fact that city lawyer Alaka and singer Jackie Chandiru have been snapped pecking each other or closely monitoring each other's heart beats with warm hugs.
"By the way, that dude and Chandiru have been on the moon ever since Namuli went to Denmark. The two have had a wonderful time together in various city hotels and clubs," one of Chandiru's video vixens added.
According to close pals, love struck Alaka and Chandiru were set for a splashy introduction ceremony around December last year had it not been the sudden re-surfacing of the tough Namuli. Namuli introduced Alaka to her parents in Nsangi, a Kampala suburb, around November 2006.
They hosted their guests at Namuli's home and later constructed a family house in Namugongo.
How Jackie snatched my man, kids