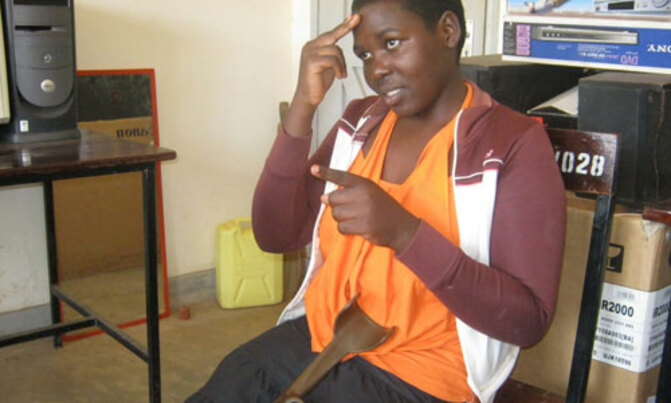 "Despite the multiple disabilities I want to prove to the world that disability is not inability," says Oliver Nankinga a former student of Wakiso Secondary School for the Deaf.
By Petride Mudoola
"Despite the multiple disabilities I want to prove to the world that disability is not inability," says Oliver Nankinga a former student of Wakiso Secondary School for the Deaf.
Being deaf and physically handicapped did not deter Nankinga, aged 20 from scoring aggregates 38 and emerging as the best girl in her school.
She scored D2 in English, C4 in History, C5 in Geography, C3 in Agriculture, C5 in Literature, P8 in Mathematics, P8 in Biology, F9 in Physics, and managed an F9 in Chemistry.
Wakiso Secondary School for the Deaf registered 23 students to sit for last year's Uganda Certificate of Education (UCE) of which 18 qualified for Advanced Level studies, and five will join vocational education, the deputy headteacher Charles Owilli says.
"Performance in science disciplines is still poor due to the fact that sign language is limited to some objects. "
As a result, Owili explains, the mode of expression becomes a challenge for teachers yet it calls for demonstration to train learners with hearing impairment.
"Illustrating objects such as an atom, molecules, cells, veins, aorta is problematic since they are not included in sign language, making it hard for deaf students to understand the content."
Through an interpreter, Nankinga told New Vision that despite the challenges she faces as a student with multiple disabilities, she prays that with God's grace, she becomes a lawyer so that she advocates for the rights of people with disabilities (PWDs) in the country.
"With hearing difficulty and more so physical disability, my studies have been affected due to absenteeism from school because I was hospitalized for almost a year. But with assistance from my dear parents and teachers I managed to excel," she remarked.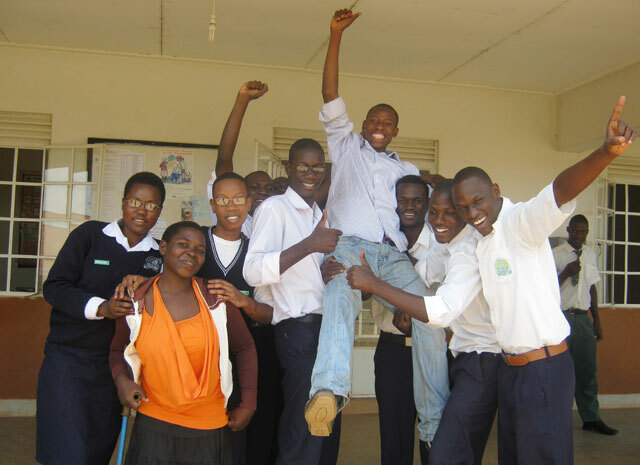 The school's best student in last year's UCE exams, Joseph Akol being hoisted up in the air by his friends, including Oliver Nankinga. PHOTO by Petride Mudoola
But amid her success, the 20-year old is uncertain of further studies since, she explains, her parents do not have a stable income to cater for her tuition.
Her father is a driver and mother a house wife.
Scoffed at
The determined youthful girl vividly remembers the day she was turned away from a job vacancy. With the aid of her interpreter, Nankinga tried her luck at a job opening but was simply laughed at because of her disability.
Insensitively, the lady she approached for her application asked: "What kind of job can I give a person with multiple disabilities like you?" That left Nankinga shatteringly devastated.
Due to the stigma and discrimination that disabled people face while searching for employment, she prays that the public comes to her rescue to enable her achieve her goals.
Meanwhile, 18-year old Joseph Akol scored aggregates 33 emerging as the best student of the same school.
Just like Nankinga, Akol's certainty for available income to cover his tuition for further studies seems hazy. His hopelessness stems from the fact that he is orphaned.
He scored D1 in Agriculture, C3 in English, C5 in CRE, C4 in History, C5 in Geography, C5 in Mathematics, C6 in Physics, P8 in Chemistry, and P7 in Biology.
Akol, also deaf, said that he was raised by his grandmother after the death of his parents. Despite tough financial times, his guardian was committed to paying his school fees up to the time he sat for the national exams.
Under his grandmother's care, Akol decided to engage in carpentry during vacation so that he could help her raise tuition for his A' Level studies.
But the sh6000 he earns daily will not be enough to clear his tuition. He calls upon well-wishers to assist him achieve his dream of becoming an accountant.
School of deaf top girl wants to be a lawyer