The premature triplets who were abandoned by their father have been readmitted at Mulago with a bacterial infection.
By Gladys Kalibbala
The premature triplets who were abandoned by their father Abdul Balinnya, a hawker in Kampala, have been readmitted at Mulago Hospital, Kampala.
Their mother Hawa Namaganda, aged 32, a resident of Masajja Zone B received assistance from Vision Group when she appeared with the sick children last Thursday. She was accompanied by a Bukedde fan Winfred Kabanda (Senga Smart) of Zana Kikajjo zone working at Owino market.
Namaganda gave birth to triplets last Friday but was shocked when her husband who she said "was always around and cared" during her pregnancy, vanished when he received the news on phone.
"Doctors had alerted me of the triplets but he was skeptical. I went to hospital alone and had a Caesarean delivery," she explained.
"When we informed him about the delivery, he just switched off his phone and I have not heard from him again."
Vision Group provided Namaganda with financial support to transport her with an escort back to Mulago hospital in Kampala for medical attention.
Meanwhile, Namaganda's mother appeared at the hospital after three years without seeing her daughter. In fact, she was not aware of the birth of the triplets until she received a call from her other daughter.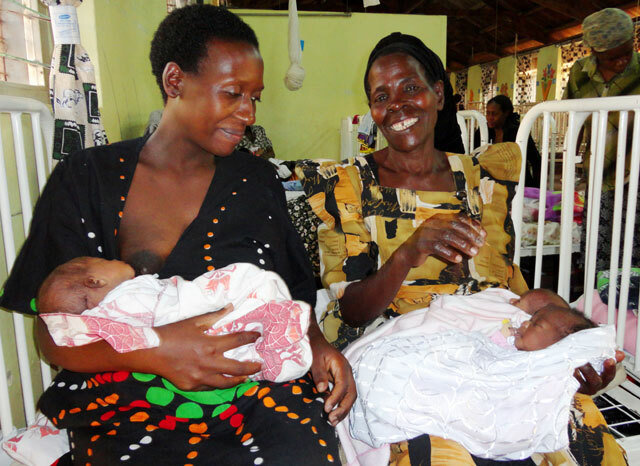 Namaganda's mother, Nubbu Wati Nakibuuka (right) at Mulago Hospital shares a light moment with her daughter and grand-daughters. PHOTO by Gladys Kalibbala
Namaganda left home in Kasekerebya village in Butambala about three years ago and had not returned since then. She left to stay with her aunt in Kampala.
But after a short while, she fled her aunt's home to a place in Seguku off Entebbe Road to work as a housemaid. It is from here that she met the father of her triplets, Balinnya.
Balinnya then took her in but refused her to continue working as a housemaid.
Back at New Vision offices, some employees contributed money towards the welfare of the desperate family, whose breadwinner disappeared as soon as he had received the news of the births.
New Vision also donated one million Ugandan shillings towards their medical assistance and upkeep.
According to Dr Sarah Musoke who attended to the babies at the Acute Ward in Old Mulago, one of the babies could hardly breathe while all of them required medical attention for at least a week.
"We need to treat them from bacterial infection and monitor them as they are underweight," Dr Musoke explained.
The one who was worst affected and could not suckle weighed 1kg, another 1.5kg while the third one weighed 2kgs. The doctor also recommended formula milk for the babies as their mother is still weak and does not have enough breast milk to feed all of them.
A worried Namaganda requires more help like babies' clothes and upkeep. For any form of financial assistance, please call 0782811445
Sickly triplets readmitted at Mulago