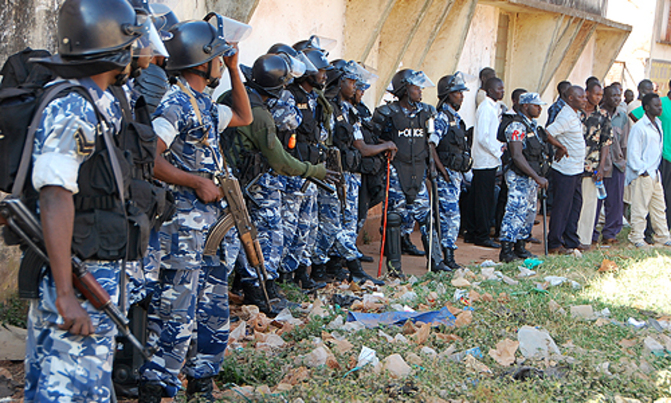 GUN fire rocked in Walukuba/Masese division in Jinja Municipality East constituency as Police dispersed supporters from two camps that were fighting.
By Donald Kiirya

GUN fire rocked in Walukuba/Masese division in Jinja Municipality East constituency as Police dispersed supporters from two camps that were fighting.

Police dispersed supporters of National Resistance Movement (NRM) and Forum for Democratic Change (FDC) who had clashed at the same village.

The South Eastern region Police Spokesperson, Samson Lubega, while at Jinja Central Police Station said, Police found supporters from the two camps engaged in a violent fight at about 3:00am on February 9, 2012.

A policeman tries to control voters emotions. Photo by Donald Kiirya.

"Police had already anticipated violence because it's a culture in Jinja East on the eve of election day. There's a tendency of people from different camps who move at night at last minute to canvassing for votes."

"People give out money, sugar and other commodities," Lubega said.

He added that twelve culprits were arrested in the 3:00am fracas and two cars which included a LAVIT van registration number UAN 195T and another one belonging to Mwiru's camp.

 "All windscreens of the vehicles were smashed and by the time we arrived, we found big stones in the van and the other vehicle had been driven away, so we had to drive the van to Jinja Police headquarters," narrated Lubega.

A car with smashed windscreens. Photo by Donald Kiirya.

Lubega further said that of the twelve suspects who were arrested, 3 will be charged of assault, 3 for malicious damage and the 6 will be charged with inciting violence.

He explained that people who engaged in inciting violence were armed with stones, sticks, clubs, machetes and pangas and body harm was caused to several people so Police had to be forced to shoot in the air to disperse them.

He said "We have deployed heavily and fears that Police is everywhere to intimidate people is not true. We also explained to the public about the heavy deployment in order to provide security."

However, Nathan Igeme Nabeta, the NRM party candidate in the race who voted at about 9:10am at Aldinah 6 Polling Station located at Main Street P/S said six of his voters were badly beaten in the morning incident and he rushed them to hospital.

"I called Police from time to time as Mwiru's supporters were trying to break up the home of the chairman of my task force called Charles Busulwa at night," said Igeme.

 He denied rumours that his voters were giving out money saying that those were not his people. He also accused Mwiru's supporters of beating up his supporters on the election eve.

Igeme said he will accept whichever results that will come out of the tally centre.

Electoral commission, Badru Kigundu is in Jinja to oversee the exercise.

"We were announced dead at Polling stations yet we have voter cards and our names were on the register," said Aidha Bingi, a voter.

By Press time, Police was still arresting culprits who were trying to incite violence.   

The seat fell vacant following a Court ruling that nullified the election of former state minister for trade   Nathan Igeme Nabeta.

In the race is Nabeta, the NRM flag bearer, Paul Mwiru (FDC), Osinde Richards Emrie Oyo (UPC), Alex Waiswa Mufumbiro (DP) and Cranmer Dhikusoka an independent candidate.




 

 
Violence mar Jinja Municipality East by-election