While the World Health Organisation, reveals that 1.1 billion people in developing countries lack clean drinking water and despite growing international attention to global safe-water access, investment in adequate safe-water products and services in developing countries remains low.
Biosand technology avails clean water

By Vision reporter

While the World Health Organisation, reveals that 1.1 billion people in developing countries lack clean drinking water and despite growing international attention to global safe-water access, investment in adequate safe-water products and services in developing countries remains low. Communities are at a risk of developing water-borne diseases

According to Paul Kimera, the Senior Research Officer at the government's Appropriate Technology Centre for water and sanitation, there are a number options for safe water. With the escalating costs of fuel, the cost of boiling water is becoming more expensive.

Among the alternative methods in Uganda that have been introduced include various chlorine based products. These range from those in sachets that cause the dirty water component to coagulate and settle at the bottom to chlorine tablets branded in different names and chlorine in liquid form.

In all these, the chlorine plays the major role of killing the bacteria in the water. However, the water looks dirty and therefore may not change perception of the consumers the water is not safe for drinking. Other methods include the ceramic filters, the membrane filters and solar treatment.

A new technology has also been brought to Uganda. It uses granite sand, the biosand filtration technology to make to make water safe for drinking without boiling or adding any chemicals.  

The biosand filter was first conceptualized by Dr. David Manz in the late 1980s in Calgary Canada. Deriving its technology from slow sand filtration, the biosand filter harnesses a couple of biological and physical processes to remove bacteria, chemicals, heavy metals and suspended solids from water making it safe for drinking.

Compared to chlorination or solar disinfection, they are easier to operate and cheap.

Biosand filters are typically constructed from either concrete or plastic.

Even though the most widely used are from concrete, plastic ones too have been introduced with the latest  on the Ugandan market being the 'TivaWater filter'.

TivaWater, manufactured in the US re-invents the bio-sand filtration concept into a more portable and user-friendly system.
At the top of the filter is a lid to prevent unwanted solids from entering the filter. Below is a diffuser plate, which prevents disturbance of the filtration sand layer and protects the bio-layer when water is poured into the filter. Next, is the sand layer.

Bio-sand filters remove pathogens/ bacteria and suspended solids through a combination of biological and physical processes that take place in the bio- layer and within the sand.
Different processes occur during different points in the filter running process. These can be broken down into segments of the filter running process. According to Dan Ololia, the Managing Director of TivaWater Uganda, suspended solids and pathogens are physically trapped in the spaces between the sand grains.

These bacteria trapped at the sand bed form a biological layer of useful bacteria, which feed on other microorganisms in the water. This process alone accounts for the removal of over 60% of bacteria in the water.

As the water moves down, bacteria also become attached to each other, in a process known as absorption.
Lastly, deep in the sand column, bacteria die because there is not enough food or oxygen for them to survive during the filtration process. All these processes work together to guarantee that you get safe and enough drinking water for your home. 

BSFs have been shown to remove 50-64% of heavy metals up to 99.99% of contaminants such as bacteria, viruses, and protozoa and turbidity. They also help to reduce discoloration, odor, and unpleasant taste.

The water from the TivaWater filter has been tested and certified as safe for drinking by UNBS, while the technology has received international approval through a variety of research studies by various research institutions as well as WHO. It is estimated that over 200,000 filters are in use worldwide.

"Scientists have proven the filtration method and have concluded that it works though Research is ongoing to find out the chronological process leading to its success," says Kimera.

By purchasing this inexpensive filter, a household benefits in several ways. You are guaranteed of a supply of at least 40 litres of water daily, without any recurring costs, no fuel for boiling and no money wasted on treating typhoid fever.

Besides, you will contribute to keeping your country green.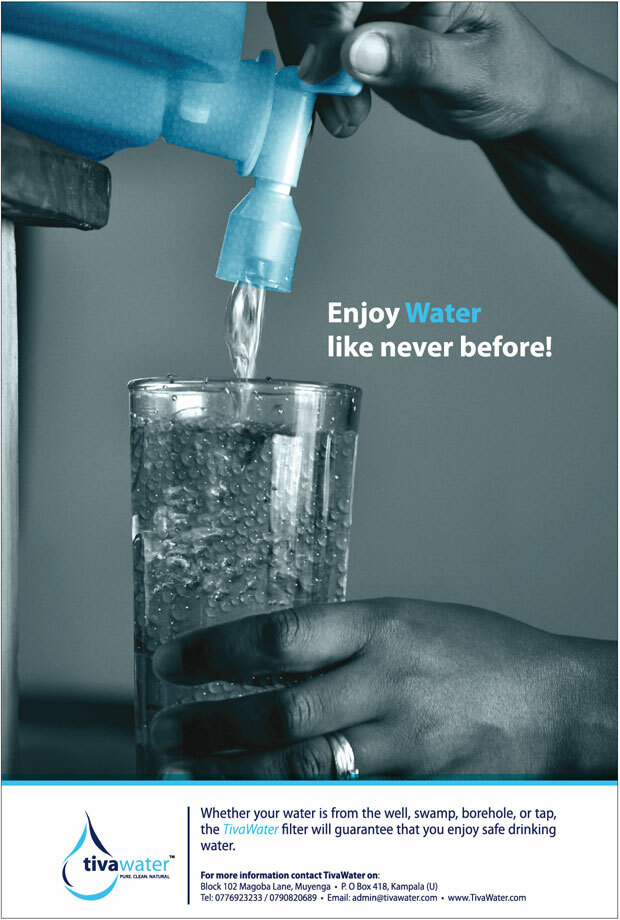 Why biosand filters are important?
The TivaWater filter was designed and manufactured in the United States, Daniel Ololia, tells Saturday Vision about the advantages of the filter

Why invest in water- filter business?
An estimated 1.8 million people, mostly children, die every year from diarrheal diseases caused by drinking contaminated water. However, the World Health Organisation has said the only way to prevent that is for someone to operate a viable business that helps the address the issue. And, because this product is very effective and affordable, we believe that TivaWater is the answer.

Why would someone change the way they clean their water?
During our market research in Kampala, we found that approximately 90% of the population is boiling their water. There are several problems with this approach. First, the price of charcoal is high. Secondly, the time it takes to boil and then wait for the water to cool is a lot. The research has also shown that many people fail to get their water hot enough to kill all the bacteria, so it remains a health hazard, especially to the children. Finally, boiling leads to cutting of trees. You can see that boiling has many problems.

Why did you choose to market the TivaWater filter over other available products?
We have been working on testing and design with an American scientist and engineering team for three years on this project. We identified the main product features that every water filter needed to succeed in Uganda. It must clean all of the bacteria and produce safe, good tasting water. It needs to be affordable and durable.
In addition, the pure water must have a safe storage container that keeps it clean. With Tiva water, we have achieved each of these.

How has TivaWater performed in this market so far?
We have been thrilled with the performance of the product. In the first few months of launching TivaWater, we have over 3,000 people using the technology. Those using it testify that the money used to buy the filter (shs 150,000) can be recovered in four months savings that would have been spent on fuel to boil water. The filter cleans up to 60 litres in 24 hours, so it should provide enough water for a home.
 
How can one get a TivaWater filter?
Anyone can order by going online at TivaWater.com or visit our offices in Kabalagala near the Ethiopian Village Restaurant.