Two men were killed and a woman injured in a Sunday morning clash of KCCA eviction officials and the locals.
By Moses Walubiri
Two men have died from gunshot wounds and a woman injured in a Sunday morning clash of Kampala Capital City Authority (KCCA) officials and the locals during an eviction exercise.
A somber mood akin to a funeral engulfed Port Bell Luzira parish as KCCA carried out its routine demolition of illegal structures.
During the eviction exercise that later turned bloody as the KCCA officials clashed with the locals, two people were shot dead and another left wiith deadly wounds.
Amidst a din of KCCA graders busy razing down kiosks and all manner of makeshift structures, children huddled around their mothers and a few household property that were salvageable in the Sunday morning operation, sobbing.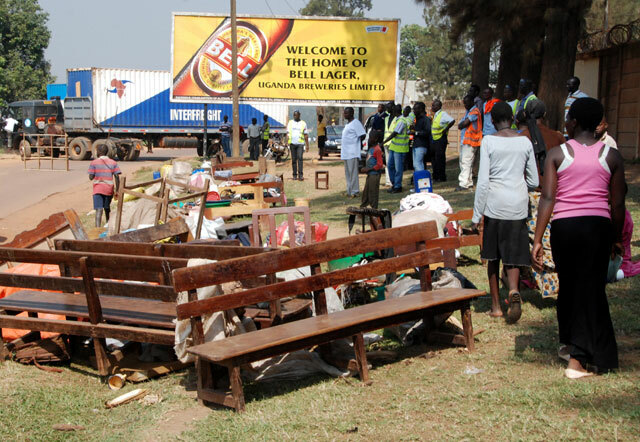 The eviction exercise caused a lot of panic, with people's property thrown out and left by the road side. PHOTO by Mark Owor
In one corner, a group of men led by the area Local Council II chairman, Charles Kwehinda, were engrossed in an animated discussion with the Director for Physical Planning at KCCA, George Agaba, about the exercise they claimed had taken them by "surprise."  
"As the area leader, I have not received a notice about this operation. It would only be fair if KCCA can tentatively suspend the demolition so that these people can be able to pick a few of their valuables like iron sheets, doors and windows," Kwerinda said.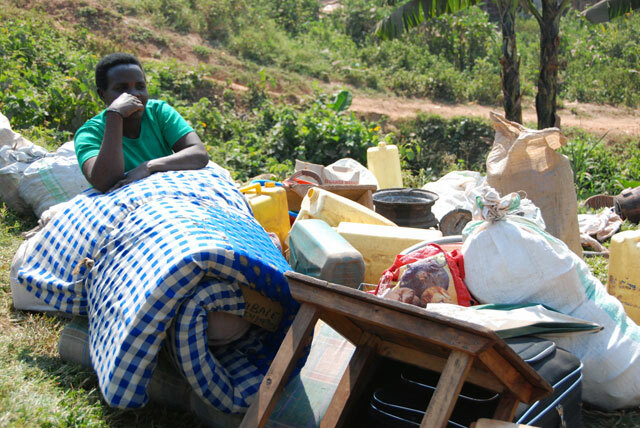 This woman was left stranded, homeless and desperate with all her property. PHOTO by Mark Owor.
However, according to Agaba, the condemned structures were in breach of every law in the book. "These structures are in contravention of the Public health Act, Physical Planning Act, and Roads Act which makes it illegal to build in a road reserve. Besides, they were erected without permission from KCCA," he explained.
And so the exercise continued like cloak work until 9:42am when the KCCA graders and a posse of KCCA workers clad in green decided to withdraw.
Then suddenly, hell broke loose. Apparently, a man still seething with rage at the demolition of his shanty house was whacked by a retreating KCCA law enforcement officer for resisting the confiscation of his axe. This riled the locals who decided to take on the offending KCCA officer.
As Agaba's driver frantically tried to reverse his official car amidst a cacophony of noise, a hail of stones rained at the retreating KCCA workers, while an irate mob charging from the rubble and nearby shacks made a bee line for Agaba.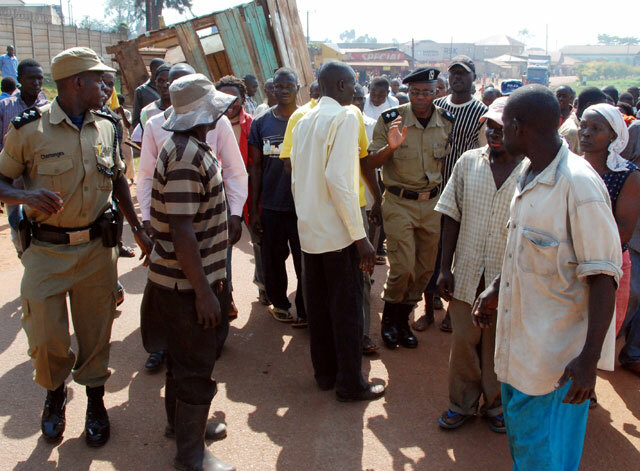 A crowd of locals confront two officers over some of their colleagues who were detained by the KCCA officials. PHOTO by Mark Owor
As KCCA enforcement officers engaged some men in fist fights, Agaba and other KCCA workers left the scene under the cover of a hail of bullets from a plain clothed security officer.
By the time the gunfire died down after 20 minutes, three people – two men and a woman - lay bleeding from gunshot wounds. They were later transported to Mulago Hospital in critical condition.
However, the two men were later confirmed dead from the gunshot wounds they sustained during the morning melee.
According to the Councilor for Luzira parish, Medi Mutumba, KCCA ought to involve local leaders in areas where it intends to carry out demolition exercises in order to avoid skirmishes like the one on Sunday.
Two dead, one injured in KCCA demolition exercise