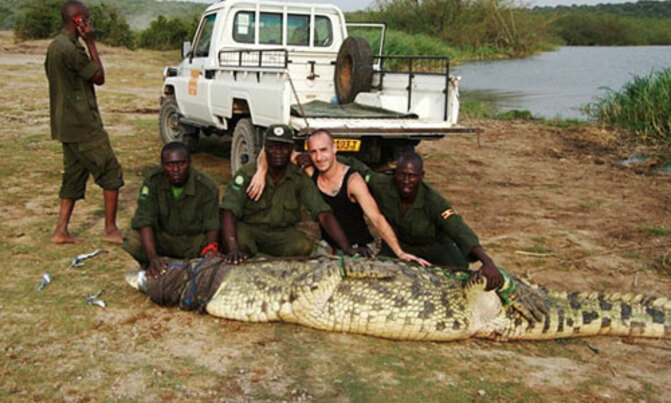 A killer crocodile linked with the deaths of three people has been captured in Kasese district.
By John B. Thawite         
A killer crocodile weighing close to a tonne and linked to the deaths of three people over the past three years has been captured in Kasese district.
The dangerous reptile was captured along the shores of Lake Edward in the western district of Uganda, according to the Queen Elizabeth Conservation Area manager, Nelson Guma.
Guma said the croc is aged 45 years, weighs about 800 kilogrammes and measures 4.1 metres long and 0.65 metres wide.
"It [crocodile] could be the one that has been attacking the residents of Katwe/Kabatooro town council," he observed. 
The captured reptile is suspected to have attacked and killed a 15-year-old boy in the area around Christmas time. Joshua Tugume was attacked as he bathed with his other four friends in the lake.
The boy was a Primary Three pupil of Katwe Boarding Primary School.
Since Tugume's death, the Uganda Wildlife Authority (UWA) staff had been on a determined pursuit for the deadly reptile.
"Our staff in Queen Elizabeth National park, backed by our headquarters staff, captured it this afternoon,' Guma confirmed Friday evening.
The manager said a wound was found on the reptile, compelling him and his staff to transport it to a holding facility in Entebbe Friday night to avoid do so during the day when it is hot.
The croc will be treated and relocated to Murchison National Park, a place with no communities living around.
"This is our first step to reduce the threat. Next month, we shall start fencing off some water points around lakes Edward and George to enable the people and their livestock there safely access the water," Guma observed.
John Fisher Beinomugisha, who led the operation, said the croc might have been wounded while trying to attack hippos in the lake.
"We had laid a wire trap tied to a strong floating log and baited with lungs of a cow. So when the crocodile tried to eat the cow lungs, its jaws were trapped," he said.
Almost instantly, UWA staff pounced on it, blind-folded it with a thick piece of cloth and then subdued it with different ropes tied at different points of its massive body. The captors then loaded it onto a waiting UWA truck and whisked off.
Previous attacks by crocodiles in Katwe/Kabatoro town council:
September 2009: Matovu Razak, a 12-year old pupil of Katwe Primary School was attacked and killed while fetching water.
December 2010: Byaruhanga James, fisherman from Kakoni was attacked while checking his fishing nets.  He survived with minor injuries.
January 2011: Mbambu Jonice, 13 year old girl, was attacked and killed while washing clothes.
December 2011: Mrs. Mazinga, a resident of Kakoni, survived a crocodile attack while washing utensils.
December 2011: Joshua Tugume, a Primary Three pupil of Katwe Boarding Primary School is attacked and killed.

Killer croc captured in Kasese