The Police have confined Forum for Democratic Change's (FDC) outgoing president Dr. Kizza Besigye and the party's women league leader, Ingrid Turinawe, to their homes in Wakiso.
By Nicholas Kajoba                        
 
Police on Monday battled residents of Gayaza in Wakiso district as they arrested Forum Democratic Party (FDC) women League chairperson, Ingrid Turinawe.

 Police fired teargas to disperse rowdy youth and residents who threw stones to patrol vehicles that had intercepted Turinawe.

Turinawe who was slated to address a press conference in Kampala was blocked before 6.00am.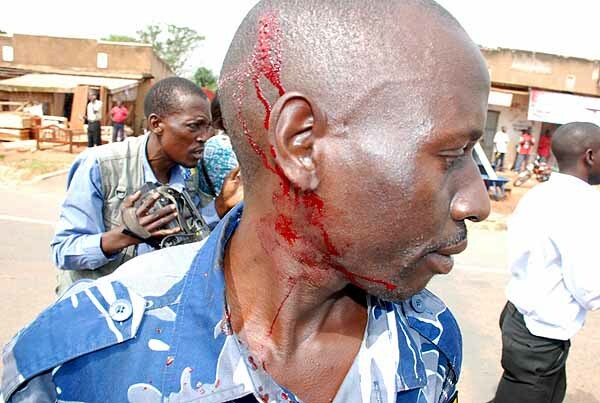 A Policman injured in the scuffle. Photo by Nicholas kajoba.
Turinawe said that police surrounded her house in Mayangwa early Monday morning.

"I saw the police men surrounding my house. I wondered what had gone wrong. I was supposed to meet media people and address them at our offices on various issues," she said.

 She forcefully left her home driving at terrific speed as Police patrol vehicles followed her.

However she was intercepted at Gayaza and ordered to get out of her vehicle. She refused and her supporters pushed her vehicle up to the town centre where she was blocked by two police patrol vehicles.

The officers led by James Ruhweza ordered her out. Unidentified police officer was injured on the head during the scuffle. He was rushed to nearby clinic.
 
Turinawe waving to the crowd. Photo by Nicholas Kajoba
Ruhweza forcefully removed the cars key from her and forced her out of the driver's seat. He led her to a police patrol vehicle.

Amidst the fracas police fired teargas. Turinawe was detained at Kasangati police station.

 
Police detain FDC's Turinawe