Kampala city traders on Friday unanimously resolved to stay on strike pending tomorrow's (Saturday) meeting with President Yoweri Museveni.

By Francis Kagola, Andrew Ssenyonga and Brian Mayanja          
                                                                    
Kampala city traders on Friday unanimously resolved to stay on strike pending tomorrow's (Saturday) meeting with President Yoweri Museveni.

 Although a few retail business owners opened, almost all the wholesale shops in the city centre remained locked for the third day.

 The traders, gathering under their association (KACITA), said were not satisfied with the outcomes of the earlier meeting their leaders had with the President.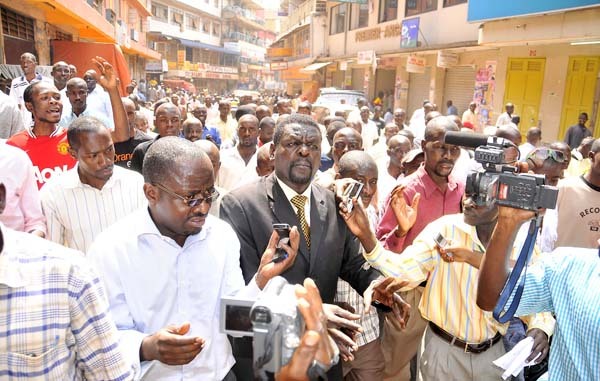 SSekito adressing traders at Kikuubo lane. PHOTO by Kennedy Oryema
During the Thursday meeting at State House Nakasero, Museveni, acting on technical advice given by the central bank governor Tumusiime Mutebile, turned down the traders' demands of immediate reduction in the bank interest rates.

He concurred with Mutebile that the Bank of Uganda needed at least a week to study the implications of reducing interest rates and also warned the traders against striking.

The President also directed government officials to sit with KACITA and the bankers' association to review all commercial bank charges, including the deposit and withdrawal charges, saying that some appear to be making life difficult for bank customers.
However, meeting today at Diamonds Hotel in the city center, the traders said they could not open shops without assurance that the interest rates will drop.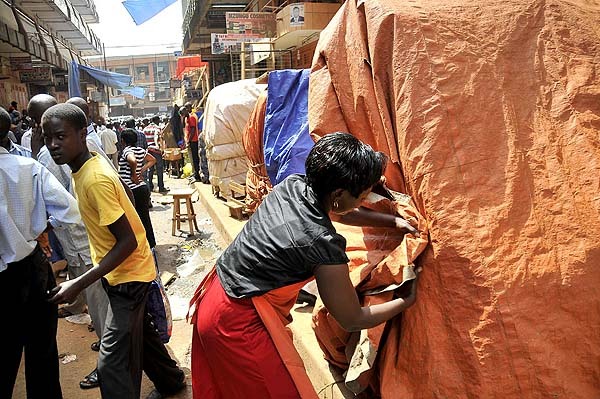 A trader covers her merchandize.PHOTO by Kennedy Oryema
"We did not comprehend properly what we got from the President. So we have resolved to keep our businesses closed until the traders meet him themselves," remarked KACITA chairman Everest Kayondo after the traders' meeting dispersed prematurely.

The President's meeting is scheduled to take place midday at Serena Hotel Conference Centre.

 KACITA spokesperson Isa Sekitto blamed the government for "reckless expenditure" which he said had caused the high inflation rate that the Bank of Uganda wants to curb through excessive interest rates.

Sekitto was forced to call off the meeting impulsively after most traders had resolved to resort to demonstrating through the city roads.

For over an hour, traffic in downtown slowed as hundreds of traders sat in the middle of Burton Street.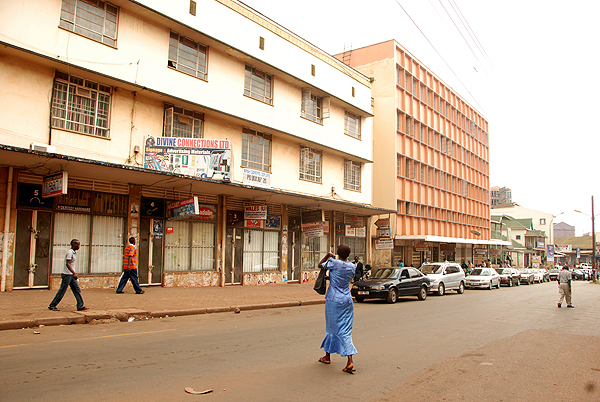 Shops still closed as strike enter day 3. Photo by Wilfred Sanya.
However, sensing danger from the approaching anti-riot Police, Sekitto ordered the traders to calm down and return to their homes.

But his attempt to disappear mysteriously was foiled by a group of youthful traders. They surrounded him and compelled him to accompany them to force retailers who had defied the strike to also close their shops.

The group then attacked traders who were transacting business in Kikuubo and Ben Kiwanuka streets and Mukwano Arcade.

"Why can't they wait for only one day? That shows that we are cowards if we can't sustain what we set," one of the attackers shouted.

However, under the command of Central Police station boss Norman Musinga, anti-riot Police deployed quelled the fracas.

Musinga said that it is improper for a few people to intimidate others and vowed to sustain heavy police deployment in the city to ensure law and order is maintained until KACITA calls off the strike.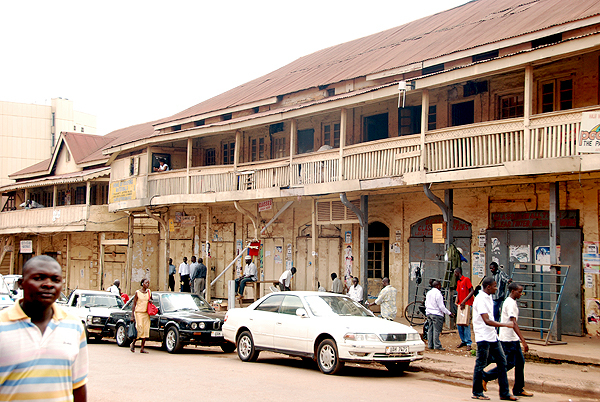 Kampala traders continue with strike