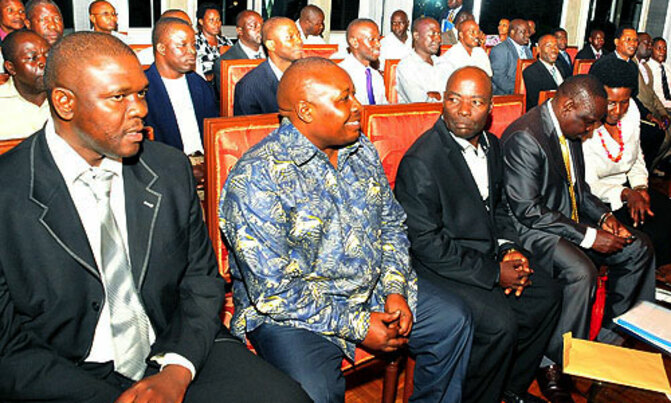 Shops in Kampala central business district remain closed for a second day as President Yoweri Museveni meets traders again today.
By Apollo Mubiru

Shops in Kampala central business district remain closed for a second day as President Yoweri Museveni meets traders again today (Thursday).

Shops along Luwum, William, Ben Kiwawuka and Johnson streets remain closed.

Traders on Wednesday closed shops as they started a three-day strike protesting high interest rates commercial banks charge on old loans. Traders want government to intervene arguing that the high interest rates will push them out of business.

Today's meeting  with traders will be joined by managers of commercial banks which have raised interest rates, governor Bank of Uganda, Emmanuel Mutebile as well as the minister of trade and industry, Amelia Kyambadde and the minister of finance.

Meeting traders on Wednesday at State House Nakasero, Museveni warned Kampala City Traders Association (KACITA) leaders against using strikes and violence, saying that he will not succumb to such pressure.

 "These strikes and confusion will harm our economy. There is no reason for resorting to strikes when we can discuss these issues amicably," Museveni said.

 "I do not want to operate on pressure; I will not accept pressure and confusion. This is your country and the businesses are yours," he added.

The president noted that the problems that the traders attributed to the strike will be solved harmoniously.

President Yoweri Museveni greeting Kampala Traders Patron Godfrey Kirumira
 

The KACITA delegation was led by their patron and Kampala tycoon Godfrey Kirumira who told the President that their members were eagerly waiting to know the outcome of their meeting.

Museveni pointed out that Uganda's economy was performing very well as opposed to earlier pessimism.

He reiterated that the traders should not close shops because all matters can be discussed and argued that even the banks that are accused of causing the strike belong to Ugandans.

"Any bank based in Uganda does not belong to its owners, but to Uganda," the President remarked.


Shops closed PHOTO by Kennedy Oryema

Meanwhile, Andrew Ssenyonga & Brian Mayanja report that traders are divided with some still holding onto the strike as others have opened.

Traders found operating on some Streets said schools are soon opening for first term and yet they do not have money to pay school fees for their children.

"We have been forced to open our businesses because we are approaching first term start and we have to pay school fees for our children as well as buying other school items," Thomas Lukwago a trader at Luwum Street said.

Lukwago added that according to the situation in the country, it's not advisable to close business adding that all those who closed should open for a better Uganda.

A survey conducted by the New Vision showed that most shops along Luwum, William streets, Kikuubo lane and Nabugabo Road among other places were closed by 9am.

Samuel Muwonge a trader in Kikuubo said that they will not open until they get information from their leaders.

"We called for a three-day sit down strike which we have to effectively attain. We believe that our intention will be attained at the end. Whether the strike continues or ends, our leaders should tell us," he said.

According to Ramanzan Kabala a trader in Kikuubo, the strike has so far been successful since banks pledged to review interest rates.

Siraj Mbabali an importer of electronics said the high interest rates have greatly affected their businesses.

 He said they will continue with the strike if government does not respond to their demands.

He wants government to fix standard interest rates for every commercial bank to protect the traders, since most of bank owners are foreigners.

 Some shops owned by Indian which were open on Wednesday along Kampala Road have also been closed. Usually busy places like Kikuubo, Kiseka market and Kampala Road were all empty.

However, Police and military police personnel have been deployed in all strategic points while others were seen patrolling the city.

Kampala Police spokesperson, Idi Ibin Senkumbi said Police is keeping law and order.
 
Shops remain closed as Museveni meets traders again