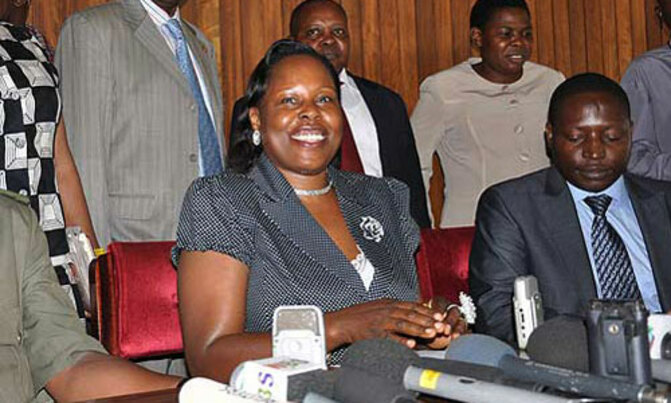 The Director of Public Prosecution (DPP), Richard Buteera will meet the Police and review the evidence against former minister for presidency, Kabakumba Masiko.
By Edward Anyoli   
The Director of Public Prosecution (DPP), Richard Buteera will meet the Police and review the evidence against former minister for presidency, Kabakumba Masiko.
Jane Okuo Kajuga, the directorate's spokesperson said the meeting will take place this Friday. 
"We need to weigh the available evidence on record before the file is sanctioned and taken to court," Kajuga said in an interview on Wednesday.
Police spokesperson Asuman Mugenyi recently said that charges of abuse of office and causing financial loss would be preferred against Kabakumba .
Kabakumba  is accused of using at her radio station, Kings Broadcasting Services (KBS) located in Masindi district. a transmitter and other broadcasting equipment belonging to Uganda Broadcasting Corporation (UBC), the public broadcaster, without paying for them.
Pressure
Following the recovery of the transmitter, Kabakumba came under intense pressure from fellow Members of Parliament, some from her party, National Resistance Movement (NRM), demanding that she resigns.
Consequently, Kabakumba resigned on December 14 last year to pave way for investigations into allegations against her. She, however, remains an MP for Bujenje County.   
 A humble beginning 
Kabakumba was born 45 years ago in Ikoba village, Masindi district to Kosiya Kahubire Labwoni, a known Christian in Masindi and member of the Bunyoro royal lineage. 
In 1983 when NRA fighters were fighting Obote`s regime in Luwero, she was doing her O-Level education at Gulu High School. While they were capturing power in 1986, she was doing her A-Level studies at Nabisunsa Girls School.
Kabakumba Masiko holds a of Bachelor of Science (BSc) degree in Economics from Makerere University. This is however in addition to several other Diplomas, including Diploma in Legislative Drafting, Diploma in Project Planning and Management and a Postgraduate Diploma in Public Administration and Management. 
Until December 14 2011, Kabakumba served as minister for presidency, having replaced Beatrice Wabudeya who was dropped from the cabinet in mid-2011. In that capacity, she also served as minister for Kampala Capital City Authority (KCCA).
Currently, she is the elected Member of Parliament (MP) for Bujenje County, Masindi District.
Kabakumba has been a 'yellow' girl for all her political life. 'Yellow girls' is the terminology for women politicians who can 'lose a leg' for NRM. 
The others in her class are MPs Mary Karooro Okurut, Anifa Kawooya, Dorothy Hyuha, Hope Mwesigye etc. It was because of this overwhelming devotion that she was 'seen' by the appointing authority and appointed to cabinet.
In 1996, aged 30, she ran for the parliamentary seat for Masindi District, emerged victor and served in that position until 2001. 
In 2001, following redistricting, she ran for the seat of Bujenje County, in Masindi District, won it and served as area MP until 2006. In 2006, she was re-elected to the Ugandan Parliament. 
That same year she was appointed Minister for Parliamentary Affairs and Government Chief Whip, a position she served in until her appointment to the information ministry in February 2009.  
DPP to meet Police over Kabakumba