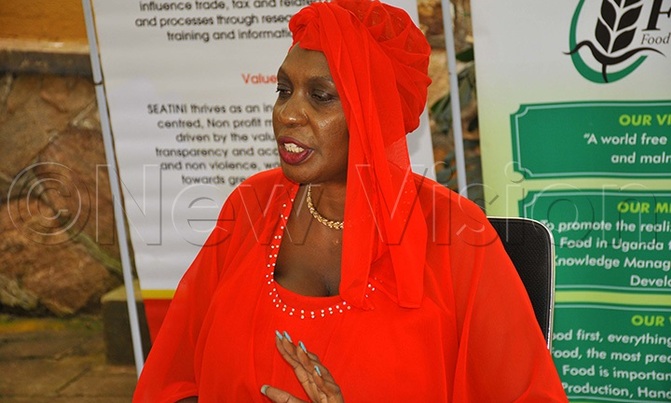 According to food experts, farmers and food dealers have taken advantage of the COVID-19 Pandemic in Uganda to release foods on the market, which are not worthy for human consumption.
AGRIBUSINESS HEALTH
KAMPALA - Ugandans have been advised to take extra caution when buying food, to avoid consuming foods that are contaminated with chemicals such as pesticides.

According to food experts, farmers and food dealers have taken advantage of the COVID-19 Pandemic in Uganda to release foods on the market, which are not worthy for human consumption.

"There are a number of hazards such as metals, chemicals and pesticides in food that can lead to death. Most of the food especially grains are contaminated with aflatoxin which are very dangerous and can cause cancer," Professor Archileo Kaaya, a food expert at Department of Food Technology and Nutrition Makerere University, said.

Kaaya noted that most of the foods including fresh vegetables, fruits and dairy products on the market carry dangerous chemicals which they get during the spraying process.

"They use hazardous and prohibited chemicals with Glyphosate. Farmers use chemicals during and after harvesting leaving lots of chemical residues for consumers," Agnes Kirabo, the Executive Director Food Rights Alliance said.

Addressing journalists in Kampala on Sunday, Kirabo together with other food experts said some farmers misuse chemicals to stimulate growth or treat animals.

Kirabo advised Ugandans to be careful while purchasing food especially during the current COVID-19 situation where some farmers are trying to sale off their produce at cheaper prices.

"Do not consume whatever is sold to you because it is cheap, mind about your health. Most of these chemicals cause cancer whose treatment is very expensive," Kirabo warned.

Statistics

According to statistics, 1.3 million people in Uganda are getting affected annually by unsafe food and 10% of the population falling sick after eating contaminated food. 420,000 people including 125,000 children under five die due to consumption of unsafe food.

Jane Nalunga, the executive director of Southern and Eastern Africa Trade Information and Negotiations Institute (SEATINI -Uganda) said a recent report indicated that 80% of the food products especially grains are contaminated.

"That is the extent of the problem, for the last four years, our exports have been facing challenges of rejection by the European Union and Neighboring Kenya, just because they are not of quality," Nalunga said.

Last year, the European Union threatened to impose a new ban on Uganda's agricultural export to Europe over severe chemical contamination of horticulture produce.

This according to the food rights activists was the third ban since 2015. Uganda's exports of maize and sesame have also been rejected in a number of exports markets due to existence of aflatoxins and salmonella in the products.

"Majority of food processing plants in Uganda for cereals and meat are not using food graded technologies. These include maize mills, ground nuts Sheller and grinding machines seen in almost all markets, slaughter areas for animals especially pork and chicken among others," Kirabo said.

David Kabanda, a food rights legal counsel called upon Ugandans to report those engaged in selling contaminated food.

"The food and drugs Act has provisions that whoever sales food that is contaminated can be arrested and detained for six months," Kabanda said.

The food experts implored the government to address the challenges of food quality to be able to target the international market.

Uganda' food import bill grows day by day for instance in the year 2019 the bill stood at $40.6m in animal and animal products.

Recent estimates indicate that unsafe food costs low and middle-income economies around $95b in lost productivity each year.