FIRE | KASUBI TOMBS | TOURISM | CULTURE

It was strange but true on Friday afternoon at Kasubi royal tombs after fire suddenly engulfed one of the royal houses commonly known as the house of the twins.

An enthusiastic crowd gathered and tried to access the premises to the rescue some of the property but police denied them access.

According to Noah Kiyimba, the Buganda Kingdom spokesperson, despite the fire outbreak, the twins are safe.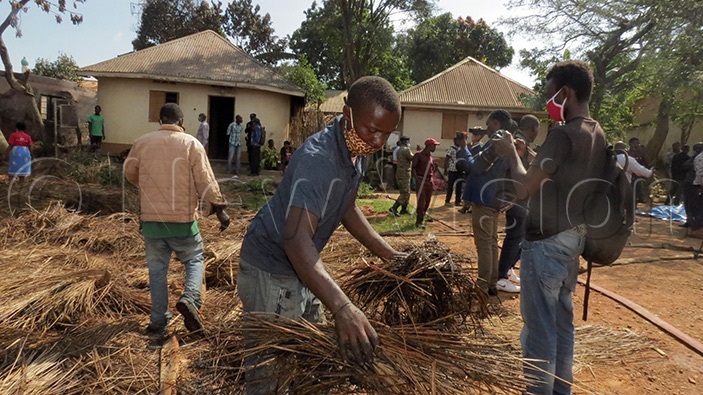 "It is very unfortunate that unexpected fire burnt the house of the twins of Buganda but the good news is that the twins did not catch fire," he said.

Kiyimba attributed this to the strong roof and appreciated the Buganda community who quickly responded to the alarm.

He comforted the Buganda community saying they will give an update on the cause of the fire.

Ssozi Richard, a mechanic who rescued the twins, told the New Vision that the fire started at around midday.

"I'm a mechanic at a nearby garage and my wife who works inside the royal tombs gave me a call as soon as the fire started, and I ran to their rescue. Good enough, we managed to rescue the twins with the help of the police," said Ssozi.

This is the third time the Buganda Kingdom traditional tourist outfit- Kasubi royal tombs has caught and destroyed by fire.