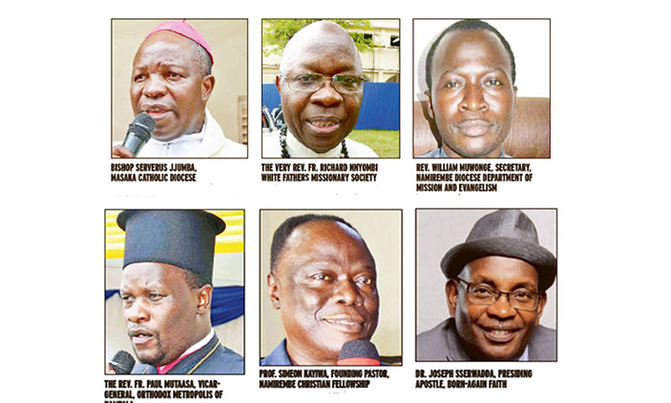 UGANDA MARTYR |
The Uganda Martyrs Day celebration tomorrow will be different from the previous ones. It is 'scientific' because of the threat of COVID-19 and the need for social distancing, among several other preventive measures.

So, only a few people will attend. The rest have to stay home and follow on radio, television and social media. Mathias Mazinga asked some clerics what else we can do to make tomorrow memorable
BISHOP SERVERUS JJUMBA, MASAKA CATHOLIC DIOCESE
Apart from following on the modern means of communication that God has blessed us with, Christians should listen attentively to the prayers that the Church leaders have organised at the Catholic and Anglican shrines in Namugongo.
Refl ect on the messages and internalise them. Subsequently, take a commitment to emulate the deep faith and heroic examples that the martyrs exhibited.
As St. Paul tells us in his second letter to the Corinthians, 'sometimes it is through our troubles that we are renewed and qualifi ed for eternal glory'.
THE VERY REV. FR. RICHARD NNYOMBI WHITE FATHERS MISSIONARY SOCIETY
Christian pilgrims normally have positive intentions when they visit places of religious signifi cance, such as Namugongo. The prayers of a serious pilgrim remain genuine even if they do not make the intended pilgrimage.
So, I encourage our Christians to exercise their full devotion to the Uganda Martyrs as they participate in the celebrations via the media.
Christians should use the day to exercise charity towards our needy brethren, whom COVID-19 has made even more vulnerable. For example, give the money you would have used to travel to Namugongo to that starving person in your locality.
REV. WILLIAM MUWONGE, SECRETARY, NAMIREMBE DIOCESE DEPARTMENT OF MISSION AND EVANGELISM
Remain at home and participate in the celebrations on mass media. By the way, media live-streaming is effective, for example, whenever I do my programmes on TV, I get as many as 50,000 viewers.
I have never got such a big congregation in church. So, when June 3 breaks, wake up at 8:30am and prepare for the service from Namugongo, which will be broadcast on local media.
After the service, evaluate your spiritual life, drawing lessons from the Uganda martyrs. What God wants of us is repentance.
THE REV. FR. PAUL MUTAASA, VICARGENERAL, ORTHODOX METROPOLIS OF KAMPALA
When a person dies for Jesus and becomes a martyr or saint, they cease to belong to one Christian denomination. They become saints for all the other Christian denominations that believe in sainthood.
So, much as the Uganda Martyrs were not members of the Orthodox Church, we accord them great reverence. Use the day to draw inspiration from the martyrs' great faith and determination.
People should not be sad because the pilgrimage was cancelled. Let them participate in the pilgrimage in spirit from their homes.
PROF. SIMEON KAYIWA, FOUNDING PASTOR, NAMIREMBE CHRISTIAN FELLOWSHIP
Making a pilgrimage in honour of the Uganda Martyrs is a good thing indeed. It does not matter whether you subscribe to their doctrine or not.
That is why I composed for them the song, Baayuguumya Ekibuga, yet I am the founder of the Revival Movement in Uganda. The Uganda Martyrs exhibited great faith and courage.
They did not shake even when death was seconds away. How many people can do that? So, instead of missing the pilgrimage, keep in mind that the price of contracting COVID-19 can be disastrous.
Stay home, follow the ceremonies on your media platforms and listen to the hymns of the Uganda Martyrs that will be playing on radios.
DR. JOSEPH SSERWADDA, PRESIDING APOSTLE, BORN-AGAIN FAITH
I do not profess the Catholic or Anglican faith, to which the Uganda Martyrs belonged. However, I marvel at their faith and resilience.
They were able to hold to what they believed was right even when they were subjected to the most brutal form of martyrdom. I marvel at their deep faith and boldness, which they ably sustained to the point of death.
I am a religious leader, but honestly, until today, I still challenge myself whether I can be able to take the stand they took if I were faced with their situation. We should use the Martyrs Day to refl ect on our commitment to God in a similar way.