UGANDA MARTYRS DAY |

This year, the Catholic Church was planning to celebrate 100 years (centenary) since the beatification of the Uganda Martyrs in 1920. Beatification is a stage where they were approved by Rome as being worthy of belief that they were in heaven. It is the stage at which the Blessed Daudi Okello and Jildo Irwa of Gulu Archdiocese are. The Uganda Martyrs took 49 years from the time they were beatified to October 1969, when they were declared saints by Pope Paul VI. However, because of the coronavirus pandemic, the June 3 celebrations were downsized. Juliet Lukwago sought views from stakeholders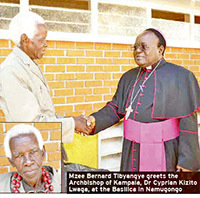 MZEE BERNARDO TIBYANGYE, 99 FOOT PILGRIM FROM BUSHENYI DISTRICT

I have been walking every year from Kikuba village in St Kaggwa Parish, Bushenyi in Mbarara Archdiocese. But this year, I am going to miss. I promised God that in my remaining time on earth, for as long as I have the strength, I would walk to Namugongo. So, every May 18, I start my journey to Namugongo on foot and by May 25, I am at the shrine, in time for the Martyrs Novena.

This year, I participated in the Novena at home. I will miss celebrations at Namugongo. However, I will wake up early in the morning and go to St. Kaggwa Church, in my area and pray, even if it is closed, I will stay outside and recite my prayers.

I do not know if I will still be alive next year for another pilgrimage, or if I will have strength. For every pilgrimage to Namugongo, I never know if it is the last one in my life. My fi rst was in 1969, when Pope Paul VI visited Uganda. This year would have been my 51st year since I started attending the Martyrs' Day celebrations in Namugongo and the 10th while walking from Bushenyi.


VICTOR KAYONGO, CHAIRPERSON OF CENTRAL ORGANISING COMMITTEE, KAMPALA ARCHDIOCESE

Everyone knows who the Martyrs are. The scientific celebrations will not affect their importance to us. We shall follow the celebrations on mass media.

When I was young, few people used to make pilgrimages to Namugongo. Then when the first church was built where the Basilica is, people used to get soil from the Altar,(where Kalooli-Lwanga was killed) and offer testimonies that it healed their ailments.

That soil became popular and a hole developed in the church as more people collected more soil. The need for that soil contributed to more pilgrims on Martyrs' Day, just as you see pilgrims fighting for water from the Martyrs' lake.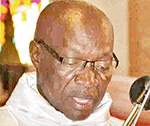 FR DR PIUS MALE SSENTUBWE, CHANCELLOR OF KAMPALA ARCHDIOCESE

We shall celebrate at the diocesan level in line with the health ministry guidelines to avoid the spread of coronavirus. All parishioners are asked to follow Kampala Archdiocese celebrations on television and radio.

Kampala Archbishop Dr Cyprian Kizito Lwanga will lead the Holy Mass at 10:00 am.

We can do spiritual pilgrimages in our homes, pray through the Martyrs, and pray for their intercession to help us overcome COVID-19.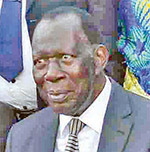 MZEE CHARLES MBAZIIRA, MEMBER OF THE CENTRAL ORGANISING COMMITTEE (COC)

My family and I will stay at home and follow the celebrations on TV as we now do every Sunday.

I started organising Church functions in 1975, but there has never been any reason for us to close churches. I have done pilgrimages to Namugongo for so many years.

However, this year, I will stay at home. I will miss the pilgrimage.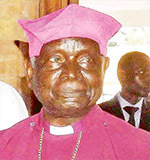 GEORGE SSINABULYA, FORMER CENTRAL BUGANDA BISHOP

There are no accidents with God. His sovereignty is complete and absolute. His control and power over all things, past, present, and future is unquestionable.

Nothing happens out of His knowledge and control. So, He prepared it a long time ago that 2020 Martyrs' Day will be celebrated in our homes.

Even if we go to Namugongo in bigs numbers without feeling it in our hearts, it will all be a waste of time.

Some people go there not for prayers, but for business and unChristian aims, including stealing.

God is now saying, instead of going to Namugongo to dance and eat without understanding the highlight of the day, stay at home.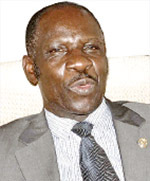 IVAN ALOYSIUS KALANZI, THE HEAD OF THE LAITY, KAMPALA ARCHDIOCESE

Yes, it is okay to have a scientifi c Martyrs' Day. Namugongo is a big area, instead of allowing only 20 people, it would have been better to let in at least 100 to 200 people to represent the rest.

Namugongo can afford 200 people while following the health ministry guidelines, such as social distancing, sanitising, washing of hands regular and putting on face masks.

If the Government allows only three people in a private car, they should have allowed more people at the shrine.

We have well-equipped security at the shrine, which would stop more people from entering.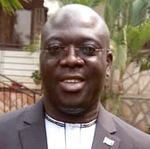 DR GEORGE WILLIAM SSEKANJAKO, IN-CHARGE MEN'S GUILD, KAMPALA ARCHDIOCESE

I have no problem with the scientifi c celebration as long as it is for the good of our lives.

We have to be happy to be alive celebrating the Uganda Martyrs' Day.

Others have passed on due to the coronavirus.

Since I come from Namugongo Parish, I wish to walk to Namugongo for the mass if I am invited.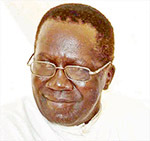 FR JOSEPH MUKASA MUWONGE, IN-CHARGE UGANDA MARTYRS, KAMPALA ARCHDIOCESE

The church wishes everyone could attend as usual, but it is impossible.

Let us follow the guidelines of Church leaders to stay home and follow the Mass, recite the Rosary and the litany of Uganda Martyrs.

We can use this time to read more about the Martyrs.

Let us make it a moment of joy as we remember our brothers who shed their blood because of our faith.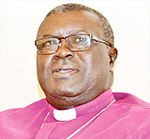 BISHOP JACKSON MATOVU, CHAIRPERSON UGANDA MARTYRS MUSEUM NAMUGONGO AND FORMER CENTRAL BUGANDA BISHOP


Scientific style is a new thing in my life. I have never seen it, but we have to follow the Government's advice.

The Martyrs Day is big, whether we celebrate it in Namugongo or at home. What matters is that it has to be from our hearts.

Our service will be led by the Archbishop, Dr Stephen Kaziimba Mugalu.

We have invited only 30 people. We are grateful to the Government for allowing us to hold a scientific Martyrs' Day celebration.




BISHOP JAMES WILLIAM SSEBAGGALA, MUKONO DIOCESE

I will join the Archbishop Dr Stephen Kazimba Mugalu to celebrate the day.

Unlike our Catholic brothers who pray through the Martyrs, we go to Namugongo to remember their courage. That is why you do not find a big number at our side.

The majority have been going to Namugongo just for fun. This year, the churches are closed. It is like God is telling us that we have been doing our own things, it is time to do God's things. I will miss Namugongo's many activities and the congregation.

BISHOP PAUL SSEMOGERERE, KASANA-LUWEERO

We will celebrate the scientifi c Mass at the birth of St. Kizito in Waluleeta, Makulubita sub-county, Luwero district with a few people, following the guidelines of the health ministry.

This is a trying moment for all of us, we have to bear with it and pray through the Uganda Martyrs to intercede for us so that we overcome it.

Uganda Martyrs prayed for us a lot, that is why we are not like other countries who have been affected a lot by the pandemic.

God gives us trials and, at the same time, helps us to overcome them. Let us join hands and continue reciting our prayers through the Martyrs so that they help us to overcome this challenge.