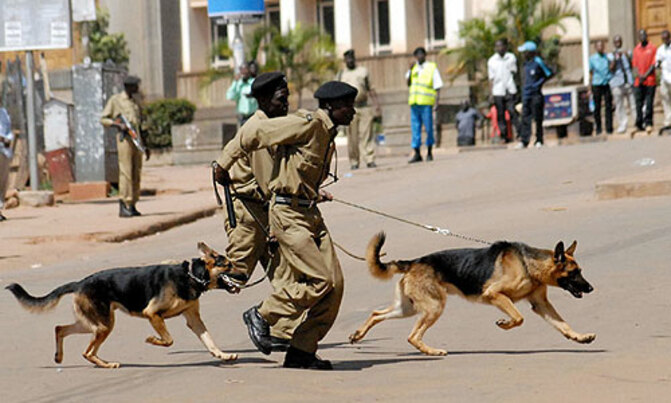 Six police officers in Mbarara district face disciplinary action for allegedly hiring out a police dog to the public.
By Fred Turyakira
Six police officers in Mbarara district face disciplinary action for allegedly hiring out a police dog to the public.
"The police dog is supposed to offer free services to the public  as one way of controlling crime in the community but I was surprised when Kakiika residents told me that the dog was being hired out to them," Grace Turyagunawe, the head of  Police operations said.
Turyagumanawe who camped in Mbarara with a team of detectives to investigate the high crime rate in the district told journalists on Wednesday that he received complaints from the public over police officers hiring out the dog.
"The names of the accused have been forwarded to the Professional Standard Unit for the probe," Turyagumanawe said. He explained that appropriate action would be taken.
However, Turyagumanawe did not reveal the details of the police officers under investigations, saying they were still receiving many reports implicating other officers over abuse of office.
It is alleged that the dog handler was conniving with some other officers and charging the public between sh300, 000 and sh400, 000.
"They were using some taxi drivers to hire out a dog secretly and go into the field to carry out investigations without police detectives," Turyagumanawe.
He said that Mbarara town had the highest number of crimes compared to other towns. He added that murder, rape and defilement ranked high. However he did not give out the statistics.
Asuman Mugyenyi, the Police spokesperson, said the Police was also sensitizing the community and Municipality authorities on the increasing number of ritual murders.
"I appeal to council authorities to assist us in identifying witchdoctors and what they were doing in their area. This will help us to curb ritual murders," Mugyenyi added.
 He noted that there was an exodus of young girls taken outside Uganda and promised jobs in countries like Malaysia, Thailand among others and ended as prostitutes
Mugyenyi appealed to parents to protect their children who are at home for holidays.
"There are NGO's claiming to be adopting children and then take them to America with the help of our lawyers and police, but they end up killed and their organs used as transplants," he added.
He said that 47 cases of children with their organs used as transplants were reported in the month of November this year.
"Last month, we received 47 cases of children who lost their organs and others involved in sexual abuse, however two girls were rescued after they managed to escape from Indonesia and sneaked into the Tanzania Embassy,"    Mugyenyi noted.
Six Police officers in trouble for hiring out sniffer dogs