Widowed, blind and HIV positive, all Nyakato needs is a house
This girl worries about the mum so much she kept asking whether I had brought with me eyes for her mother. I told her I was a journalist, and that I was visiting to tell their story to the world so that some good Samaritans could read it and lend a hand.
JOAN Nyakato is blind. She looks feeble, gawky and almost senile – at just 44. Clearly, abject poverty and disease have had their toll on her. And it is not just any disease – Nyakato is HIV-positive. 
Worsestill, this widowed woman is a mother of four – two boys and two girls, all still young. The eldest, aged 17, hates the mother so much he cannot wait for the day she will die – at least that is what the young man has told his ailing mother every time she has sent him on an errand. 
"I do not know why my son hates me," Nyakato says. "I have tried my best to love him, sometimes even bribing him with the little money I am given but his mind is made up. One day he will look for me and all he will find will be my grave!" Exclaims Nyakato, breaking into tears. "You see young man," she eventually says, "I need all my children close to me. I sit here all day and no one ever pays me a visit. Who will mourn me when AIDS finally takes me?" she wonders, fumbling with her ragged clothing to find a piece, which she uses to wipe her now running nose and tears. 
At her grass-thatched hut in Kisindizi village, Masindi district, Nyakato's only visitors are workers of the AIDS Support Organisation (TASO), who deliver her antiretroviral drugs (ARVs) and a few supplies. The only other person ending up in this insignificant courtyard is either one who has lost their way, or is up to no good. 
Three years ago, an up-to-no-good stranger turned up here at about 1:00pm. 
 Nyakato(2nd right) and her four children. Left is Mujuni,  the family's bread winner 
Nyakato by then had only three children. The blind woman, who had a slight headache, lay helpless on her straw bedding, waiting for her second and third-born children to return from a nearby primary school, where they went on the Government's education-for-all arrangement. 
From the first tap on the hut's improvised door, Nyakato sensed danger. Moments later she inhaled a foreign body odor as a seemingly adult human approached. 
Her attempt to scream only turned up weak muffled sounds, as the stranger gagged her, had his way with her and ran off. Her children returned about 20 minutes later to find their mother huddled in one corner, crying.
 She could not tell them she had been raped. "All I said to them was that I was not feeling well." The following day she had a distant relative take away her third born, then six years, to prevent her from a likely rape. 
With the first born already delinquent, the second born, Christopher Mujuni, took over fending for his blind mother, who, as it turned out, was pregnant from the rape. 
Nine months later, Nyakato's fourth child came. The little girl was immediately signed up with ARVs on the Prevention of Mother to Child Transmission (PMTCT) arrangement. But somehow, the baby contracted HIV. The three-year-old  is now fighting the same war as its mother. 
But of course the little girl doesn't know she is HIV positive.The one thing she knows is her mother is weak, so she is always by her side. Though little, this girl is a hero. 
Every morning at about 6:00am, her older brother    Mujuni, leaves the wobbly hut to run errands in the village for this family's living. As he leaves, Mujuni sorts the two patients' ARVs and ties them into knots on Nyakato's tattered gomesi.
 At the left he knots the little girl's ARVs while at the right, the old woman's. But the old woman, weak as she is,  oversleeps. It is the little girl who wakes her up and serves the breakfast Mujuni left for them. After, toddler and mum take their ARVs and their typical day begins. They feed on leftovers all day (if any) until Mujuni returns in the afternoon to prepare supper. 
 Nyakato's little hero in an attempt to prepare a meal for her mother ahead of Mujuni's return
But what is even more unbelievable is that on their hospital appointment, this little girl guides her mother on a distance of 14km from Kisindizi to Masindi Hospital in the town centre, where TASO sits.That makes it 28km to and fro. How the girl manoeuvres the traffic, only God knows. 
TASO officials say the girl mastered the way some time back when her mother was admitted, and the children  had to trek this road many times. 
This girl worries about the mum so much she kept asking whether I had brought with me eyes for her mother. I told her I was a journalist, and that I was visiting to tell their story to the world so that some good Samaritans could read it and lend a hand. Agitated, she rushed inside the hut and came back with her mother in tow, guiding her by her white cane and asking me in their native Runyoro language, which I happen to speak: "So," prompted the little girl in a rather mature way, "those people you said will help us; will they build for us a house and bring my mother eyes? Thieves keep breaking into our hut and stealing our things, yet my mother cannot see them because she is blind." 
It broke my heart; I had no definite promise to give but only prayed that God gives me the right words to tell her story. 
Nyakato's first born, who would have been of much help in fending for the family, leaves home and returns after weeks. 
"And when he returns, he stresses me the more, asking why I am not dead yet," Nyakato says. There are times the little hero girl gets so ill and the woman has no one to send for help. All she does is sit tight and wait for Mujuni to return so they can find a solution. 
"What hurts me most is not being able to see how my little girl looks like. Sometimes she tells me she has a wound and I cannot even see it. Now she has a bad skin rash and all I can do is feel it. I do not even know it when she feels pain and winces. Life can be unfair sometimes." 
Plus, Nyakato would also like to see how old her other children have grown much as she knows how they look like, as her blindness came in adulthood. Growing up in Kiijuura, Masindi district, Nyakato didn't have much of a future to dream about, as her parents, now deceased, did not take her to school. 
She grew up helping them brew alcohol, the family's source of income. When she eventually got a job taking care of nursery beds somewhere away in a village called Bokwe, she met a one Kezironi Kasaija, a somewhat successful farmer with some good money accruing from sales of his farm produce. When he proposed marriage, Nyakato could not believe her luck landing a moneyed man. By around 1990, he had paid her bride price and taken her home. But his money endeared him to many more women. 
"Kasaija would bring in other women and have sex with them right in the adjacent room while I listened. It got worse. I asked him to build for me a hut of my own, which he did on the same plot, and I got out of that drama." 
But much as she got out, she did not stop having unprotected sex with him. Around 1995, following a series of chronic illnesses, Nyakato tested positive on HIV. 
Hardly a year later, her husband breathed his last, followed subsequently by another of the women he engaged in sex with. 
"It was a big shock. I decided, for the sake of our children, to enroll for ARVs so I could raise the children." 
Nyakato tried keeping them in school. But when HIV brought with it an opportunistic infection of blindness around 2005, she started losing on many fronts.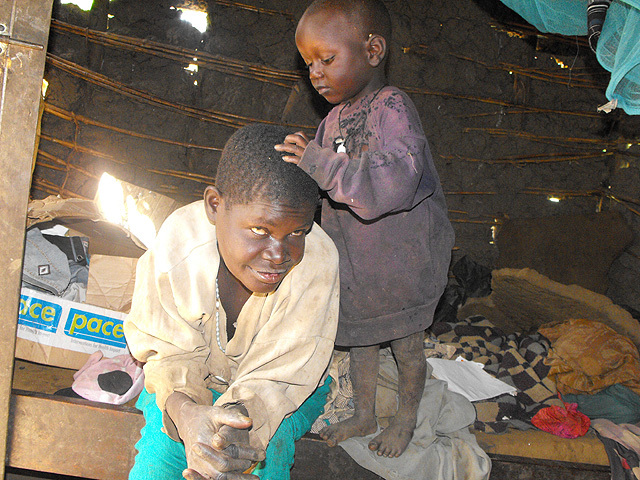 Nyakato's little hero picking specks of dirt out of her hair
One by one, her kids dropped out of school. Mujuni, who dropped out in Primary Four, says pupils would despise them "because we had AIDS at home. I decided to stop schooling and take care of my mum,"  says Mujuni, whose biggest need, he adds, is a house to keep his mother safe, and bedding for the whole family. 
Nyakato's only prized belonging is her six-acre piece of land, bequeathed to her by her deceased husband. 
But with her inability to see, locals encroach on the land. Just recently, UGANET helped evict an encroacher. But with no constant bystander or clear boundaries, this family might lose the only thing they now hold onto for sanity. 
The children look miserable, tired, hungry and worried. Worried  because they can't envisage what might happen to them in case their mother passes on. Tired because they work around the clock. Hungry because they depend on a single meal, and miserable because all seems in shambles. 
Nonetheless, they look into the camera lens and smile. But behind those smiles are loads of pain. 
While we go throwing tantrums because the shipment of our dream car has been delayed, all this family is asking for are the basics: food, shelter, clothing, medication and perhaps school fees. How worse can things ge­t? 
Our readers have contacted us about this story seeking to support the family. PLEASE SEE BELOW:

Please be careful so your funds reach the intended person.  If in doubt, please write your query to csr@newvision.co.ug and copy to digital@newvision.co.ug or call 0414337000/0312337000 and ask for Vision Group legal department
The New Vision Bank accounts below;
Joan Nyakato c/o New Vision (as a catch word)
BANK

STANDARD CHARTERED BANK-UGANDA
ACCT NAME

NEW VISION PRINTING & PUBLISHING COMPANY
ACCT NUMBER

8705610690400, BRANCH SPEKE ROAD
ADDRESS

PLOT 19/21 FIRST STREET, IND AREA,  P.O BOX 9815, KAMPALA.
***********************************************************************
BANK

STANDARD CHARTERED BANK-UGANDA
ACCT NAME

NEW VISION PRINTING & PUBLISHING COMPANY
ACCT NUMBER

0105610690400
***********************************************************************
BANK

STANDARD CHARTERED BANK-UGANDA
ACCT NAME

NEW VISION PRINTING & PUBLISHING COMPANY
ACCT NUMBER

9305610690400
NEW VISION MOBILE MONEY NUMBER: