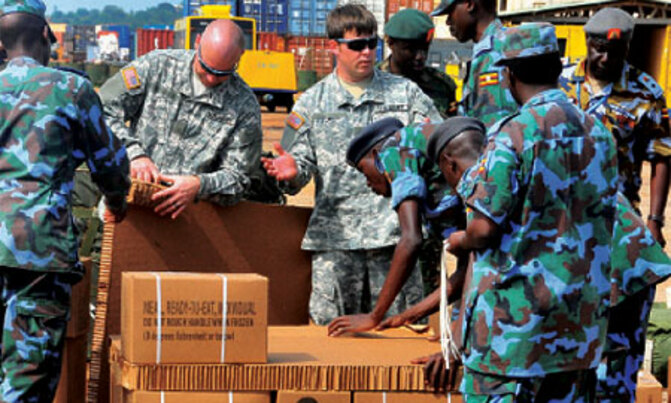 The UPDF hunt for the LRA rebels has been boosted by modern war technology provided by the US
By Henry Mukasa
The UPDF hunt for the Lord's Resistance Army rebels has been boosted by modern war technology provided by the United States, the army said on Tuesday.
Consequently, it will be a matter of time before the elusive rebels led by Joseph Kony are nabbed or killed.
"Technology-wise, we shall be better and we hope the hunt will take a shorter time," UPDF spokesperson Col. Felix Kulayigye said.
He made the remarks during a drill where the United States army equipped UPDF soldiers with skills in delivering logistics to war zones in hard-to-reach areas. 
The exercise included packaging food and logistics in palettes within the shortest possible time. 
"It means so long as you are involved in an operation you are sure of supplying your troops," he stated.
Kulayigye noted that the skills were timely as Operation Lightning Thunder against Kony rebels was underway.
He disclosed that the US had deployed its troops at the centre of the war and that they had set up "forward bases" in Nzara and Obbo in Central Africa Republic where Kony is hiding. 
He explained that the troops were tracking the movements of Kony and his fighters.
"We have always been confident. But our confidence has grown because this time, everyone understands that Kony is a regional problem," he said.
Kulayigye said Kony had terrorised and killed people in South Sudan, the Democratic Republic of Congo, South Sudan and Central Africa Republic. 
He said operations against the rebels had been hampered by the absence of infrastructure and thick forests in the region where they (rebels) were hiding. 
Kulayigye, however, said the rebels' movements are tracked every day using technology and people rescued.
He said besides Kony, LRA's other top commanders still alive are Okot Odhiambo and Dominic Ongwen. 
Others, he said, had been killed, died of disease or captured. 
The commanders are backed by about 250 fighters who move in groups of 10 to 20 men.
Kulayigye said if Kony wanted to surrender, a safe corridor would be created for him, but he would not benefit from amnesty. 
"He is free to come out but he will face the law," he explained. 
The rebels fought a decade-long rebellion in northern Uganda where they committed massacres, abducted people and forced girls into sex slavery. 
Several rounds of peace talks failed, including the last ones brokered by the government of South Sudan in Juba in 2006. 
The International Criminal Court indicted Kony and his commanders for war crimes. 
The US boosts Kony pursuit