Four arrested in Lira power cuts demonstration
A demonstration against power black-out by Umeme in Lira town turned chaotic as Police confronted the demonstrators, sprayed them with teargas and live bullets.
By Patrick Okino and Bonney Odongo
A demonstration organized by former Oyam South MP Issa Otto against power black-out by Umeme in Lira town on Wednesday turned chaotic as Police confronted the demonstrators, sprayed them with teargas and live bullets.
The demonstration headed by Otto and former Erute North legislator, Charles Angiro Gutomoi started with few people from Jinja camp near UMEME power sub-station but the police confronted them tearing Angiro`s placard.
 
Angiro, Otto, Mike Adoko, Patrick Omara, an FDC spokesman from Oyam district engaged the police in a verbal exchange when they were stopped and advised never to continue with the match.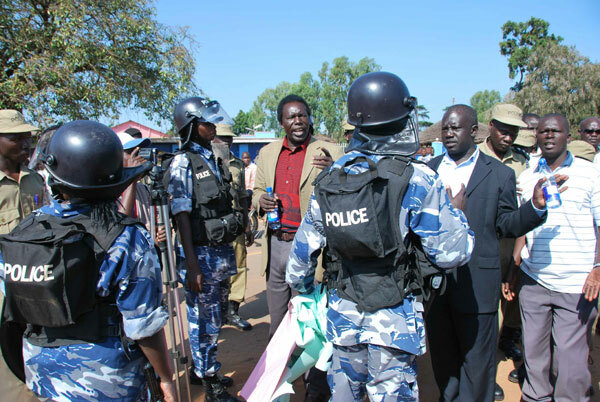 Police confronting Charles Angiro and Issa Otto during demonstration. PHOTO by Patrick Okino
"What crime have we committed?" Angiro questioned the police when his placard was torn. But the police insisted they should disperse.
 
After five minutes of heated  arguments, teargas canisters were released at residents who were on the road side watching the scuffle and live bullets fired to disperse protesters and onlookers. 
 
Shortly after a saloon car from Rapid Response Unit arrived at the scene, one security officer jumped out to arrest Otto and Angira but got engaged in a serious battle that lasted few minutes.
 
Otto, Angira and Omara were caned with batons, kicked and manhandled before they were dragged into a car and whisked to Lira police station.
 
Central north regional police spokesman, Henry Alyanga said Angiro, Otto, Omara and Adoko would be tentatively charged with inciting violence.
 
 "These are just politicians who lost election and they want to remain in the limelight," Alyanga told New Vision after the protest was quelled down.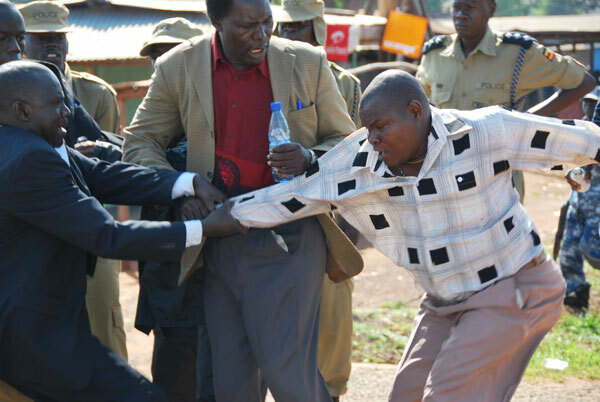 Otto Issa and Charles Angiro engaging a security officer during their arrest at Jinja Camp in Lira
                                                            PHOTO by Patrick Okino
He said they have been in constant discussion over demonstration and concluded that it would disrupt business and that the leaders should petition parliament over their grievances.
 
"Such demonstration is not needed in Lira. If they have any problem with UMEME let them petition parliament," he said.  
 
Otto who talked to New Vision on phone from the police said, they were being made to record statements but added that he was feeling a lot of pains on his head, back, neck and eyes as a result of beating, kicks and tears gas.
 
"We are still studying what they will do next but am waiting for only thirty minutes and they must take us to court because it is my right to be taken to court," Otto said.